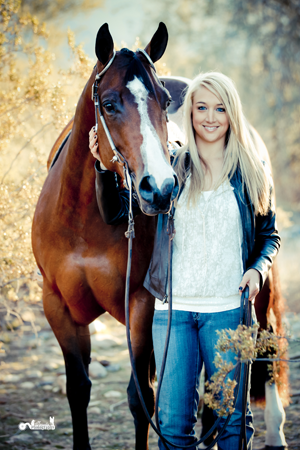 As a fourth generation cranberry grower and owner of Gaynor Cranberry Company, 26-year-old Jenna Dempze, along with her parents, Gary and Sue Dempze, and older twin sisters, Amy and Heidi, has turned her horse hobby into her own business, Red Berry Ranch. Dempze currently splits her time between her trainer, Gil Galyean's Purcell, Oklahoma facility and her family's farm in Wisconsin.
"I have my horses in Purcell, Oklahoma and when I'm not there riding or looking after the babies, I'm in Wisconsin working with my family on our cranberry marsh," Dempze said.

Growing up Dempze always had a love for horses and at the age of five she began begging her parents for lessons. Four years later Dempze got her own horse and she began showing 4-H and open shows around central Wisconsin. Over the years Dempze has shown everything from Ponies to Paints, but she fell in love with futurities at her very first Reichert Celebration in Waterloo, Iowa. Over the years Dempze has shown from coast to coast, but her favorite futurity has remained the same.
"The Tom Powers Futurity is my favorite because it is the first place we really get to see all the new horses and people and when the weather cooperates, it is the most beautiful place to show," Dempze explained.

This year Dempze has several horses to show in non-pro events including Gotta Certain Touch, a 2010 gelding by Certain Potential and out of Gotta Touch This, that the Dempze family raised, in 2-Year-Old Non-Pro Western Pleasure as well as Maturity Non-Pro events with Heatin Up The Chips, a 2009 mare by Blazing Hot and out of A Flashy Chip that they purchased at the Congress is 2011.
"I bought Heatin Up The Chips without even a test ride," Dempze said. "My trainer, Gil Galyean, saw her at the Congress and just new she'd be perfect for me, so I bought her one day and showed her in the 3-Year-Old Non-Pro the next day and finished third overall."
Recently the Dempze Family purchased KM Milliondollarbaby from Masterson Farms, LLC in Somerville, Tennessee for Jenna to show in 3-Year-Old Non-Pro events this year. The team made their debut at this year's Reichert Celebration where they won the 3-Year-Old Non-Pro Western Pleasure and the 3-Year-Old Color Breed Non-Pro Western Pleasure. Dempze's long-time boyfriend, Denton DeBuhr, also recorded wins aboard KM Milliondollarbaby in 3-Year-Old Intermediate Western Pleasure and 3-Year-Old Color Breed Open Western Pleasure.
"I felt relieved to have the first time out of the way," Dempze said. "I was excited that she did so well, it's always nerve wracking getting a new horse so close the Congress, but she was very easy to prepare and a lot of fun to show"
Dempze has been a NSBA member for over 10 years now and will tell you her greatest accomplishment so far was to be named the 2009 NSBA High Point Western Pleasure Non-Pro Rider.
"I feel very honored and blessed to carry the title," Dempze said. "The competition for the Non-Pro title is steep, with many very talented horses and riders showing throughout the year."
In 2008 Dempze graduated from the University of Northern Iowa with a degree in Business Management, which comes in handy now that she's running her own business. When she's not out playing with the babies or harvesting cranberries, Dempze enjoys spending time with family and friends and catching a showing of the James Bond movies whenever they are on. "Sean Connery is by far the best Bond."
Source: Courtney Ament