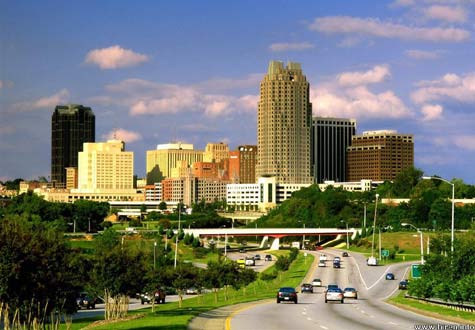 For most of us who enjoy A Little Futurity, it's not just because of the show full of prizes or the southern hospitality brought to you by The Little Family. Many of us frequent the local Crabtree Valley Mall which boasts a variety of shopping experiences from Abercrombie and Fitch to Zales Jewelry. The hour-long wait at restaurants such as The Cheesecake Factory and Brio Tuscan Grill do little to deter us from a great meal.
When you're looking for the excitement and attractions of a great city, combined with the affordability, approachability and appeal of a classic Southern town, look no further than Greater Raleigh.
Best known for its world-class museums, best of Broadway shows and liveconcerts, capital area historic sites, professional and amateur sporting events and shopping mecca status with 11 major retail areas, Greater Raleigh truly offers a variety of entertainment all in one park-like, scenic setting.
There is a reason Greater Raleigh has been called the "Smithsonian of the South." Bursting at the seams with a large variety of live performing arts events and visual arts collections, the area is also home to the best collection of museums in North Carolina (and perhaps the Southeast), nationally-acclaimed organizations likeCarolina Ballet and North Carolina Theatre and plenty of locally-owned galleries and collegiate arts programs to satisfy all of your artistic sensibilities.
Greater Raleigh prides itself on being a family-friendly destination, with a wealth of museums, festivals, live performances, parks and lakes that are fun for everyone. From hands-on exhibits at Marbles Kids Museum and larger-than-life movies at Wells Fargo IMAX Theatre to the historic carousel and train at Pullen Park, the Raleigh area offers family attractions and activities for kids of all ages.
Active families can enjoy year-round outdoor recreation in North Carolina's state capital area, and we bet you'll even learn a little while you're here. Discover the wonder of the natural world at the Nature Research Center (a wing at the North Carolina Museum of Natural Sciences), or better understand the past at one of the area's historic sites like Historic Yates Mill County Park… kids can be Lifelong Learners, too!
Your kids may never want to go home, and surely will want to come back again and again! Parents will love how children's imaginations are sparked… and that many of the area's top attractions are free!
Dreams of competing at the U.S. Open? Maybe just keeping up with your buddies on Sunday morning? With many regulation courses open to the public and numerous driving ranges and practice areas, long courses and short, modest and hazard-lined fairways and even a spot open 'til midnight year-round, Greater Raleigh has the diverse play to make that happen and provide a great golf experience.
Greater Raleigh is often dubbed the "Smithsonian of the South" for more than 40 free attractions, and the high quality of Raleigh's museums certainly adds merit to that distinction. Discover your inner Creative Genius by planning a visit around a blockbuster art exhibition or by exploring one of the country's largest collections of Rodin sculptures at the North Carolina Museum of Art and the state's only non-collecting Contemporary Art Museum (CAM Raleigh) while you're here.
Take time to visit the Nature Research Center, a new wing at the North Carolina Museum of Natural Sciences, recognizable by its three story, multimedia globe called the Daily Planet.
Many of the area's museums are free, and no matter if your interests skew toward Renaissance art, interactive exhibits or research and fossils, the Raleigh area has got it covered. Make sure to take a look at our calendar of events for special events and exhibitions or at our Deals for money-saving offers surrounding our dynamic museum scene.
So, should you find yourself contemplating what to do on your days off at A Little Futurity look no further than InStride Edition for your source to visiting Raleigh.