Nestled on the banks of Lake Michigan there is plenty of fun to be had during your time off at the Tom Powers Futurity this June.
Berrien Springs, like Berrien County, is named for John M. Berrien; "Springs" was added after mineral springs were discovered in the area. The village is the site of the earliest settlement in Oronoko Township, and was first known as "Wolf's Prairie" in reference to the 1,000-acre prairie in which it was situated. The site had been a village under the leadership of a Potawatamie man named Wolf.The first permanent settlers, John Pike and his family, came in 1829.

The village of Berrien was platted in 1831,and the village of Berrien Springs was incorporated in 1863. Berrien Springs was the county seat from 1837 until 1894, when St. Joseph became county seat. The Berrien Springs post office opened with the name Berrien on December 4, 1832 and changed to Berrien Springs on April 18, 1836.

Muhammad Ali owns an estate in the Berrien Springs area. NFL defensive lineman Regan Upshaw was born in Berrien Springs in 1975.
Boat Charters
There are several boat and canoe charters within minutes of Berrien Springs in Stevensville and St. Joseph. Here is a listing of a few.
Perhaps the open water isn't your thing. How about a wine tour ladies?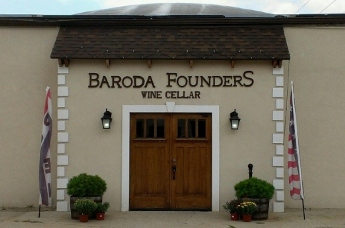 Michigan is home to over 155 local wineries, several located within 10-15 miles of the fairgrounds. Pop on over to the town of Baroda and visit Baroda Founders Wine Cellar which has a wide selection of wines ranging from classic varietals (our Lake Michigan Shore Series) to fruit-flavor-enhanced (Baroda Antique Series), as well as delectable dessert wines. We have a wine for every palate! With over 40 years experience, our wine master, Len Olson, uses local luscious grapes to produce high-quality award-winning wines. Come in for a tasting and tour.
If you need something to do with the kids on your day off I would highly suggest the Air Zoo in Portage. The Air Zoo is a highly charged, multi-sensory atmosphere that goes beyond anything you've ever seen. It's like no place else on Earth. Voted the "Best Place to Take Out-of-Towners" and "Best Place to Spend a Day with Your Family" two years in a row, the Air Zoo features many amusement park-style rides, Full-Motion Flight Simulators, a newly upgraded RealD 3D/4D Missions Theater, Magic Planet and Paratrooper Jump, as well as historical exhibits and educational activities. The Air Zoo also displays the world's only remaining SR-71B Blackbird and XP-55 Ascender.
Or, if you'd prefer to stay a little closer there is the Surfari Joe's Indoor Wilderness Water Park just 17 miles away in Watervliet. Surfari Joe's Indoor Wilderness Water Park is Michigan's NEWEST Indoor Water Park with two premier water slides; kiddie water playground with tipping bucket; lazy river; activity pool and hot tub with waterfall. Specializing in Birthday Parties. Do you feel like you need some quality time away from the hustle and bustle of life to reconnect with your children? Your husband? Your Parents? Your Grandchildren? Guess what? You have described a memorable family vacation to Surfari Joe's
Whatever you decide be sure to make this Tom Powers Futurity one to remember.