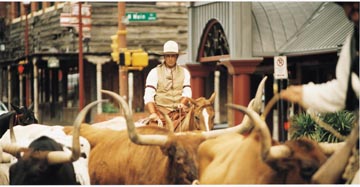 As the 16th largest city in the United States and part of the No. 1 tourist destination in Texas, Fort Worth welcomes nearly 5.5 million visitors each year.
No other city boasts such an unmistakable mix of preserved Western heritage and unrivaled artistic offerings. Whether you prefer to spend your time in a museum or watching the world's only twice-daily cattle drive, Fort Worth offers plenty of things to do.
In only a few days, you can enjoy and enormous range of experiences – from art to animals, from fashion to family fun. See priceless masterpieces in the world-renowned Cultural District. Explore the true American West in the Stockyards National Historic District. Shop and dine in the 35-block Sundance Square, voted one of the top downtown's in the nation. Catch a fabulous show at Bass Performance Hall. Stroll through the Museum of Living Art at the top-ranked Fort Worth Zoo. Or see life in the fast lane at Texas Motor Speedway.
Once you arrive in Fort Worth, you know you are in Texas. Over the last 150 years, what started as an army outpost has blossomed into a sophisticated, cultural city that celebrates its authentic Western heritage while embracing the 21st century.
No visit to Texas is complete without a stop at the legendary Stockyards National Historic District. Unique attractions such as the Fort Worth Herd twice-daily cattle drive thrills visitors year-round. Top country music performers play the stage at Billy Bob's Texas, the world's largest honky tonk, and live rodeo takes place every weekend night at Cowtown Coliseum. Shopping for handcrafted cowboy boots, hats, clothing and souvenirs is abundant in the Stockyards.
In Fort Worth you can explore many museums that are world-famous for their beauty and architecture and the quality of their collections. The Fort Worth Cultural District, home to five wonderful museums in a relaxing, park-like setting is a great place to start your tour.
Throughout the city you will find museums devoted to Western Heritage and Fort Worth's colorful past. It's no wonder Fort Worth is considered the "museum capital of the Southwest."
If you're traveling with children Fort Worth is a great destination for family fun. Don't miss the interactive museums like the Fort Worth Museum of Science and History and the National Cowgirl Museum and Hall of Fame.
Fort Worth also offers families on of the nation's best zoos. With learning stations, a rock-climbing tower, new Museum of Living Art and miniature train, there's more to the Fort Worth Zoo than just looking.
Nearby, Six Flags and a host of water parks offer families splashes and thrills.