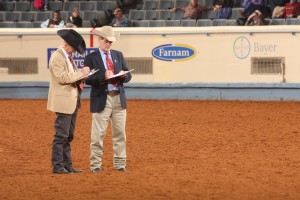 What you probably didn't know about the AQHA World Championship Show judges and judging. 
Last fall, when the National Football League referees went on strike, it became obvious to fans, players and coaches how important it is to have well-trained, consistent officials managing the games. Remember the controversial Hail Mary pass into the end zone during the game between the Green Bay Packers and Seattle Seahawks? The ball lands among a pile of players from both teams, with two substitute referees standing right there. One referee calls a touchdown, while the other official signals an incomplete pass.
That inconsistency – by untrained and unknowledgeable judges – is what AQHA wants to avoid.
"We want the best possible officials in the game," says AQHA Executive Director of Competition and Breed Integrity Tom Persechino. "Our exhibitors, trainers and their connections see the 'end product' – the judges in the arena judging a class. They don't see the year or two of prep work that is put into selecting and training those judges for that job at AQHA's world championship shows."
AQHA has a good system for providing world-class judging at its premier event, but any good system takes maintenance and a constant eye toward improvement. The budget for the judges at AQHA's world shows is the largest single unsponsored and unreimbursed expense when it some to the shows. At the World Show, as much as a quarter of a million dollars is allocated to judges' pay and travel, so it simply stands to reason that the Association wants the process to be correct with so much invested and on the line.
"We appreciate and welcome constructive criticism from our exhibitors and trainers," Tom says. "But there's no place for criticism that escalates into a confrontation like you see on the football fields between a red-faced coach and a referee."
Selection
Selecting judges begins with building a list of prospects, and that originates with exhibitor suggestions.
At the Built Ford Tough AQHYA World Championship Show, youth advisors can submit names to be considered for the next year's Ford Youth World. For the Adequan Select and the Bank of America Amateur and  Open world shows, every class entry form has a blank where exhibitors can suggest judges' names for the next year's world show.
"If a name is suggested on a western pleasure entry, that name goes on the list suggested for that class," says AQHA Senior Director of Judges Alex Ross. "And if that judge is finally nominated, he or she will probably be used in that class.
"A large number of owners do not take the opportunity to submit names," he adds.
To read the rest of this article Click Here.
The list of suggested judges and the classes they are suggested for goes to the AQHA Executive Committee, which accepts, adds or deletes names from it. Then the list goes back to Alex and he hires from there.