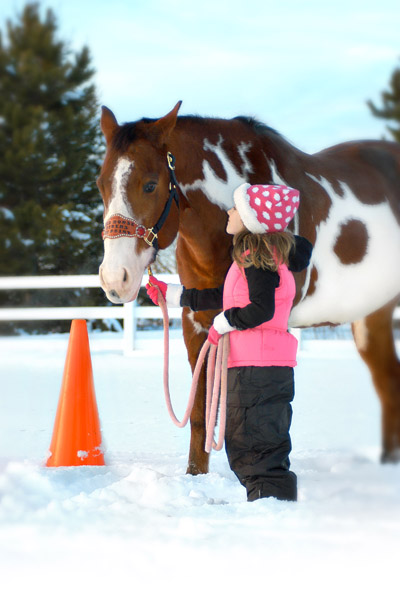 You may not be showing every weekend during this time of the year. But with some advice from top trainers and a whole lot of determination you can use the winter  months to improve techniques for the upcoming show season. A sharper pivot or smoother transition and you might just find yourself at the top of the class in the new year.
In the following pages, top all-around trainers share their advice, in a variety of events, on how to productively use down time to your advantage.
Showmanship
Longtime professional horse trainer, Darlene Trein and husband, Dan operate Trein Training Center in Seville, Ohio. They have coached multiple World and Congress Champions in a variety of all-around events.
Trein coaches students of all ages from the small fry level to the most competitive youths and amateurs in the industry. In fact, she arranges her lesson program in skill sets, which she feels is extremely effective in making her students more competitive.
"Students of all ages and all levels, always have something they really need to crack on. Although, we don't really have a down time because we show consistently throughout the year, I always try to work on their weaker points," she says.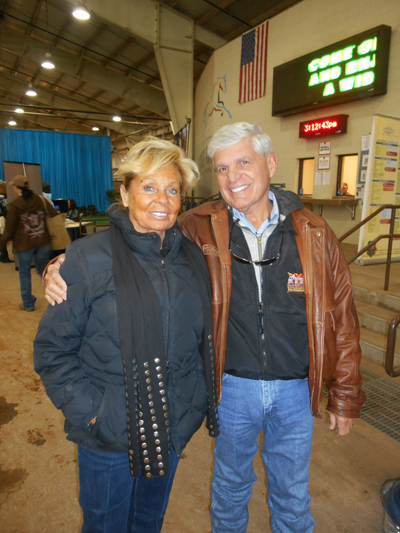 For Showmanship at Halter, Trein suggests running a lot of squares and practicing a lot of backing. Both maneuvers she finds give many exhibitors trouble and take extra practice to be executed correctly.
"At home, I really test my students on showing their presentation. I want to see how they are going to convince me that they are the one," she says. "I don't usually run full patterns all of the time usually we will work on parts of patterns, but now patterns are easily accessed before shows so we will often run through the pattern before the show. This really helps out a lot of my students who are in school or are working full-time."
Trein suggests setting up cones when running the pattern, because you should be aware of where you need to be in relation to the cone. Also, since every horse is a different length you need to be aware of how much room you have with your horse in that particular pattern.
"My advice for exhibitors at home is to practice walking with a purpose. Practice not looking down when you walk or run. Looking down makes exhibitors look very insecure. Practice looking up and running straight," she says. "I also suggest for exhibitors to practice their steps with a chair at home by hooking a leads shank on the chair and practicing their steps back and forth."
Judd Paul and wife, Jennifer operate Judd Paul Training Stables in Xenia, Ohio. Their clients have been AQHA and NSBA World and Reserve World Champions, Congress Champions, and AQHA Honor Roll Champions. Judd is an AQHA and NSBA judge and has judged major shows including the Reichert Celebration, NSBA World Show, and the Tom Powers Futurity.
When judging, Paul finds the hardest maneuvers in Showmanship for exhibitors to conquer are over and under spinning in their turns and going in straight lines. He advises exhibitors to know where you are going in the pattern at all times.
"We will set up cones and practice a lot of squares and straight lines," he says. "You need to get your own path with your with horse and know where you are going in the pattern and where you need to be in relation to the judge."
Paul recommends learning to become more consistent with your horse. If Showmanship is a new event for you or if you recently bought a new horse, Paul advises using the extra time to really to get know your horse.
"We try to stay really consistent in our program throughout the year although we do cater to each individual's goals for the upcoming show season," he says. "I encourage my clients to practice their Showmanship all the time on their own. Even if you are just walking your horse out of the stall stop and set up your horse up. Practice your steps. I advise my clients to practice their body position all the time."
In Paul's program, the amount of pattern work he practices really depends on the individual. A lot of times, the more advanced exhibitors will just work on parts of patterns while the younger or more novice exhibitors will need to run through a whole pattern.
"Over the winter months, I really encourage my clients to stay in shape so they can easily get back into the horse show scene. With Showmanship, you can practice a lot of the skills on your own at home without your horse. When you go out for a morning run, practice keeping your hands up and still, keeping your body position straight, and your head up so your stance is second nature."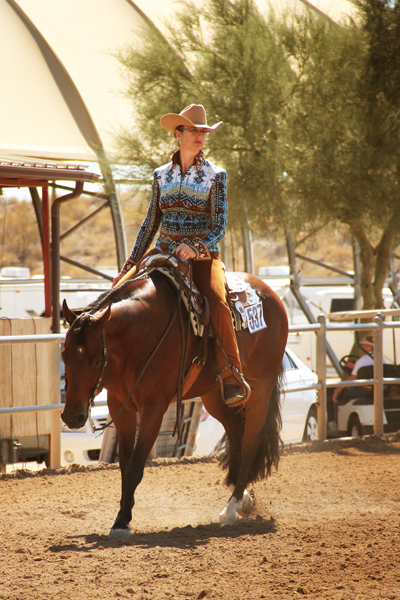 Equitation
All-around trainer, Carolyn Rice of Moorpark, California has trained and coached multiple World Champions in a variety of events including: Horsemanship, Showmanship, Hunt Seat Equitation, Trail, and Western Riding. She has shown an AQHA World Champion in Junior Trail and her daughter Parris is a multiple AQHA World and Reserve World Champion.
Rice recommends practicing some Hunt Seat Equitation patterns but not at every workout. She often mixes pattern work with drill maneuvers and position. Overall, she stresses "staying connected and communicating effectively with your horse."
"During the off show months, I try to get students very strong and connected to their horses," she says.  "We work on balance, strength (no irons) and becoming comfortable with the different tasks that are asked of an equitation rider such as: two pointing at a trot, hand gallop, sitting trot, lateral movements, and turning on the haunches and forehand."
Although Rice feels winter training varies on the skill level and goals of the individual, she does think practicing your weaknesses or challenges over the winter can help produce future results.
"I think winter is a great time to take on a new challenge," she says. "This gives you and your horse time to improve competence at your skills. Showing is a great sport and is fun, but can be stressful if you are trying to do something that you are not confident with. Taking the time at home to become a better rider and team with your horse will make your show season more rewarding."
Lainie DeBoer, of Forest Lake, Minnesota owns and operates Dreamfield Farm where she specializes in Hunter Events. A professional horseman for twenty years, this year she won her 13th World Championship. She has trained over 50 World Champions in English events. She has also coached multiple Congress and High Point award winners as well as several All-Around Amateur Award winners at the Congress and World shows. She is a specialized AQHA judge for over fence events and sits on the Animal Welfare Commission, Professional Horseman Council, and Show and Contest Committee.
"I try to stay very consistent in my training. I don't ever drill my students really hard at any time during the year. We are on a path to compete at the World Show so I may ask more of them before the big shows but I try to keep my training really consistent," she says. "The only thing I change during the winter months is the format of my lessons by really going back to the basics."
To DeBoer, sometimes the simplest maneuver in the Hunt Seat Equitation can be hardest for riders.  At major shows, when the pattern is big she finds riders have the most trouble with the first upward or downward transition going up the middle of the arena when riders are often nervous and horses are a little up.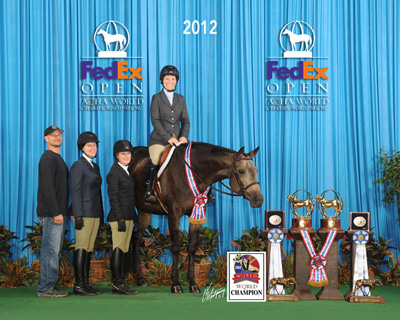 " When the pattern starts you are trying to make a great first impression on the judges, so I feel riders are often the most vulnerable when they do not have a rail to follow and have to come up the middle of the arena in the beginning of the pattern," she says.
Although she finds that riders have different strengths and weaknesses, she believes that going back to the foundation can produce positive results for everyone. She does not typically practice patterns over the winter months, but rather goes back to training level dressage maneuvers of really practicing maneuvers like circles, transitions, and shoulder in, shoulder out exercises to assist in better establishing a relationship with your horse.
"In the summer, you tend to go from show to show. The winter months give me more one on one lesson time with my students," she says. "I use the extra time to address issues that riders may have had trouble with during the show season but I don't ask to try to fix it in one day. I try to build my riders and their horse's confidence by utilizing exercises that will strengthen their weaknesses."
She finds that a lot of people have trouble with their horse's anticipating maneuvers because they often over train and rush an issue they may be having. She suggests building on your foundation and ensuring confidence in your horse to avoid the horse and rider getting nervous.
"The winter is the perfect time to better establish your relationship with your horse," she says. "You need to know your horse in and out and really be able to read your horse in the Hunt Seat Equitation. Then, when you go to your first show nothing is a surprise and whatever the pattern is you know your horse and can feel prepared."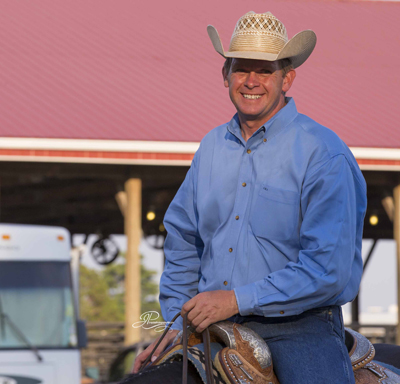 Horsemanship
Terry Cross of Dry River Ranch in Weatherford, Texas has been a professional horse trainer for 20 years. He has trained and coached multiple Congress Champions and World Show top-ten placers in a variety of all-around events. He is also an AQHA and NSBA judge.
As a general rule, Cross finds that students have the most trouble with cueing turns and lead changes accurately in Horsemanship. Since Cross does show nearly year round, he does not let his horses down too much but recommends practicing challenges during the off time. Also, if he has a new horse and rider team or is adding a new event to a horse's repertoire, he usually takes the month of December and most of January to get them going.
"I don't do much full pattern work," he says. "I take the off show time to break down and over simplify maneuvers. The extra time is good for exhibitors who are having trouble with a maneuver to learn it on their own time rather than the pressure of being at a show. For example, say it's a 360 degree turn that a student is having trouble with. I may break it down to a 90 degree turn, then to a 180 degree turn, and keep adding to the turn until they are comfortable doing a full turn. This helps build their confidence."
For exhibitors who do have a lot of time off for the winter months, Cross recommends practicing basic maneuvers with your horse. He stresses the importance of learning to control your horse's body. He often practices figure eights, serpentines, and circles to help in aiding students to better control their horse.
"You want to be able to put your horse where you want it at all times," he says.
He also suggests riding without stirrups or posting in a western saddle to help strength your legs and better a rider's timing and balance in the saddle during the off season.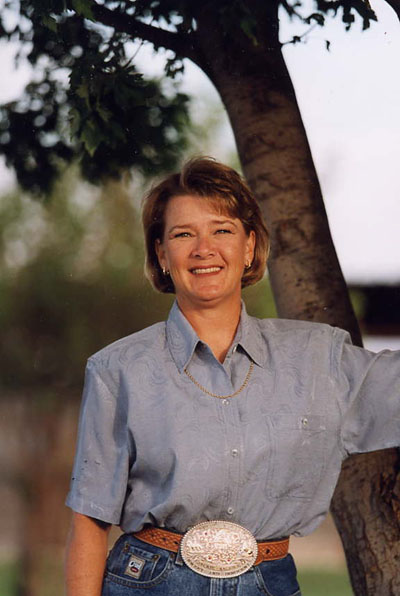 Jackie Krshka of Yukon, Oklahoma has operated Krshka Quarter Horses since 1981. She has two children, Kyle and Katy. An AQHA judge for over 20 years and an AQHA National Director for over 15 years, Krshka has coached over 60 AQHA World and Reserve World Champions in all-around events including the 1991 and 2001 AQHA World Show All- Around Amateur and multiple Congress all-around titles. She has also personally shown multiple AQHA World Champions including the 1982 AQHA Superhorse and was named the 1999 AQHA Horsewoman of the Year.
In Horsemanship, Jackie finds lead changes and extension of gates among the most difficult maneuvers for riders to conquer.
"Lead changes very often present one of the greatest challenges from an execution standpoint," she says. "Also, learning to gallop a horse and extend the trot while staying connected to the horse and maintaining a still seat can be difficult especially if the rider does not have a smooth gaited horse."
Many of Krshka's students do show year round so her program really doesn't change much during the winter months. If one of her students is planning to take a month or two off from showing, she will let them the horse and rider team have a little time off before getting them back into their routine in time to get them back in shape to show.
"I do not drill patterns," she says. "We work on all elements of patterns. If I have a horse/rider weakness in execution, we will spend more time on that. My program includes rider strength at all times. I develop a rider connection on the horse and expect my riders to be fit and strong. When a show is coming up, if we know the pattern, we will practice putting together one time prior to the show. Then, at the show after working on the elements again, we will put it together one time at the most. Some horses get very wise very quickly and practicing the pattern only presents anticipatory issues."
Krshka advises riders who do take the winter months off to use the time to better themselves by improving maneuvers that may have given them trouble over the past show season.
"Revert back to the basics and reinforce the fundamental skills that are relevant to that maneuver. Take time to reconnect with your horse. Improve your relationship of positive reinforcement toward your animal," she says.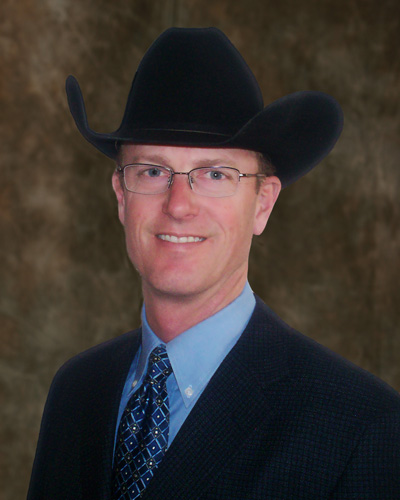 Western Riding
Professional horse trainer of multiple World and Congress champion, Kelly McDowall of Franktown, Colorado has been showing horses for 35 years. He specializes in youth, amateur, and open all-around horses and holds an AQHA and NSBA judge's card. He has judged the AQHA World Show, Select World Show, Quarter Horse Congress, and NSBA World Show. He resides with wife, Marnie, son, Klay, and daughter, Claire.
For McDowall, the biggest challenges for students to conquer in Western Riding are not changing direction when changing leads and maintaining a consistent pace. He often practices parts of patterns like changing leads across the middle of the arena or changing leads down the line, but he does not usually practice the entire pattern unless the rider is very novice and needs to run through the pattern.
"If your horse is already good at the lead changes then don't spend your time working on them." he says. "Your time would be better spent working on speed control, straight lines, and remaining in correct body position before and up to the change."
Many of McDowall's students show in several events. So, he does not necessarily focus on Western Riding for long periods of time, but rather works on several events during each ride.
"Most of our speed control, being soft in the bridle, and self-carriage work is done before we ever start working on lead changes as the riders have already practiced Western Pleasure/Hunter Under Saddle, Horsemanship/Equitation, and Trail before practicing the Western Riding so we primarily just do fine tuning when working on Western Riding," he says.
McDowall shows year round except for the month of December, so he tries to keep the same routine throughout the year. Some of his horses require more lead changing work than others. He really lets the horse dictate how much Western Riding work it may need.
" If the weather permits us to ride outside we do lots of loping through patterns and not changing leads or changing late or randomly focusing more on the straight lines and speed control than the actual pattern full of lead changes," he says. "If the weather dictates that we ride indoors we don't have as big of an arena to work with so it's difficult to work on long straight lines. We really don't focus too much on the Western Riding when inside other than doing a few lead changes and counter cantering after the lead change to insure that when we get back into a big arena our horses don't change direction after the changes."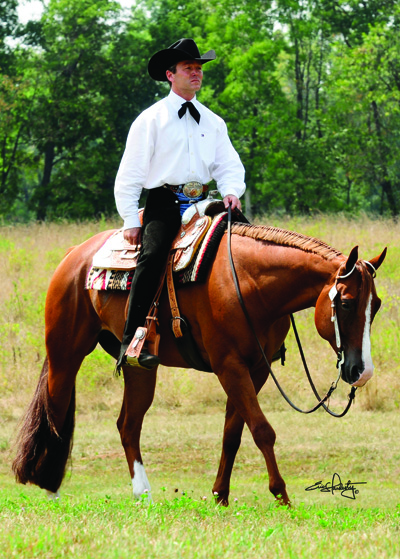 Pierre Briere of Stockton, New Jersey has been a professional horse trainer for over 30 years. He is an AQHA and NSBA judge and has judged major shows including the AQHA World Show, AQHA Select World Show, AQHYA World Show, and NSBA World Show. He won the 2009 AQHA World Championship in Junior Western Riding but best defines his success with his clients who have had numerous top-10 finishes at the Congress and AQHA World Shows.
"I think guiding is the hardest maneuver in Western Riding. It sounds simple and is very often overlooked but you want a horse to willfully guide thru the pattern," he says.
Since many Western Riding horses have Western Pleasure backgrounds, Briere finds training a green horse to lope down a line and not be drawn to the rail can be a big challenge as well as keeping the horse's attention loping across the arena.
"The biggest challenge for the novice rider I find in Western Riding is keeping their mind focused on 20 feet in front of them," he says. "A lot of times in Western Riding things happen really fast and you have to learn how to leave a bad lead change behind and try to plus on the next one."
Typically, Briere will not practice full patterns during the winter. Instead, he will break patterns in half and work on timing. He feels it is essential to know your horse well and feel comfortable with your approach to a line with your horse because the same approach does not go for every horse.
Over the winter months, Briere does let his horses deflate mentally after coming off the major shows. He believes in taking the pressure off of his horses but continues to keep them very supple and feeling good about their body.
Although Briere believes that winter is the best time to address reoccurring issues a team may have been experiencing throughout the show season, he does not drill on the negatives. Briere advises staying away from too much pattern work and drilling lead changes if you have a good horse and are a seasoned rider. He recommends working on mostly normal horsemanship like transitions, guide, trot poles, and lope departures.
For green riders, Briere strongly recommends getting together with a reputable trainer who competes in Western Riding to try to better yourself thru the winter months.
"The best thing you can do is have a set of eyes on the ground," he says.
Trail
Professional all-around trainer, Tommy Sheets of New Albany, Indiana has been in the horse business most of his life and has trained multiple World, Congress, and High Point Champions in a variety of events. A six-time AQHA Team Wrangler member, he has earned over 7,000 AQHA points. He resides with his wife, Leslie and son, Murphy.
"People typically fail to practice the slow stuff in Trail and it will get you beat," he says. "We really concentrate on the slower maneuvers including the gate, boxes, back thru, and walk poles."
Although Sheets' program has very little downtime because he shows nearly year round, when he is home during the winter months he encourages his clients to come practice every weekend. During these lessons, he will break down each maneuver and explain each obstacle very thoroughly before his riders every step on their horse.
"We work on one obstacle at a time until each obstacle is mastered," he says. "I find people learn a lot by watching so we do a lot of explaining even before they ride."
Sheets tries to group his riders when they take lessons where they best fit in terms of ability. His more experienced riders may never practice a full pattern until they show. If he has a beginner rider that has never run through a full pattern, he will let them practice a full pattern to get their confidence up but does not recommend practicing full patterns too much. He finds riders that practice patterns over and over for their own benefit tend to forget about their horse's quality of movement and placement of their horse's feet.
"I just can't stress working on the slow stuff enough," he says. "Our Trail poles stay elevated all year. We want our horses to pick their feet up. We have a permanent Trail course that stays up year round and every horse gets worked on a Trail obstacle every time they get ridden."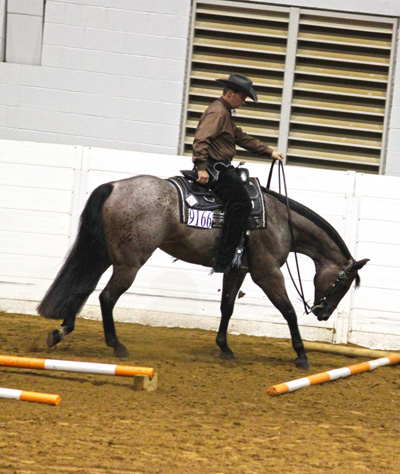 Jason Gilliam of Greensburg, Indiana operates Gilliam Show Horses where he specializes in all-around events. He has coached multiple World, Congress, and High Point Champions and has shown multiple champions in a variety of events. He most recently won the Senior Trail at the 2013 Quarter Horse Congress aboard Hours Yours and Mine owned by Kaleena Weakly and was crowned the 2012 AQHA World Champion in Sr. Trail on Design By Leaguer.
Gilliam finds the "slow stuff" to be most the most important to practice in Trail. He feels you can win or lose on points you can add or give away on maneuvers like the back thru, the gates, side passing and spinning in the box. The most important aspect Gilliam teaches to his clients for Trail is foot placement.
"You need to learn to know where your horse's feet are landing. If you can master foot placement you can pretty much put the horse where you want it," he says.
In addition, Gilliam teaches his clients a lot by observation. He himself learned a lot from this technique so he often will ride a horse thru an obstacle to show a client the best approach.
"I really don't practice anything together. I practice pieces of the puzzle and you put it all together when you show," he says. "The beauty of Trail is you must beat the pattern mathematically. It is all about repetition and being able to master one piece at a time."
Over the winter months, Gilliam does pick apart challenges he has had during the year. He suggests conquering one obstacle at a time. He repetitively will go over the same obstacle until he gets it right continuously. Once he feels the horse has mastered an obstacle, he will start on a new one.
"We definitely make a list at horse shows during the year of obstacles that come up that really were a problem for my clients. When riders come during the winter, we will pull the notebook out and really work on correcting that challenge," he says. "Also, as a coach I know obstacles that will be difficult for certain riders so we will work over and over to get their weaknesses right."
Gilliam advises exhibitors who are working to improve their Trail skills to work on a different obstacle every week. He suggests being very diligent about slow work, learning how to count feet, being able to know where your horse's feet are, and how to put your horse where you it at all times.
"I always tell people to remember a zero is better than a minus. You need to learn how to not take a penalty and eventually you will start plus on these parts as you develop style over the obstacles," he says.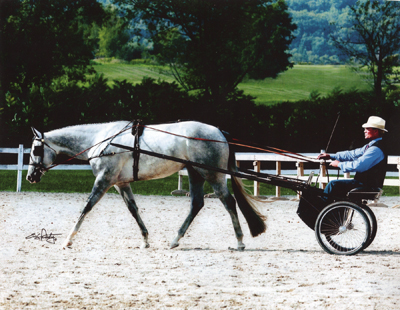 Pleasure Driving
Scott Kauffman and wife Tracey operate Three Oaks Quarter Horses in Central City, Pennsylvania. Showing Quarter Horses for 36 years, Kauffman has won the AQHA World Championship Show in Junior Pleasure Driving, has had several year and high point award winners, and numerous top ten World and Congress winners in a variety of events including Pleasure Driving, Hunter Under Saddle, Western Pleasure, Halter and Longe Line.
When training horses for Pleasure Driving, Kauffman tries to simplify the process so his horses easily perform for their owners well.
"I have them do diagonal turns, figure eights, stopping and backing," he says. "My favorite quote is 'point the nose the direction you want and have the body follow.' The ideal driving horse will keep its shoulders up and stay on the rail. Your horse will show and look much better on the rail rather than running around the middle of the show pen."
Over the winter months, Kauffman tends to spend more time on his beginner horses and clients. He uses the extra time to get his young horses started well. If he has a novice driver or a new team, he will take more time to get them accustomed to driving so they are ready to compete by the time show season comes around.
"In the winter time, I drive the broke ones less unless there is a bad habit from the past year," he says.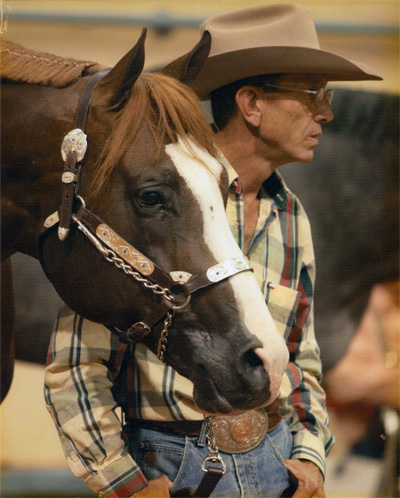 Jerry Erickson of Sanger, Texas has been a professional horse trainer for 35 years. He is an AQHA and NSBA judge and has judged many major events including the NSBA, AQHA  and AQHYA World Shows. He has also shown and trained multiple World and Congress Champions in a variety of events.
To Erickson, the biggest challenge with teaching novice drivers is showing them how to maintain straightness in the horse's body using their reins instead of their legs. He explains how even some clients who have been successful riding horses in the past can have trouble learning to use the reins to keep the horse straight.
"I try to get my clients really comfortable in the cart," he says "You need to be able to handle the cart in traffic and know how to pass because you want your horse to stay straight even into the corner without dropping its shoulders. Your horse should stay on the rail and not be floundering around on the inside."
During the off season, Erickson does not drive his horses much unless his clients need the practice for themselves.
"A lot of our horses do other events besides the driving," he says.  "Once a horse gets broke to the cart it's kind of like riding a bicycle they don't forget. We may hook them up a few days before we are going to show."
Since a lot of his clients live a distance away, he often sends them videos from the previous show season to watch so they can see what they may need to do differently the next time they drive a cart.
Source: By Kristy Vanderwende Photos by Mallory Beinborn and Joselyn Leonhart