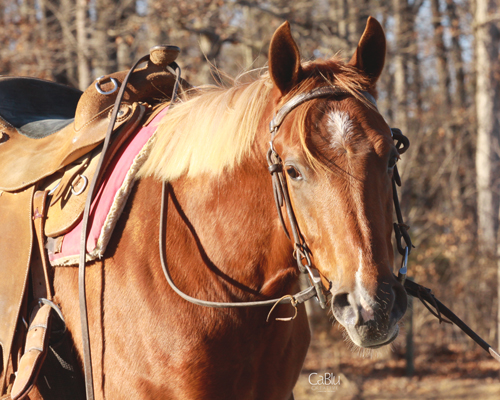 Many breeders are anticipating the arrival of foals in the New Year. Yet, turning the pages of the calendar also means our yearlings are now 2-year-olds and many are ready to get started. So what should breeders be doing to ensure their youngster has an easy transition once they arrive at their trainer's barn?
Top Western Pleasure and Hunter Under Saddle trainers weigh in on what they expect their young horses to know upon arrival, when they typically like them to arrive and how they start the training process.
What Breeders Do
Michael Hershberger of Milford, Nebraska has been raising Quarter Horses for 45 years. In addition, he has owned several World Champion Western Pleasure horses like CTC Imagination and A Certain Illusion.
"We make sure our babies are very well cared for," Michael says. "We feed our babies well to ensure that they are strong and strappy looking. We worm them on a regular basis and also believe in trimming our baby's feet regularly to prevent leg issues."
The Hershbergers raise two to three babies a year and try to raise high quality foals. Some prospects they keep to show and send off to trainers like Jay Starnes and Shane Dowdy but others are marketed at high end sales like the NSBA World Show Sale, Reichert Celebration Sale, and the AQHA World Show Sale.
They often send their yearlings off to get prepared for sales to Kathie Kennedy of Ocala, Florida who has really helped assist the Hershbergers in best marketing their foals. In fact, in the past few years the Hershbergers have had several yearlings sell in excess of $50,000 at sales even selling one prospect for $100,000.
"We usually send any prospects we decide to keep as 2- year-olds off around Dec. 1," Hershberger says. "We get them 100 percent halter broke where you can easily pick their legs up and are just laid back and comfortable."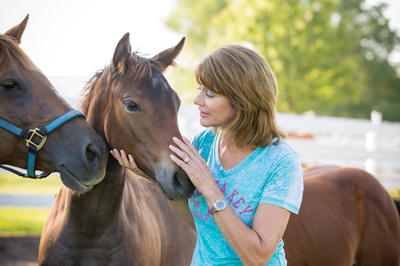 World and Congress Champion Amateur competitor, Susan Knapp, Van Meter, Iowa, typically raises five to seven babies each year for Western Pleasure and All-Around events. The babies are foaled out at her vet's facility and kept there for the first few days, and then they are brought home and handled.
"We just handle them from the time they are little," Knapp says. "We turn them out with their mothers and bring them in so they get used to people. My babies are very curious. They don't run away!"
When Knapp's yearlings are ready to start, they really take their time with saddling and getting them used to everything.  Pat Heeley, head trainer at Knapp Farms, takes them on from there.
"Our motto here is to take it slow and not push it," Knapp says. "I have our vet out before we start in working our babies to make sure their knees are closed and they are strong enough to start. If we have one that just isn't ready or mature enough to be a 2-year-old show horse we just wait until he is a 3-year-old."
Donna Grosse of Ocala, Florida has been raising Western Pleasure babies for 35 years. Her youngsters have have been APHA World Champions, Congress top-10 placers ,and futurity champions. Her daughter, Shawn Grosse Vaillant enjoys showing in the futurity classes.
"We like to work with our babies on the ground," Grosse says. "We teach them how to lead, get their feet trimmed and get clipped. We also teach them how to go around on the longe line, to back, and maneuver on the ground on their front and back ends.
Grosse typically raises three to four babies a year and usually waits until they 2 to send them off for training.
"Trainers have really seemed to appreciate how easy our babies are to work with," Grosse says.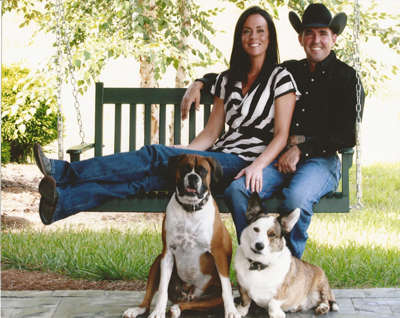 What Trainers Want….
Justin and Joy Wheeler of Wheeler Show Horses, Climax, North Carolina have shown and trained multiple Congress Champions as well as APHA and NSBA World Champions and numerous futurity champions. They would prefer to receive their yearlings around Dec. 1 and really do not like their yearlings to know anything upon arrival.
"We like to train our horses from start to finish," Joy says. "We would prefer babies were not longed or saddled before we get them and literally like to teach them everything. We like to let yearlings be horses and let them spend as much time as possible in the pasture."
The Wheelers recognize that all horses are different and some who are big and strong will be ready to start a lot earlier than an immature big, gangly kind of colt. They strongly believe in letting the horse tell them if they will be ready to compete in 2-year-old events.
"If we have a really strong, good minded, easy kind of 2-year-old we may try to show them but some horses just need to wait until they are 3-year-olds," Joy says. "It really depends on the horse."
The Wheelers start their training progress by doing a lot of groundwork in the round pen. They usually sack their youngsters out and do a lot of work with a soft cotton rope just going all over their body and legs until they are dull and quiet. When the colts are comfortable with all this, they start saddling them in the round pen and longe them in and then out of the round pen so they understand how to follow a circle without a fence. Then, they will start getting on them back in the round pen.
"If we have a more experienced owner, it would be nice if the yearlings are halter broke, gentle and quiet," Joy says. "We like if they are people friendly and just handled but not spoiled. I hate to tell people not to touch their horse but we would really prefer that owners leave the training part to us because a bad experience can take a long time to fix."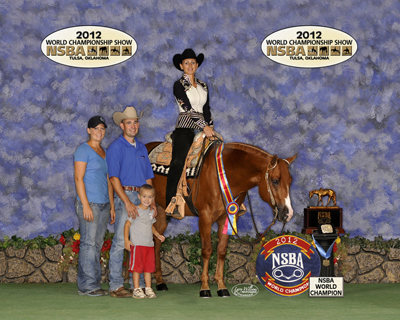 Brian and Dawn Baker of Baker Futurity Horses, Sunbury, Ohio are well-known in the pleasure arena. They have shown and trained multiple AQHA, NSBA and APHA World Champions and Quarter Horse Congress Champions and like to receive long yearlings for formal training after World Show in November so they have a chance to get a good start on them before heading to Florida at the end of December.
"We like yearlings to know how to lead and tie and just be basically quiet," Dawn says. "We like for them to have been handled some and have good ground manners but if we receive a yearling who is just out of the field that is fine too."
If the Bakers have a more experienced owner who is capable of well-starting youngsters, they may encourage certain owners to saddle and longe their youngsters before arrival but for the most part they would just assume doing most of the training process on their own.
"We like to start them ourselves. Sometimes when people try to ride them on their own it can cause more problems if the colt just wasn't ready so we prefer for the colts not to be ridden before we get them," Dawn says.
Youngsters are started at the Bakers with some round pen work and then they graduate to saddling and line driving until they feel the colts are ready to be ridden.
"We do a lot of groundwork," Dawn says. "We really like them to have a 'whoa' and be able to give to pressure left and right and just know the basics of turning and stopping before we ride."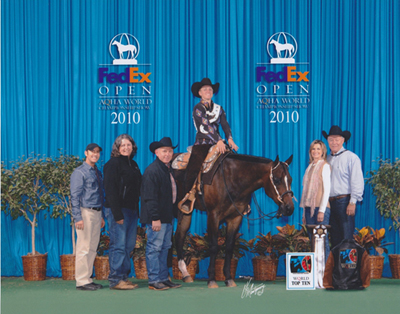 Shannon Curl, Jonesboro, Arkansas, has shown multiple Quarter Horse Congress Top-10 finishers and multiple futurity winners in Western Pleasure. She also does not like her youngsters handled much before she gets them for training.
"If I have to start a yearling, I would prefer that it was not messed with very much," Curl says. "I have actually found the yearlings that are so green we have to run them off the trailer are quicker to come around than ones that have been handled so much they don't respect you. I would much rather have a youngster be a little afraid of me than one who is spoiled and disrespectful."
Curl likes to get her yearlings in right after the AQHA World Show so she has ample time for groundwork and to get a good start on them.
"You can usually look at a yearling and see if they are big and strong enough to start," she says. "The horses will tell you usually within 60 to 90 days if they are mature enough to consider getting ready for futurities."
Curl would prefer owners do very little with their babies. She has however witnessed positive effects from "imprinting" babies and would not discourage an experienced owner from trying it. When babies are imprinted, they have human contact everyday right from the beginning from halter breaking to turning on clippers and picking up feet at least for the first month of life. Curl found that babies who had these experiences early on were easier to handle later and seemed to retain some of their early baby hands on experience.
Curl likes to start her babies with a lot of groundwork by teaching them to lead and tie. She often uses a necking donkey to assist in the process. She also believes in hobbling their front legs once they learn to tie well so they never learn to dig or be unruly. Curl sacks youngsters out a lot as well, and usually line drives them to teach them to go forward and whoa. After she feels they are ready, she will go to saddling them and often starts in the round pen on a longe line to try to not let them buck much so they don't think that is acceptable behavior.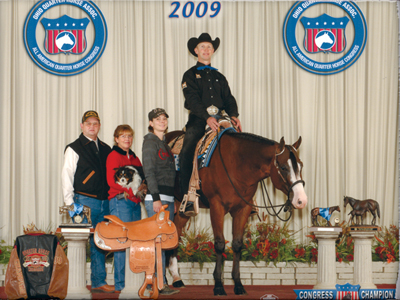 Kenny and Ashley Lakins of Wilmington, Ohio, like to get their colts in around Dec. 1, after the AQHA World Show and like their youngsters to somewhat know how to tie, longe, and just be gentle. They find colts who are not spoiled but have already been handled and learned patience from tying are often faster and easier to start.
Kenny, a multiple World, Congress, and two-time $100,000 Futurity Champion winner, starts all the colts and puts the first ride on them himself.
"We really believe the first five rides are very crucial so we would prefer owners to not saddle or try to ride at all before bringing their yearlings to us for formal training," Ashley says.
For the yearlings that arrive at the facility and do not know how to longe at all, they do take the time to teach them to longe some so they basically learn how to go in a circle. After the groundwork and saddling process, the Lakins teach their youngsters to give to pressure on the ground left and right.
"When Kenny first gets on he moves his feet around a lot in the stirrups to kind of desensitize them and get them used to your feet being close to their side," Ashely says. "We usually start our colts in a short shank snaffle with a curb strap and try to walk, trot and lope both directions on the first ride."
The Lakins firmly believe in letting the horse tell them when they are ready for certain futurities. They recognize the fact that horses change so much even week to week in training and although there are certain deadlines for specific classes they really try to let the horse dictate when they are ready to show.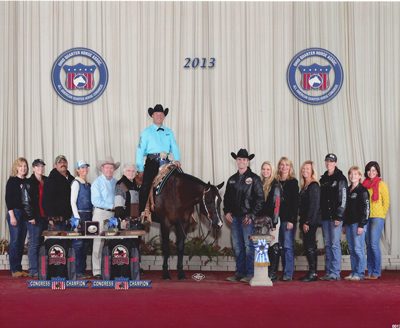 Bret and Candy Parrish, along with their two sons Cody and Chase, operate Parrish Quarter Horses in Pavo, Georgia. Bret has trained and shown multiple Quarter Horse Congress Champions and has also won the Reichert Celebration $100,000 Equine Sports Medicine Challenge. Their program has produced some great horses including RL Best of Sudden, KM Hot Number, All the Sudden, Ona Good Impulse, Sweet Talkin Jeannie, Zippos Hotzy, and Sweet Talkin Chip to name a few. Bret was also awarded the Southern Belle "Living the Mission Award" in 2011. To Bret, the biggest thing he encourages owners to do is just handle their yearlings.
When the youngsters arrive for training, Parrish likes them to have discipline and manners, be able to pick their legs up, and be able to trim their feet. He really does not encourage any more from most owners unless he has a specific owner who he knows does a good job starting horses on their own. Then, in certain cases he may suggest further hands on training but otherwise he would really prefer little be done with his subjects.
"Less is better," Bret says. "It helps if they have been handled unless they're spoiled. I would rather them not be started at all than have bad habits I have to fix from the beginning."
Parrish likes to get his yearlings in around September or October so he has more time to add a lot of groundwork especially if the owners are hoping for a 2-year-old horse. However, he does not encourage owners to put deadlines on horses and believes in letting the horse tell him when it's ready to go show.
"I always tell owners to be realistic," Bret says. "Everybody has goals but we must always pay attention to the horse and take into account their strengths and weaknesses. Some horses take a little longer to mature."
Parrish stresses the importance of taking extra time to ensure youngsters are comfortable before he starts to ride them. He takes time doing groundwork and teaches his subjects to give to pressure even before he saddles them. He takes a lot of time crawling all over them and makes sure they are patient and discipline before he climbs aboard.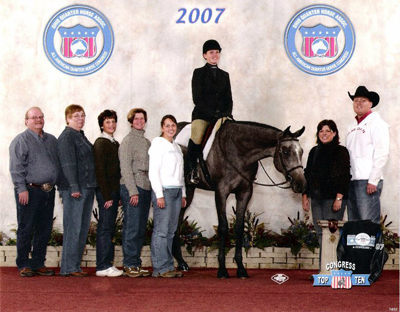 Brian and Darla Lee operate Lee Quarter Horses in Plain City, Ohio. They have shown and trained numerous Tom Powers, Reichert, NSBA BCF, and Congress winners in Hunter Under Saddle and Western Pleasure.
"In a perfect world I love when they know how to longe and tie but of course that is not really a requirement for us to take them," Darla says. "We have taken colts that we have had to chase off the trailer before so any kind of ground manners are always helpful."
The Lees urge owners to send their babies for training as soon as they can afford to. When babies come in early, they can go slower and put a really good start on them.
"If a trainer takes their time and puts a good start on them than they can separate themselves into which ones show early and which ones need to wait," Darla says. "I also urge people who want to not show their horses until they are 3-year-olds to get them started and establish a work ethic. The hardest horses to train are the older ones that have never been made to have a job. If your plans are to wait until they are 3-year-olds, I believe starting them at a normal time, getting some manners, and good riding done and then to turn them back out or wait."
Darla also stresses for owners to not put deadlines on when they need their babies ready to show.
"I think the worst mistake owners can make is to drop their colts off at any time and say, 'I want to show at the Powers.' The most successful 2-year-old owners drop their colts off and say, 'Let me know when you think they are ready.' As long as they are progressing, not getting sore and showing potential then things are going right," Darla says.
The Lees do not encourage owners to ride their prospects before sending them for training. They believe the first ride is really important and a horse that gets spooked or bucks someone off on the first ride can make a lot of problems later.
"We always start with ground work, longing, saddling and sacking out. I think sacking out is the most important especially for the hunt seat prospects," Darla says.
They also like to teach them to line drive.
"It's really helpful to teach them whoa. We like this process to take about a month if the customer allows it," Darla says. "If you take your time at the beginning they will ride better and progress faster in the first 30 days of riding. Also, I like to do the first ride on all my own horses. We do not use colt breakers or assistants. The first 30 rides are so much more important than people realize."
Shane Dowdy, Northlake, Texas, a multiple World and Congress Western Pleasure Champion trainer and NSBA judge, likes yearlings to know how to lead and tie before he receives them for further training. For owners who like to be a little more hands on, Dowdy encourages them to teach their babies how to long trot and gallop controlled on a longe line.
"Preferably I would like my yearlings to arrive right after the World Show," Dowdy says. "Periodically I am sent one before that which sometimes helps the maturity issue. The young horses can have an adjustment period and are treated like a mature horse on a daily basis. It consists of a kind of watch and learn. You would be surprised on how fast they mature."
Dowdy strongly discourages owners to try riding or teaching their prospects to go slow.
"Each horse is an individual but basically we start our training process by longing and ground tying," Dowdy says. "Once they ground tie which is hard for the kids, being saddled and rode comes very quickly."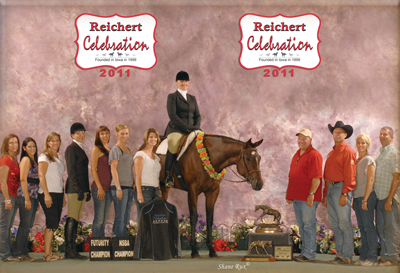 Tim and Katy Jo Zuidema, Micanopy, Florida, specialize in futurity horses and have both had very successful show careers winning many Congress and futurity championships. They typically like to receive their babies after the Congress and usually start riding them in December. They also encourage their owners to teach their babies how to longe and lead even though they have started many colts that were untouched by man.  They prefer yearlings that have lived outside with other horses in the elements. Katy Jo explains that horses who have walked on rocks, been kicked by other horses, and eaten by flies are tougher and can later take the stress of horse shows easier.
"Just handle them and please don't spoil them. Hunt seat horses are really big and if they are disrespectful it can be very dangerous," Katy Jo says. "Also, we encourage owners to feed them and keep them as fat as possible. We like them to get out of their stall as much as possible but not longed too much."
Starting in the round pen then moving to the bigger riding pad, Katy Jo explains she typically starts with trotting and loping circles then getting a little face on them and teaches them how to guide off her leg. Then, she typically moves on to counter bending and moves forward from there.
"We do not encourage owners to ground drive their yearlings," Katy Jo says. "I want them to steer with my leg and hand and carry themselves. I don't want them to rubber neck and not use themselves. Please leave that to Tim and me. If they give their face too much, I can't move their body."
Source: By Kristy Vanderwende