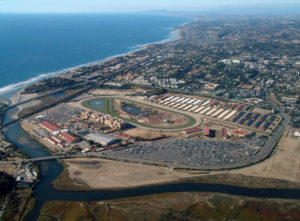 Since the legendary days of Hollywood's golden years, Del Mar has been the destination of choice for many a movie star as well as those with a taste for fast horses, beautiful beaches and award-winning cuisine. Along with the Del Mar Fairgrounds, home to the Sun and Surf Circuit and San Diego County Fair, the historic and charming Del Mar Village offers a variety of unique shops, renowned restaurants, and luxury and beach-style hotels. Saturday's farmers' market is also a great place to pick up the freshest and finest produce, flowers and seafood the region has to offer.
Restaurants
Located in The Grand Del Mar, Addison is San Diego's only AAA Five Diamond and Mobil Five Star rated restaurant.  Chef William Bradley combines fresh, local ingredients with classic French techniques, paired with an award-winning wine selection housed in a floor-to-ceiling custom glass-walled wine room nestled in the main dining room.
Kitchen 1540 in the luxurious L'Auberge Del Mar features an innovative menu highlighting hand-grown microgreens from the restaurant's hydroponic garden as well as unique proteins, such as pig tail, cuttlefish and rabbit, from small purveyors.
Located in the San Diego Marriott Del Mar, Arterra features a new spin on classic dishes in a stylish and modern setting, such as lobster "mac 'n cheese" and aged white cheddar burger.
A favorite location due to its proximity to the ocean and spectacular view overlooking the Del Mar Fairgrounds, the Brigantine Del Mar specializes in fresh seafood. During Taco Tuesday, guests can enjoy $2 fish, calamari, and chicken tacos or $3 carne asada tacos or carnitas all day.
Shopping
Overlooking the Pacific Ocean, the Del Mar Plaza offers an upscale shopping experience for those with impeccable taste for fashion and food. Visitors will enjoy fine dining, strolling through unique galleries, and an elegant atmosphere of fountains, sculptures and palazzo-style terraces with spectacular views of the Pacific.
Dating back to the 1880s, Del Mar's old world charm is reflected in the quaint half-timbered Tudor-style architecture. The Village of Del Mar, located between 9th and 15th streets, contains a variety of specialty boutiques and bistro-style patio dining.
Activities
There is a Del Mar beach to fit any preference: The River Mouth (or Dog Beach) which is broad, wide and dog-friendly; north Del Mar City Beach, which some consider to be San Diego's finest beach; and south Del Mar City Beach, which is long, cliff-lined and isolated, perfect for long walks or jogs.
The only Tom Fazio designed course is San Diego is The Grand Golf Club at The Grand Del Mar. The par 71 course with over 7,000 yards of greens is strategically nestled in Del Mar's meadows, hillsides and valleys.  The course showcases Fazio's unique style of bunker use with many deceptive bunkers hiding in the rolling hills.
Drive down the coastline on Historic Highway 101 from laid-back Oceanside to luxurious La Jolla enjoying the diverse and vibrant communities along the way that capture the true essence of a Southern California vacation.
Rise above it all, floating up to 3,000 feet on a clear day, and drift through the clouds in a hot air balloon ride while sipping champagne and enjoying panoramic views.  Due to favorable wind conditions and unique geography, Del Mar is among the few places in the world where a balloon can fly both at sunrise and sunset.
Spanning over 4,000 acres, Los Peñasquitos Canyon Preserve's natural beauty, rich natural resources and historical adobes make it a popular location for hiking and cycling. The protected preserve is also a great location for wildlife viewing, containing over 175 bird species, 500 plant varietals and rare reptiles, amphibians and mammals who reside within the canyon.
Source: San Diego.org