Source: By Lacey Austin and Kristy Vanderwende • Photo By Eric Hardesty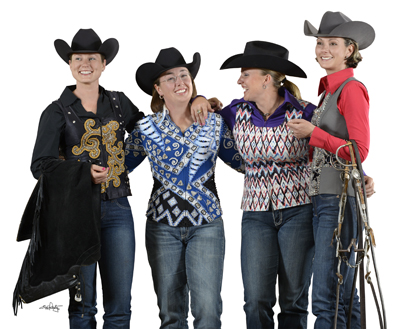 The Open Western Pleasure arena has long been dominated by men. But over the years some very talented women trainers have found a way to lope to the front of the line – sometimes right past their husbands.
Exact records of points and money earned do not exist in any organization but you don't need statistics to prove that men have dominated the Western Pleasure arena since they started holding horse shows.
The American Quarter Horse Association, the world's largest breed organization started tracking open records of horses in 1992 but the association does not compile lists of top Western Pleasure riders by the number of points earned.
The AQHA does have a list of all the World Championships earned in Open Western Pleasure classes since the association put on its first World Championship Show in 1974.
Since that time only six women riders have claimed one of those titles.
Ironically, a woman claimed one of those the very first year.
Chris Barnes, a Kansas trainer, won the Junior Western Pleasure at the 1974 AQHA World Show aboard Tardy's Bar Maid 1, a 1972 sorrel mare by Tardy Too and out of Maid To Order, owned by Sonny Tomlinson and Dick Cole. Barnes and Tardy's Bar Maid 1 returned to again win the class in 1975.
Since Barnes, there have only been five other women who have been able to capture titles at the AQHA World Show in the Open Western Pleasure.
In 1978, Kelley Milligan, of California, won the Junior Western Pleasure on Touch O'Blarney.
In 1989, Kelli McCamy exhibited Impulsions owned by Melvin Proctor to win the 2-Year-Old Western Pleasure.
In 1996, Joan Schroeder, of Texas, rode Blazing Hot to win the Junior Western Pleasure.
In 2003, Texas trainer Tina Kaven captured the Junior Western Pleasure title on Britney Pine owned by Camille Thompson.
Then in 2007, Karen Hornick won the Junior Western Pleasure on A Certain Vino, owned by Lee Reeve. Hornick won the class again in 2008 and then claimed the Senior Western Pleasure title five years in a row for a total of seven consecutive titles, which has never been done by any horse and rider combo in the history of the breed.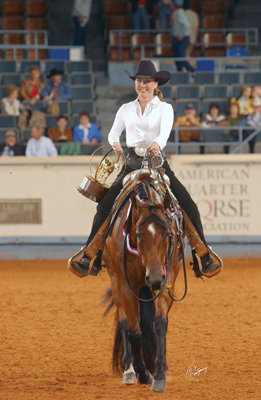 Among the top 50 Western Pleasure riders by total earnings published by Equistat from 1994 through November of 2013 are 12 female riders; seven are professionals and five are non-pro riders. Kaven, the top female rider, is listed 12th with $429,920.72 in total earnings. She was also the first woman Western Pleasure Open Rider to be inducted into the National Snaffle Bit Association's Hall of Fame in 2008, and is the top female on the list of money earners with $314,043.10 since 1984 (when the association started keeping records) through the end of 2013.
Other top female riders that belong to the NSBA Quarter Million Dollar Rider Club are Karen Hornick with $312,662.71 in earnings and Katy Jo Zuidema with $251,596.52.
According to the 2014 Quarter Horse Congress rider eligibility list, there are 12 females out of 35 total riders on the Open Western Pleasure list. Interestingly, the male to female ratio shifts significantly in non-pro eligibility where 14 out of the 15 open non-pro riders are female.
After getting her feet wet in 4-H and open show competition at the age of 13, Kaven of Gordonville, Texas, worked her way up to Quarter Horse shows, always competing as a professional. She did come to believe after some time that a gender bias definitely did exist in the Western Pleasure show arena.
" To overcome gender bias, I had to bring the absolute top level, quality horses that were trained and shown in an absolute top level way repeatedly for a long period of time," Kaven says. "I had to be taken seriously and I had to consistently try to be a force to be reckoned with from the small shows to the top."
Kaven says she feels men will always have some advantages because traditionally showing Western Pleasure horses is a "man's sport" to some extent and that bias will remain as such in the minds of the some of the judges, but women have secret weapons as well that they should use to their advantage.
"Women tend to have more finesse in training and tend to look for different routes to train a horse to perform," Kaven says. "As silly as it may seem, a good outfit stands out. I think women are less likely to leave the best ride in the warm up pen and to strip gears before the finals."
Kaven advises young aspiring female trainers to never settle for less than the best from the horses you ride to the way you train and show. She also insists on having a good ground person that you can trust because "they can make or break you."
There are many talented women making their own mark in the Western Pleasure arena today. We asked four to discuss their experiences with gender bias and what it takes for a woman trainer to be marked at  the top of a judge's card.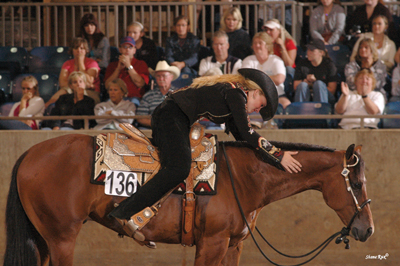 KATY JO ZUIDEMA, MICANOPY, FLORIDA, grew up in the horse business with her father and step-mother, Wayne and Judy Davis. She knew from an early age that being a horse trainer was what she wanted to do with her life. From the time she was a baby, she was touring the big futurities and shows and started early on riding young stock.
"My first major win was in the 11& Under Hunter Under Saddle at the Quarter Horse Congress. I showed a horse that belonged to Dad and Judy and Trisha Yamber was showing it in the 3-Year-Old Open classes. Carl and Trish actually had the horse and coached me through it," Zuidema says. "It's one of my favorite childhood memories."
Throughout her youth career, Katy Jo showed mostly in English classes and even won an AQHA Youth World Championship in Hunter Under Saddle. She explains that she did ride a lot of Western Pleasure horses but her dad tended to sell them before she ever got a chance to show them. So, it was ironic that her first major win as an Open rider was in Western Pleasure on Sure Am Hot at the 2008 Reichert Celebration in the $250,000 Equine Sports Medicine class.
"There were six judges and we had six firsts," Zuidema recalls. "I remember that I never thought I could win it because of my stigma as a hunt seat girl and the fact that I was so young and really a nobody. Guess I was wrong. I loved that horse."
Since then, Zuidema hs gone on to win the Congress Masters Western Pleasure class on A Slow Burn in 2010 and every other major event in the country except the AQHA World Show. She has however been Reserve World Champion and placed third at the AQHA World Show.
"The year I was second, Gil Galyean won on a horse he had purchased from me," Zuidema says. " I am also a member of the NSBA's Quarter Million Dollar Club."
Zuidema does think it is more difficult for a woman to gain respect from both men and women in the industry. She says she believes people are much less forgiving of women because females tend to be more emotional beings.
" I do feel that I have to manage myself more than men do," Zuidema says. "For example, if I'm exhausted and I'm having a horrible day and I worked really hard on my 2-year-old that just placed bad, I can't walk out of the pen and cry even though I want to. I think this is what we do for a living and people spend a huge amount of money for our leadership and guidance. Unfortunately, people don't want to deal with our emotions or moods."
Zuidema says women trainers years before her had already blazed their way to the top proving that women can compete although she believes a bias still exists.
"There are plenty of women who have proven they can ride as good as or better than men," Zuidema says. "The biggest challenge is being a good manager of the people and the big picture. It takes a special kind of woman to be an authority and be liked. I believe if a woman can do that and can deliver results, it's a non-issue."
There are really no advantages Zuidema sees to being a woman training and showing horses other than maybe women look a little better on Hunter Under Saddle horses and get to wear awesome outfits for the Western events. She believes a horseman is a horseman no matter the gender. She advises young women working in the industry to just take everything in stride because horses are a tough business.
"Be minded like a good man. Laugh easy, control your emotions, don't take things personal and don't resent the system," Zuidema says. "This business is hard and once you can't be competitive anymore you want to have something left of yourself."
Zuidema thinks men have two major advantages over women: strength and longevity. Physically, it's a much bigger job for women to be able to bend, flex and push horses who are big, strong animals all day long.
"Men age better than women," Zuidema says. "So about the time a woman has paid her dues and earned her place professionally she's running out of time physically whereas a man still has a decade. A man can enjoy his best years longer and leave a bigger mark on the industry."
Having husband, Tim, in the business working beside her Zuidema feels has played a huge role in her success. She explains that there are things that's he's just better at than her and vice versa and they can bounce ideas off of each other as well as lighten the work load.
"My mom raised me to be honest and have integrity. She always taught me that it's the only thing in life nobody can take away from you. She always says if you tell the truth they might be mad at you because they didn't want to hear it but they can't call you a liar," Zuidema says. " I've stayed true to myself. I think most of my peers would agree that I can be outrageous but I'll always shoot straight. So far, I think it has worked out pretty good for me."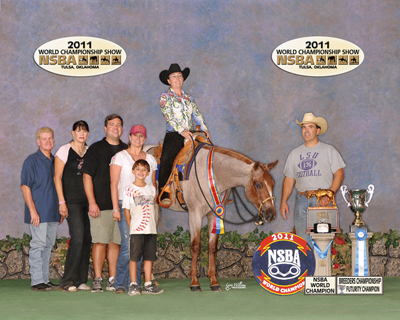 ANGIE CANNIZZARO, PURCELL, OKLAHOMA, has been riding horses for as long as she can remember. Starting out as a youth showing at Saturday night shows in Brinkley, Arkansas, Cannizzaro progressed over the years by riding as many horses as she could. She credits most of her success to her parents Donald and Ruby Rigdon who have always supported everything she has done through the years to this day. Cannizzaro started riding Reining horses and learned a lot about how to get them really broke from many great trainers.
" I eventually progressed into Western Pleasure, my true love, and showed many years as a non-pro, buying, training and selling my own horses of course not without tons of help along the way," Cannizzaro says. "I graduated from college and had a huge decision to make, law school or horses. I chose the latter, a few years ago my husband, Charles, and I decided to start our current training operation CAC Show Horses. I am truly happy with that decision. The hours are terrible and the pay sometimes meager but we truly love what we do. We think there is a lot to be said for that."
Cannizzaro's first big win came in 2006 when she won the 2-year-old Non Pro Western Pleasure at the Quarter Horse Congress. As a non-pro, Cannizzaro also won the 3-year-old Western Pleasure Futurity at the Congress and after turning pro has captured wins in the Congress Masters in 2012, the 2-year-old Open Western Pleasure Futurity and the 2-year-old Open Hunter Under Saddle.
" I am very proud of the fact that I have now trained major champions for my customers," Cannizzaro says. "A lot of people can train horses for themselves but the true test is training them for someone else to go win on."
Although Cannizzaro does not feel there is a true gender bias she does think that women often need to go the extra mile to be noticed and taken seriously.  She believes men sometimes will get the benefit of the doubt, which motivates her to work even harder.
"It is a huge challenge I think in our industry to be taken seriously as a woman but also just in general, you must produce. For a woman the possibilities are endless but I think you have to go just a little further to be taken seriously," Cannizzaro says. "You have to outwork, out show the guys whenever possible. Hard work, dedication and sacrifice usually pay off in the end. I think this is true for every trainer male or female."
Since there are not as many women showing in the Western Pleasure arena as men, Cannizzaro believes this can work to a woman's advantage to become noticed if they have a really great horse and ride. Cannizzaro thinks when women are training horses they sometimes can get along with a difficult horse better because women can be stern when needed and nurturing as well.
"Don't think you are at a disadvantage just because you are a woman. One must have correct
posture mentally and physically. You put your time
in, work hard and you will be paid for it," Cannizzaro says. " You must be passionate and strive to give 200 percent every day 24/7. It's a lifestyle if you treat it just as a job it will eat you up."
To Cannizzaro, every individual horse trainer must work for their own success. Having a husband in the business can help as far as getting his wife's name out there, but she does not believe a woman can be successful just because her husband is.
"I've gotten so much great advice over the years. A great friend once told me, 'hold your head high every day and keep running at them and you won't be denied.' There will be bad beats and good wins and they are all important at the end of the day," Cannizzaro says. "Another favorite saying is 'work your horses hard and take care of them harder. It'll pay off!' This one has proved to be true every time."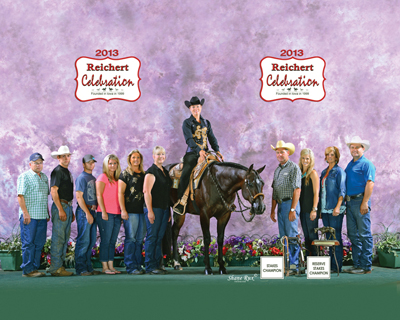 ERIN LIEURANCE, OXFORD, IOWA,  was first introduced to horses by her now step-mom, at the age of 7. In the beginning, she rode any kind of horse she could throw a leg over and preferred to ride bareback. Lieurance was first introduced to Western Pleasure by Danielle Burnight who started coaching her at open shows and then the AQHA/APHA level.
"After high school graduation Danielle found me an opportunity that I now would definitely call a life time opportunity. I had no idea what I was getting myself into. For the next four and half years, I worked for Carl and Trisha Yamber," Lieurance says. "I guess you could call it college for me. It was the smartest move I made toward becoming a trainer for not only learning the steps for training a horse from start to finish but being a horseman throughout
the process."
During her time at CT Quarter Horses, Lieurance was able to ride horses of different disciplines but ultimately decided on taking the pleasure horse route. Moving closer to home, Lieurance then went to work for JR Reichert, which further helped her training skills and also helped her to understand the ins and outs of the industry. For the past four years, she has been in a training partnership with Jeff Cochran.
Her first major win came at the Tom Powers aboard Saturdays Goodbar in the 2-Year-Old Limited Open Western Pleasure winning it across the board.
Since then, she has gone on to have multiple Congress and Reserve Champions as well as Tom Powers, Reichert Celebration and NSBA World Show Champions. She is most proud of her accomplishment to be included among the top 55 money earners for NSBA.
To Lieurance, the horse business is all about paying dues no matter your gender. She sincerely has faith in the fact that hard work, taking good advice and dedication will eventually establish respect for any young trainer.
"I think there is still some gender bias but that is going to be with the majority of occupations that you choose not just the horse business," Lieurance says. "I do think that the new generation is opening up a different standard than previous generations. There is more equality now than there ever had been. I can count just as many if not a lot more successful women horse trainers in my age group than men."
In fact, Lieurance thinks women do have several advantages over men in the show pen like some women having more presence bringing more attention to their ride and women typically pay more attention to detail in anything they do.
She thinks men also have advantages like being able to gain respect in the majority of business faster thus making it easier for them to climb the ladder to success.
"My advice for young women trying to make it in this world would be keep doing what you love and don't let the bumps in the road slow you down just be more prepared for the next one." Lieurance says. "If you put passion into what you do you will be successful and take advantage of any advice you get from other people in the business because you never know when you might need it!"
Lieurance explains that husband and wife trainer teams can be highly successful because two minds are always greater than one. When training a horse, both partners can reflect ideas off of each other.
"The best advice ever given to me was to take advantage of what opportunities are in front of you because they may not be there tomorrow," Lieurance says.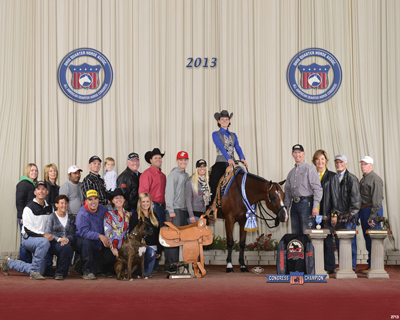 ASHLEY LAKINS, WILMINGTON, OHIO, was born and raised in Southern California, and was always horse crazy.
She started at open shows and tried to buy youngsters, train them and sell them. Her first horse job was working for David and Cheryl Busick before going to work for Paradise Farms in 2000.
In 2002 at the Tom Powers, she met the love of her life, Kenny Lakins. She soon moved to Ohio where she and Kenny currently operate Lakins Quarter Horses.
Lakins first big win was with ML Outrageous when she placed third at the AQHA World Show in the 2-Year-Old Western Pleasure. Her first major slot placing came in the Equine Sports Medicine $250,000 added class where she placed fifth on Dunnit On The Range.
Lakins has shown Congress Champions and Reserve Champions including her win last year in the Coughlin Open 2-Year-Old Western Pleasure with So Good To Be Me.
"I think the biggest challenge to take women seriously is to be strong about your ways and strengths," Lakins says. "Always know you can make it happen and use your strengths to help you survive."
Lakins says she thinks the pleasure industry is still very biased toward men.
"Occasionally you will see a woman trainer step up and win something big but there are a lot of men who are very good trainers in our industry," she says. "Men trainers have a huge advantage because they outnumber the women by so many."
She says she also considers that men  have the strength to get along with a horse that's difficult to train.
But being a woman trainer certainly has its advantages. Lakins says that because women are generally so particular about little things they can often be more in tune with their horses and customers.
In addition, she thinks women are great teachers and are able to explain things easier.
"I think women's horses are very fine tuned more so than a man's. They are very broke and easy to ride," she says. "Women just need to keep showing and producing a very nice finished horse and eventually the judges will notice you."
She cautions women about giving up too easily just because they don't place well.
"Just keep showing nice horses," she insists.  "Judges will notice that."
To Lakins, her husband, Kenny, has played a huge role in her success by being her partner and role model. She really feels they have both helped each other get where they are today by working together in a team effort.
"The best advice I ever got was never quit learning," Lakins says. " Even on the very top you can learn things each and every day. When you quit learning or think you know everything, you will be done as a trainer. Always keep an open mind."