Text by Kristy Vanderwende and Bailey Capri Pitts • Photos by Caroline Waters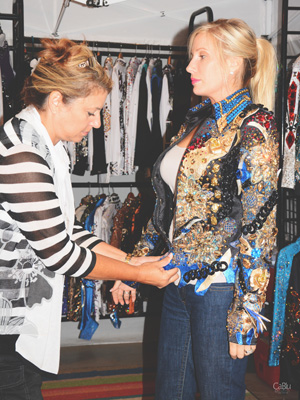 With a lifetime of show horse experience and a knack for fashion, Tammy Dyer of Pilot Point, Texas creates exquisite show apparel with her D Designs Custom Show Clothing Company.
Involved in the show industry since she was a child, Dyer and daughter Sharnai Thompson have earned nine AQHA World and Reserve World titles and countless Quarter Horse Congress trophies. With an eye for stunning attire, Dyer began to realize that she could make a career out of what started out as hobby designing her own jackets and vests.
"I've just been in the horse industry for so long and had bought show clothing for my daughter for years. I had a feel for the industry and what outfits should look like," Dyer says. "I would always see stuff that I thought would be a cool idea for a jacket. I wanted to try and put my own spin on things."
As a result, the D Designs Custom Show Clothing Company was founded in 2010. It offers custom and off-the-rack show clothing, both jackets and vests, for all the western events as well as Halter, Showmanship and Pleasure Driving.
To get started, Dyer turned to her friend and household employee of eight years, Alma Williams. While Alma focuses on the seamstress duties, Dyer handles the creative aspect and the two "feed off of each other" in the designing process.
Inspiration for pieces can come from anything Dyer explains. She once even received a picture of a dress someone had bought and wanted to use it as a muse for a show jacket.
"My ideas come from everywhere! Anything I see or something someone says, a photo, pieces of jewelry. I am always shopping no matter where I am!" Dyer says. "I am always on the lookout for something that catches my eye."
To keep track of all of her ideas, Dyer keeps pictures and notes to reference back to later when she has a "writer's block."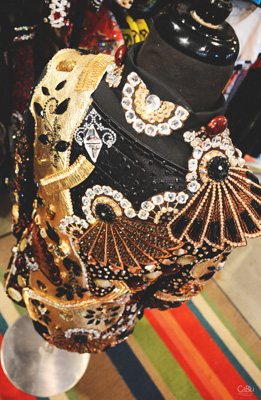 "We always try to do something unique, something different that hasn't been done before whether it's custom or off-the-rack," Dyer explains. "We try to think outside of the box whether in design, color combinations or fabrics."
As for the process itself usually Dyer starts by sketching out a general idea according to what she and the client have discussed.  Then, she and a seamstress lay the different fabrics, cut out and embellishments on the garment. Once there's a final decision everything is sewn on individually.
"It takes a lot longer and it's a lot more work but it's better quality," Dyer says.
The amount of time dedicated to each piece as well as the price varies greatly depending on what the client wants as far as the type of fabrics and how much embellishment is desired.
Dyer explains that a lot of people like the stretch material that she offers because it is more comfortable but she works with all kinds of hides, laces, over-lay, polyester and color combinations.
"It really depends on the what the client wants," Dyer says. "We can go as intricate as anybody wants and we can go as simple as well."
Since the business began booming, Dyer was approached by longtime friend Kathy Williams of Kathy L. Williams Tail Extensions from Mendon, Ohio about selling pieces. Williams who has been carrying Kevin Garcia garments for years has acted as the perfect outlet.