Source: Text and Photos by Courtney Archer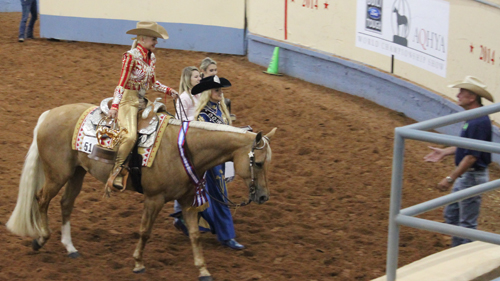 One by one dreams are coming true at the 2014 American Quarter Horse Youth Association World Championship Show in Oklahoma City.
Deanna Green, of Pilot Point, Texas, said all she wanted to do was go in and have a "good, clean run" in the Western Riding on her 2007 palomino mare, Blazinmytroublesaway. But the second she loped off Deanna said she knew "Buttercup" wanted to be good and was ready to show. They scored a 237.7 to win her very first World Championship title in the tough class of 72 qualifiers. Deanna and Buttercup already have two Reserve World Championships – one in Western Pleasure and the other in Western Riding.
The team takes home a custom-designed gold trophy, Montana Silversmiths belt buckle, neck wreath, gold medallion, specially designed logo jacket sponsored by Cripple Creek, world champion patch, WeatherBeeta and embroidered blanket.
Deanna will also compete in Cutting on her new horse, Platinum Bob on Tuesday.
Bred by David MacDonald, Blazinmytroublesaway is sired by Blazing Hot and out of Really In Trouble (by Trouble Town)
Flashy Attraction and Taylor M. Searles of Scottsdale, Arizona were Reserve Champions and Certainly A Blaze and Klay McDowall of Franktown, Colorado, placed third.
This year's Youth World Show started out with a little bump in the road when the roof started to leak Thursday morning of the Jim Norick Arena but the AQHA staff uickly moved the classes to the Performance Arena and the show started as scheduled Friday morning with the Performance Halter Mares.
Jack Meadows of Cuba, Missouri, got things started by showing  Suprizentheprincess to a win the class of 36. Suprizentheprincess is a 2009 buckskin mare by Jerry Lees Surprise out of Princess In Diamonds (by Shining Spark).
It was the first World Show win for Meadows.
"Being the last one standing in the arena today and hearing my name called out as World Champion is a feeling I will never forget," he said.
Reserve Champion honors went to Onlythebestchocolate and Paulia Marie Martz of Blacklick, Ohio. CK Mardi Gras and Katie Bussing of Evansville, Indiana, claimed third.
Jack will show and Wimpys Show Stopper and Ruf Tuf Whiz in Reining on Wednesday morning.
In his first appearance at a Youth World Show, Reece William Hooker, of Clinton, Illinois, led his 2008 bay gelding, Im Plumb Obvious, to a win in the Performance Halter Geldings. Sired by Imagine Me At Last out of Its Plumb Obvious (by Obvious Prophet), Im Plumb Obvious bested 65 other entries to take home the gold globe. KM Boalicious and Natalia Kay Devencenty, of Pueblo, Colorado, captured Reserve in the class while third place went to Unique Alibi and Kyra J. Bouma, of Choteau, Montana.
The Horsemanship prelims with 192 entries definitely kept the riders on their toes. The pattern had one start cone and each rider was told to use the whole arena. With lots of turns and transitions the judges were able to pick their top 15 to come back Tuesday for the finals.
Judges for the 2014 AQHYA World Show are Nancy Alto-Renfro, Trisha Armstrong, Elizabeth Baker, Leonard Berryhill, Don Boyd, Dave Brock, Dawn Casey, Isn Chisholm, Frank Craighead, Rusty Dare, Bill Enk, Buddy Fisher, Larry Hansch, Mike Hawkins, Owana Hutchens, Morgan Lybbert, Bill Kaven, Leslie Lange, Tom Neel, Jill Newcomb and Pat Taylor.
Click here for results, a schedule of classes and additional information on this year's AQHYA World Championship Show : http://aqha.com/Showing/Youth-World.aspx
Click here to sign up to view a free live webcast of competition: http://www.iequine.com/events/2014/08/built-ford-tough-aqhya-world-championships/video_feeds/jim-norick-arena
Click here for candids from the show from our reporters Courtney Archer and Courtney Borton Ament