She is only 13-years-old and she's only been showing Western Pleasure for three years but today Erin Mask made a huge statement when she and Only Because Im Good were named Reserve AQHA Youth World Champions in Western Pleasure. And the 13-year-old competitor from Newnan, Georgia, says she's just getting started.
"I was really happy to be in the Top 15," Erin said. "I was thinking that she was being really good and if I could stay calm we would have an even better ride. I've been wanting a trophy but I was going to be happy with whatever I got."
Erin said she had a definite strategy about how to present her horse.
"I pushed the walk and trot up but didn't do much at the lope because she is naturally a big, sweepy mover," she said. "I think the extended gaits helped because when you move forward you can tell a horse's true movement."
Erin and "Pig" placed seventh at last year's AQHYA World Show, just one year after teaming with the 2007 bay mare by Invitation Only and out of Zippity Good Bar (by Zippos Mr Good Bar).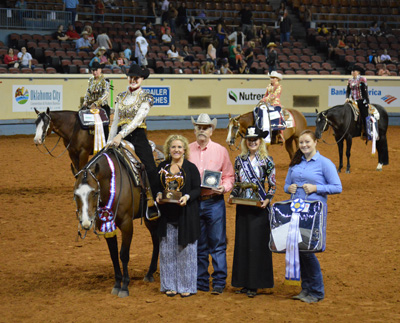 Winning the Western Pleasure for the second straight year was Hillary Roberts, Whitesboro, Texas, and Whatscookngoodlookin, a 2008 bay mare by A Good Machine and out of A Cooki For Certain (by Certain Potential).
The class got started on Tuesday with 91 entries. The 15 finalists returned to the arena tonight for the finals round.
"It's amazing to be back-to-back champions," Hillary said. "She's a great horse and she did everything I asked her to do today.
Hillary also said she placed an emphasis on highlighting her horse's gaits.
"I think the extensions were a strong point for us so I just went out there and showed my horse," she said
Third place honors went to One Lazy Investment and 17-year-old Virginia Owen, Piedmont, South Carolina. One Lazy Investment is sired by Lazy Loper and out of January Investment.
Other placings include:
4. A Certain Illusion & Abbey Rawlings, Australia
5. The Only Story & Madison Beasley, Alpharetta, Georgia
6. The Party Starts Now & Matthew Labrie, Southampton, Massachusetts
7. BlazingMyTroublesAway & Deanna Green, Pilot Point, Texas
8. Sheza Home Wrecker & Hannah Wiese, Papillion, Nebraska
9. Certainly Inspired & Austin Green, Pilot Point, Texas
10. SleepinWithMyBootsOn & Sarah Orsak, San Antonio, Texas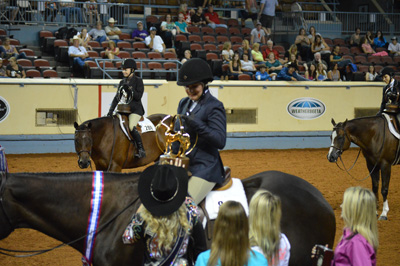 Earlier today Katerina Mendel, Ann Arbor, Michigan, and Willys On The Green defended their 2013 title by capturing their second straight World Championship title in Youth Hunter Under Saddle. Sired by Willy Be Invited and out of the Thoroughbred mare, Dance The Green, Willys On The Green, a 2008 brown gelding, was bred by Fritz Leeman, Massillon, Ohio.
Reserve in the class of 117 was Look N Hott, a bay gelding by Hot N Blazing out of Regal Marie, with Cassidy Champlin, Gardnerville, Nevada, in the irons.
Placing third was Cowboys R Hot and Paige Stopperich, Venetia, Pennsylvania. Cowboys R Hot is also sired by Hot N Blazing and out of Jessies Quick.
Other results include:
4. Doodle Jump & Jenna Jacobs, Youngstown, Ohio
5. Call Me Blazing Hot & Cydney Benes, Del Ray Beach, Florida
6. She Says Aloha & Taylor Searles, Scottsdale, Arizona
7. Naturally Graceful & Leonie Fischer, Germany
8. InKryminating & Jordan Gates, Wooster, Ohio
9. Dancin In My Sleep & Nicole Kuklinski, Ironwood, Michigan
10. One Hot Kat & Vanessa Gillette, Seminole, Florida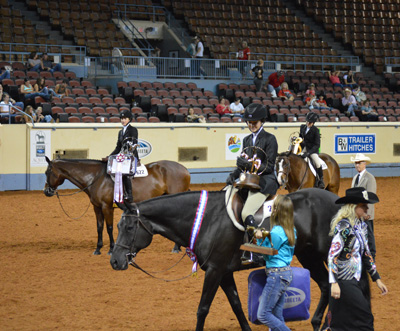 The evening ended with the crowning of the Equitation Champion, Gentry Cherry, Guthrie, Oklahoma and ImAsGoodAsItGets, a 1998 black gelding sired by Invitation Only and out of Spotted Daisy.
GW Jack Bar was the Reserve Champion with Harley Huff, Evansville, Indiana, and Al Be Sweet On You and Taylor Searles, Scottsdale, Arizona, placed third.
Hillary Roberts teamed with her 2003 sorrel gelding, Chrome On My Zipper to capture a World Championship title in Trail on Wednesday. The class started with 161 entries and the winners scored a 231.5 to take home the golden globe trophy. Reserve Champion went to Just Hit Town and Taylor R. Brown of Strathmore, California and Chocolates Hot Asset and Natalie Alcorn of Somerset, Pennsylvania, placed third.
Madison Thiel, Archibold, Ohio, and HF Lazy Loper bested 184 other entries to win Showmanship on Tuesday. The 2006 bay mare, sired by Lazy Loper and out of HF Diva (by Barpassers Image), was bred by Robert or Terri Wolf of Okemos, Michigan. Zippos Kat Man Do and Bailey M. Anderson, Millsap, Texas, were Reserve Champions and third place went to Good As Expected and Courtney Elizabeth Allen, Elkhorn, Nebraska.
Klay McDowell, Franktown, Colorado, was all smiles on Tuesday when he piloted Certainly A Blaze, a 2007 bay gelding by Blazing Hot and out of Certainly A Classic (by Certain Potential) to a World Championship title in Horsemanship. Bailey Anderson, Millsap, Texas was Reserve Champion aboard Zippos Kat Man Do and Keaton Crawford, Golden, Colorado placed third with My Ace Is Hot.
Competition continues tomorrow with the finals of Ranch Horse Pleasure, Reining and Boxing.
Click here for results, a schedule of classes and additional information on this year's AQHYA World Championship Show : http://aqha.com/Showing/Youth-World.aspx
Click here to sign up to view a free live webcast of competition: http://www.iequine.com/events/2014/08/built-ford-tough-aqhya-world-championships/video_feeds/jim-norick-arena
Click here for candids from the show from our reporters Courtney Archer and Courtney Borton Ament