Source: Text by Courtney Ament & Courtney Archer • Photos by Courtney Ament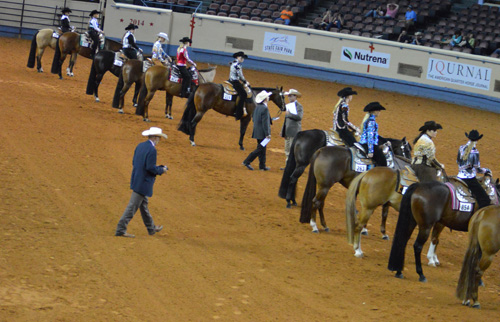 The third day of competition here at the AQHA Youth World Show in Oklahoma City, Oklahoma, brought about many tears both in and out of the arena. The preliminary go of the Youth Western Pleasure brought some of the best horses in the country to the Jim Norwick arena. From a field of 93 horses and riders, 15 were chosen to advance to the finals to be held Thursday.
One lucky exhibitor to make the finals was South Carolina native Virginia Owen who showed her gelding One Lazy Investment.
"I was very nervous before the class, but I thought my ride was fantastic," Owen says. "As long as you work hard, ride hard and show hard the results will come in the pen."
Show time jitters were certainly on display at the teams prepared for the extended trot down the middle of the pen. Erin Mask of Newnan, Georgia also made the finals in Youth Western Pleasure aboard her mare Only Because Im Good. Now the pair will have another day to get ready for the finals.
"I'm just planning on working really hard and try my best to have another good ride," Mask says. "I was really happy with my ride tonight, she was a very good girl."
Possibly the most excited exhibitor to make the finals of the Youth Western Pleasure was 15-year-old Haley Riddle of Gainesville, Texas. As the daughter of trainers Nikki and Ray Riddle, Haley grew up showing horses. This, however, is the first time she has ever shown Western Pleasure at an AQHA World Show. Teamed with Shady Impulse they will get to have one more trip around the arena.
"I really didn't put too much pressure on myself, I just wanted to go out there and have fun," Riddle says. "I would tell anyone who's considering their first trip to the AQHA Youth World Show to have fun, make new friends and try to enjoy the experience."
In addition to Western Pleasure 15 exhibitors were chosen from a huge class of 190 entries in Youth Showmanship this morning.
Cydney Benes of Boca Raton, Florida was one such lucky exhibitor to get to move on to the finals teamed with her horses Rockin Raisinette to be held tomorrow afternoon. This is Benes' fourth AQHA Youth World Show and though she says she still gets a little nervous when heading down the chute that practice is the key to success.
"I would tell people to try not to be nervous," Benes says. "Be confident in yourself and show like it is just any other show."
As the youngest exhibitor to make the finals 11-year-old Pennsylvania native Jillian Stopperich is showing at her first AQHA World Show with her partner, Invested Pine Asset.
"My first pattern was pretty good, but my second one was much crisper," Stopperich explains. "I just want to go out there tomorrow and try to get all my spots, I know I am the youngest, but I am going to try my best."
Sammie Johnson of Bridgeport, West Virginia, was possibly the only one who we spoke with that didn't feel nervous before her Showmanship pattern. She had a good deal of faith in her horse, Flashy Invite.
"Showmanship is our last class here at the AQHA Youth World and I just wanted to go out there and have fun," Johnson recalls. "This is my third World Show and I would tell people to come here to open new doors for yourself. There are a lot of great horses, but don't ever count yourself out."
It took a score of 223.5 to make it to the finals in this year's Trail Class. A challenging course with plenty of transitions and raised poles forced horses and riders to really concentrate but also provided plenty of flow. Leading the way into the finals, which will take place on Wednesday, Aug. 6 is Livvie Van Lanen, of Green Bay, Wisconsin, and her horse All But Sudden, a 2007 bay gelding affectionately known "Stevie." It was Livvie's first time making it to the finals in Trail at a Youth World Show and she marked a 231 to advance in the lead.
"All I wanted to do was go in and have a clean run and if I happened to make the finals that was just a bonus," she said. "Stevie was definitely ready to show and he gave me one of the best patterns I have ever had on him."
It took a 218.5 to make the shootout and then a total of 22 exhibitors fought for five spots in the finals, which required a mark 223 to advance. Nine-year-old Cheyenne Augsburger (known around the shows as "Scoot") had the crowd on her side. Showing Huntin For Candy at her very first Youth World Show. Cheyenne, the daughter of Andrew and Lori Augsburger of Loxahatchee, Florida, is the youngest of the Trail finalists. She said her favorite part of the pattern was loping into the box and having to stop and turn.
"The Amazing Skamper was perfect for me in the prelims and in the shootout'," Cheyenne said.
In addition to Trail, Cheyenne qualified Dynamic AllNite Long in Western Riding, Horsemanship and Showmanship.
Click here for results, a schedule of classes and additional information on this year's AQHYA World Championship Show : http://aqha.com/Showing/Youth-World.aspx
Click here to sign up to view a free live webcast of competition: http://www.iequine.com/events/2014/08/built-ford-tough-aqhya-world-championships/video_feeds/jim-norick-arena
Click here for candids from the show from our reporters Courtney Archer and Courtney Borton Ament