Source: Text by Katie Navarra • Photos by Katie Navarra and Holly Spagnola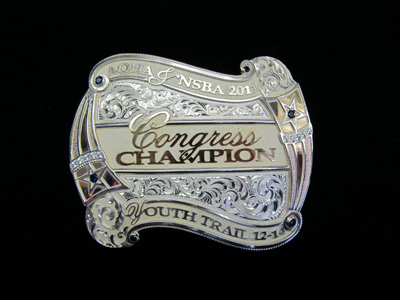 Trained as a graphic artist, Holly Spagnola wasn't content to follow the traditional career path working as a graphic designer.
Instead, after completing courses at the Pratt Institute in New York, she seized an opportunity to use her artistic talents to create unique, one-of-a-kind jewelry for equestrians and their horses.
Shortly after graduating Spagnola's friend and mentor, Chuck Letchworth, encouraged her to learn to solder.
"He taught me the basics of forming," she explains.
Letchworth, a western bit maker, offered Spagnola an apprenticeship, which she readily accepted. As an apprentice she also learned the fundamentals of engraving.
"It's a nice skill to have and looks beautiful on some of the pieces," she adds.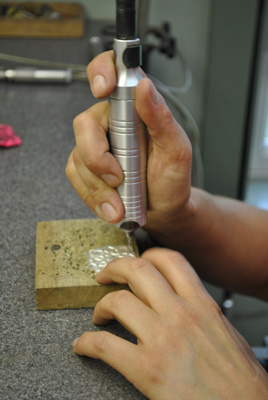 Spagnola's work appeals to English and western riders alike and ranges from spurs, belt buckles, western saddle plates, halter accents, jewelry and English stirrup irons. She prefers working in white metal, but easily incorporates gold and/or rose gold overlays when requested. Clients often ask for the addition of semi-precious and precious stones.
"If a client wants diamonds on their halter, I'm more than happy to do that too," she says.
Every piece is carefully hand crafted in her workshop in Harwinton, Connecticut. Halter buckles and intricately engraved silver tack accents can take several weeks to complete. Belt buckles and smaller jewelry pieces take less than 24 work hours to construct.
Regardless of the lead time, clients know it's worth the wait.
"Her artistry is unbelievable," insists Grace Fortune, a client of 14 years, "she is so patient and sits down with you and asks what are you trying to accomplish."
The design work takes the longest to complete because Holly believes multiple conversations with the client are necessary to create a piece that is truly representative of what the client asks for. "She takes hours to think about a design," says Sue Kaplow, also a client.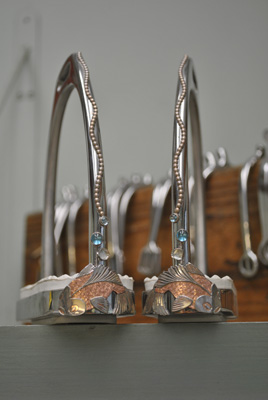 Kaplow commissioned Spagnola to design a bracelet that included enamel images of each of her favorite horses. "I gave her pictures of each of the horses and she asked what I liked about them," she says. One's conformation, another's attentiveness and a third's face stuck out to Kaplow.
Rather than create a full image of each horse, Holly picked parts from each horse to feature.
"One of the images is just the ears, another is the horse jumping and another is the front on picture my horse's head, but just his blaze," Kaplow explains, "she even got the pink in his nose-I don't know how she did it, but she got the pink in there!"
The creative, design process is her favorite aspect of every project. It gives her the opportunity to use her imagination. First, she spends time learning about the client, their personality and their interests outside of the horse industry.
Whether it's music, sports, firefighting or other hobby or profession, she searches for ways to incorporate these themes into the final design.
"People don't know where to start the creative process, so I'll look for an outside interest and then send them a few ideas and drawings," she explains.
Some clients will always prefer traditional, floral engraving and Spagnola works as tirelessly on those pieces as others, but when a client provides creative freedom, she follows her creative whimsy. One client, a firefighter, followed her suggestion and boasts flames radiating from the sides of his spurs. Another client, married to a pitcher for the New York Yankees, requested her spurs to reflect her connection to baseball.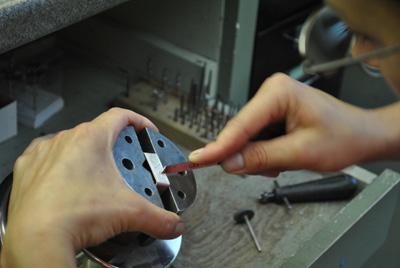 Most recently, she added enamelist to her list of specialties. Enameling is the fusion of a special powdered glass to metals. The glass can be applied using different techniques, but all methods use heat to melt the powder.
Working from photographs or her own designs, she can create a vibrant, colorful replication. Her enamel jewelry features pendants of client's horses and dogs to more abstract pieces that have included Spanish tiles, starfish and seahorses.
When she was first learning enameling she asked her sister, Jill Zastko for a subject. "I said what about a lotus flower?" Zastko says. When Zastko received the finished piece she couldn't believe it was Spagnola's first attempt at enameling. "It was beautiful, people stopped me and asked me about it all the time," Zastko adds.
Widely known for her engraved and/or jeweled English stirrup irons and spurs, Spagnola was the first artist to design and market engraved irons. She first distributed her stirrups in a network of 10 tack shops, but was met with some resistance at first.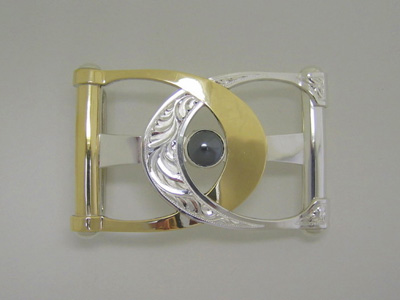 "People would say, 'why would I want silver on English stirrups?'" she recalls. When she began marketing her items at Quarter Horse events, customers went crazy. "They were greatly accepted in the Quarter Horse world," she says.
A belt buckle designed for Gary Stevens may forever be her favorite piece. The belt buckle, designed to commemorate Stevens' three Kentucky Derby wins includes the year and the name of the horses he won with. With the careful detail, the buckle with a thoroughbred in full stride appears almost three dimensional and racing off the buckle.
"When I make these belt buckles, I know people will have it for a long time," she explains.
Ironically, horses were not always a part of Holly's life. In fact, she never spent time with horses or riding until she was nearly a teenager.
"My parents were not horse people," she says," when I was 12 or 14 we stumbled by a farm and asked if I could stay and brush the horses."
The farm, owned by Gretchen Mathes' family, agreed and Holly soon began spending every afternoon there brushing the horses until they shone. She and Mathes became fast friends and over time, Spagnola began becoming more and more involved with the farm and learning to ride. At 21 she purchased her first horse and began competing at Quarter Horse shows with Mathes's help.
Over the next two decades, Spagnola competed in both Hunter/Jumper and AQHA Shows, competing at some of the largest events including the All-American Quarter Horse Congress and the American Quarter Horse World Championship Show in Hunter Under Saddle, Equitation on the Flat, Equitation Over Fences and Working Hunter. Despite her current show career with I'm A Phenomenon, "Pippy", being a layup due to an injury, Holly sees this as an opportunity to expand her business. "Everyone is pushing for me to do a vendor booth at shows and since my show career is on hiatus at the moment, it's the perfect time to do this while she's recovering," she concludes.
The crowning moment in her work is the pure appreciation from her clients.
"Every time I can make a client cry when they get the final piece it is great," she exclaimed. Ask any one of her clients and they will tell you it's an emotional thing for the person receiving the pendant.
"Everything is so personalized people just cry over these pieces," Zastko says, "I'm really proud of her!"
Look for Holly at a variety of events or visit her website  at www.hollyspagnoladesign.com to see additional samples of her work.