Source: Text By Kristy Vanderwende • Design By Joselyn Leonhart • Photos By Larry Williams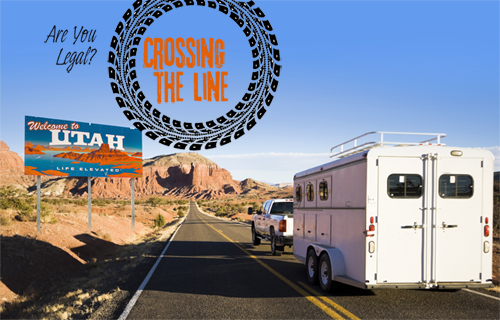 Imagine the blue lights are flashing and the sirens are screaming as a state trooper pulls your horse trailer off the road. As you roll down your window, don't be surprised if the officer asks to see your health papers, CDL license and USDOT number among a list of other requirements pertaining to safety that you as an operator of a horse trailer may need to have.
Although the laws are not new, most operators of horse trailers at shows do not comply with them because they have not been readily enforced until now. So, it is absolutely imperative to know what is legally required for your rig so that you can avoid large fines and even the possibility of being put out of service with your horses on the trailer. In the second section of our two-part series on hauling, we sought to set the record straight on what horse trailers need to have crossing state lines.
In route to the Tom Powers Futurity in Berrien Springs, Michigan professional horse trainer Kristy Klimmek was pulled over by a trooper in Iowa.
"I learned the hard way," Klimmek chuckles. "I never really paid much attention to needing the necessary requirements until I got stopped last year on my way to the Tom Powers and was issued nine tickets. I paid pretty good attention then."
Klimmek, who owns and operates Klimmek Futurity Horses, in New Richland, Minnesota,  recalls an officer pulling her over not because she was speeding or because she did not have her seat belt on but because he wanted to see her health papers. A veterinarian's daughter, Klimmek had all the health requirements and readily handed the officer over the paperwork. He then asked for her USDOT number and CDL License as she was pulling a six-horse trailer with a one-ton dually truck. Not having either, Klimmek said she did not realize that was required of her rig. The officer returned to his car having googled "Tom Powers Futurity" which was listed as the destination on her health papers where he learned from the computer in his cop car that Klimmek's horses could earn money at the show. The officer explained to Klimmek that since she was on her way to a show where she could earn money she was automatically engaged in interstate commerce with a vehicle over the limit needed for USDOT numbers as well as a CDL license.
"He could have put me out of service right there, I later learned, until I could find a CDL licensed operator to drive my rig but instead he issued me tickets for no CDL and USDOT number as well as seven warnings for safety requirements including things like having no flares, log book or the correct safety chains on my hitch," Klimmek says. "People at the horse shows don't think they meet these requirements but most do."
The Law: USDOT Numbers
According to the Federal Motor Carrier Safety Administration (FMCSA), a USDOT number is for "Companies that operate commercial vehicles transporting passengers or hauling cargo in interstate commerce must be registered with the FMCSA and have a USDOT number. Also, commercial intrastate hazardous material carriers who haul quantities requiring a safety permit must register for a USDOT number. The USDOT number serves as a unique identifier when collecting and monitoring a company's safety information acquired during audits, compliance reviews, crash investigations and inspections."
Vehicles required to obtain a USDOT number are those that have a gross vehicle weight rating or gross combination weight rating or gross vehicle weight or gross combination weight of 4,536 kilograms or 10,001 pounds or more whichever is greater, is designed or used to transport more than eight passengers(including the driver) for compensation, is designed or used to transport more than 15 passengers including the driver and is not used to transport passengers for compensation or is used to in transporting material found by the Secretary of Transportation to be hazardous and transported in a quantity requiring placarding.
In addition, the above vehicle must be involved in interstate commerce which is described by FMSCA as "Trade, traffic or transportation in the United States between a place in a state and a place outside of such a state (including a place outside of the United States), between two places in a State through another State or a place outside the United States or between two places in a State as part of trade, traffic or transportation originating or terminating outside the State or the United States. You are required by FMSCA to obtain USDOT number and comply with the Federal Regulations."
Besides the federal regulations there are also 33 States that require commercial motor vehicle registrants to obtain a USDOT number. To review these states and the law visit www.fmsca.dot.gov/registration/do-i-neeed-usdot-number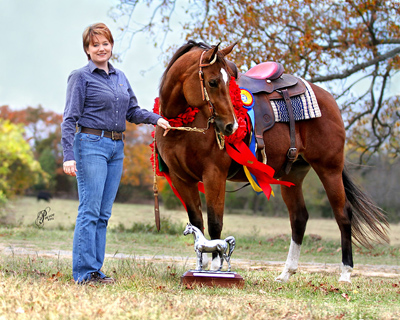 Beth Lowrey of Ozark, Arkansas is a fleet safety and training consultant who specializes in the evaluation, development and implementation of fleet safety management and regulatory compliance practices and programs. A Certified Director of Safety with over 20 years professional experience, Lowrey has experience in nationally recognized commercial driver training programs. She is also an experienced horsewomen who has competed in both the United States and Canada in a variety of organizations and holds multiple National and World Championships in a multitude of disciplines. She currently lives with her husband, Bruce and three children. They currently operate Independent Risk Management Consultants and B bar B Ranch Performance Horses.
Lowrey explains that commerce is defined as generating revenue through the transportation of your own property, property of others (for-hire) or perform a service that is part of your business.
"Most trainers regardless of whether they charge mileage meet this definition of commerce," Lowrey says. "Amateurs however generally do not as they are not generating revenue as a business. If the amateur however is also a breeder and shows their own horses, but doesn't meet the USEF definition of professional but they file tax returns as a business then they would meet the commerce definition. This does not hinge on whether or not they are profitable."
Taking it one step further, Lowrey explains if you are acting in interstate commerce and you have a gross vehicle weight rating of 10,001 pounds or more you need a USDOT number.
"A standard Ford F-250 has a curb weight of 6351 lbs. A Featherlite four-horse standard trailer weight is listed at over 5,000 pounds which without saddles, tack, equipment, feed, hay and horses the unladen weight of the combination of vehicles is already in excess of 10,001 pounds," Lowrey says. "A two-horse Featherlite trailer is listed at 4,000 pounds therefore even pulling an empty two-horse would put you over the 10,001 mark attached to a vehicle similar to an F-250."
Jim Roth of Roth Show Equipment in Kansasville, Wisconsin decided to go through the process and get his rig completely legal several years ago. Now that he has gone through the process, he believes many think it is a whole lot more complicated than it actually is.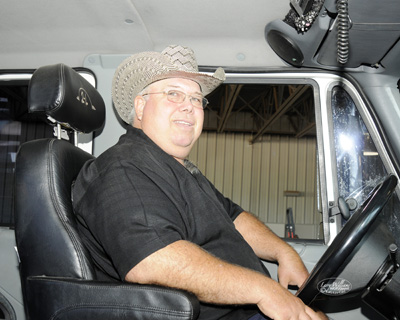 Roth has heard of several fellow horsemen getting stopped in his area at DOT stops. He has heard that law officials started cracking down on race car trailers, then straight trucks and now they are down to horse trailers.
"If you are a horse trainer and you charge mileage you are 'for hire.' If you are an amateur and you can win money like incentive fund or futurity money or if prizes can make your horse worth more money than you are engaged in commerce," Roth says. "The cops can dig as far as they care to. The police are just enforcing the law that has been around for a long time. It's like free money for them and a new form of revenue by stopping horse trailers. Putting a 'not for hire' sign on your truck is really a big red flag saying pull me over to the police and these rigs I was told are usually the first targeted."
Roth advises all horse trailer operators to educate themselves on the subject. He strongly recommends purchasing and reading the JJ Keller Book (www.jjkeller.com) which defines the ins and outs of what is recommended by law and provides a step by step outline of all the other requirements that may be required for your rig.
How to obtain a USDOT Number
The first step in acquiring a USDOT number according to Lowrey is to file a MCS-150 form which can be filled out online.
"Once you have filled out the MCS-150 form you must also request for Operating Authority. Equine Operations are not excmpt operations and therefore require a Motor Carrier Number," Lowrey says. "To obtain an MC number you must complete a OP-1 form and submit it along with the MCS-150 form. You must then have your insurance agent file the appropriate BMC forms with the corresponding liability and cargo insurance for the size and weight of the unit. In addition, you must follow up with a BOC-3 form with universal agents for service. Most blanket authorization companies charge $20-30 for a lifetime registration."
After you obtain a USDOT number, Lowrey explains that you also need to meet the drug and alcohol testing requirements, record keeping and certain operations must meet the hours of service requirements. New carriers will also be required to go through an audit.
"While widespread targeting of equine operations isn't in full swing, we are seeing more state level enforcement officers targeting horse trailers and ticketing drivers who are not in compliance with the FMCSRs," Lowrey says. "State level ticketing historically leads to a followup from the federal level of an enforcement audit. Generally enforcement audits lead to thousands in fines for non-compliance."
Lowrey strongly recommends having all the necessary documentation because an enforcement audit can be crippling for your business.
"In weighing whether the cost outweighs the risk, a single state level ticket has been averaging $900 when coupled with enforcement fines in the thousands and the costs associated with an audit," Lowrey says. "An audit by FMCSA makes an IRS audit look like a walk in the park."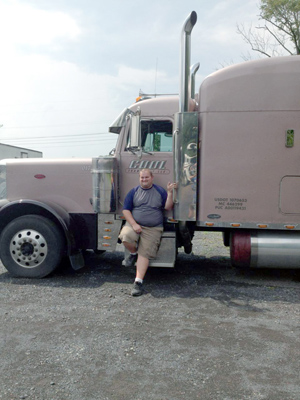 Eric Turner of Tylersport, Pennsylvania owns and operates several businesses including a trucking company called Just Two Cool Transport out of Hatfield, Pennsylvania for the past 12 years. He has also been showing Quarter Horses since he was eight and currently enjoys showing in Western Pleasure at the futurities.
"Once an officer takes a federal test he can then conduct DOT stops," Turner says. "I see more and more local governments being able to do DOT stops. Not for safety reasons as they are intended but for a revenue stream."
Turner believes most people at the horse shows don't have DOT numbers because they are unaware of what is required of them by law.
"It's just lack of knowledge on the subject. I grew up in manufacturing and transportation and have done it all my life and my dad's life before that. Would you send me a horse to train? No because I lack knowledge on the subject," Turner laughs.
The Law: Commercial Driver's License
The type of vehicle being operated determines if a driver needs a CDL License and the class of this license. According to the Department of Motor Vehicles there are three defined groups of Commerical Motor Vehicle (CMV) classes.
Class A is defined as " any vehicle with a semi-trailer or trailer with two or more axles. This group also includes any combination of vehicle with a gross vehicle weight rating greater than 26,000 pounds provided that the gross vehicle weight rating of the towed vehicle is in excess of 10,000 pounds. Class B is defined as " any heavy straight vehicle with a gross vehicle weight rating greater than 26,000 pounds is classified in Group B as well as any vehicle towing another vehicle not in excess of 10,000 pounds." Class C is defined as " any vehicle that is designed to transport 16 or more passengers (including the driver) or is used in the transportation of materials classified as hazardous in the Hazardous Materials Transportation Act. "To review what CDL License requirements visit www.dmv.dc.gov/service/commercial-driver-license
Most importantly you need to know your truck and trailer's gross vehicle weight rating since everyone's combination can be different. Lowrey explains that most Class 7 and 8 trucks pulling semi-trailers or five-horse trailers and above which when loaded are in excess of 10,000 pounds are identified as Class A. The smaller truck-tractors and semi-tractors (class 7 and 8 trucks) pulling four-horse and below trailers or horse boxes are classified as Class B. Class C are not generally applicable to horse trailers.
"I want to make sure that I am clear that whether or not you need a CDL is wholly separate to whether or not you need a USDOT number or whether you must comply within whole or part with the Federal Motor Carrier Safety Regulations," Lowrey says. "You may have to comply with FMCSRs and not have a CDL."
Also associated with having a CDL license is endorsements and restrictions.      According to Lowrey if you haul a water or fuel tank over 100 gallons inside your truck or trailer you fall under the tank/liquid bulk cargo endorsement. Also restrictions that can be applied are "L" if you failed the Air Brake tests in any portion, "Z" tested in an air over hydraulic vehicle can't operate a vehicle with full Air Brakes or " E" no manual transmission restriction.
"If you haven't had a CDL before and you obtain one, you must also comply with the training portion of the FMCSRs and if you employ additional drivers there are sections of the FMCSRs you must comply with," Lowrey says. "If you are stopped by state level authorities and do not have the appropriate endorsement or license, law enforcement has the authority to shut you down at the nearest safe spot (weigh station, truck stop,etc) even if you have horses on the trailer or they may choose to simply ticket you. Tickets and fines range depending on the state and violation."
Turner also advises researching all the requirements needed for your particular rig.
"The size rig comes into play with a CDL. Most if not all horse trailers once hooked behind a one ton dually would require a CDL licensed operator," Turner says. "What most people don't know is that if your rig has a gross vehicle weight above 17,000 pounds you are required to have a medical card. A medical card is just a physical by a DOT approved doctor."
Commercial Vehicles: Safety Responsibilities & Tax Requirements
In addition to regulatory and licensing requirements, Lowrey cautions that state level requirements may apply for a vehicle with commerical tags.
"Depending on the vehicle and tag type, you may be required to participate in the International Fuel Tax Plan (IFTA) and file quarterly or yearly fuel tax returns," Lowrey says. "Larger Class 7 and 8 vehicles also require filing an IRS 2290 form and paying the corresponding tax responsibility."
As far as safety responsibilities,  Lowrey strongly recommends that haulers have a qualified safety professional assist them in setting up their safety profile for their particular business and rig.
She explains that a safety professional may be able to save you on testing and filing requirements as well as fines for non-compliance and a lot of time and hassle.
"The main ones are the drug and alcohol testing requirements, pre-post trip vehicle inspections, maintenance and drive files, accident record and vehicle safety equipment," Lowrey says. "There are a lot of smaller regulations that may or may not apply depending on your situation."
After her run in with officials, Kristy Klimmek went home and started the whole process of getting her rig completely legal. She now has her USDOT numbers as well as CDL license and says she just finished with her safety audit.
"I have heard of a lot of people in the horse business now starting to go through all of this so they don't have to worry about it," Klimmek says. "I'm sure glad I did."
Stopping at Weight Stations
In addition to USDOT numbers, CDL licenses and safety requirements for your vehicle, it is important to not forget about weigh stations.
Do horse trailers have to stop?
Knowing your rig's gross vehicle weight (GVW) is essential because most states require commercial vehicles with a GVW rating of 10,000 pounds or more to stop. Every state has different requirements so it is important to watch the signs when crossing the state line and follow the appropriate instructions.
A list of state requirements can be found at www.drivinglaws.aaa.com
The Horses: Health papers and Coggins
According to Kyle Schroeder, DVM of Auburn Veterinary Service in Auburn, Illinois it is a common state law that horses are required to have a current coggins which is a standard blood test within the last year. There are a handful of states that require the coggins to be within the last six months. Besides having a current coggins, horses should travel with a health certificate which certifies that a horse was inspected by a veterinarian in the past 30 days and describes the destination of the animal. Since typically only the larger shows like the World Shows, Quarter Horse Congress and many state fairs are the only ones to check health papers at the gate, many people do not carry health papers when traveling across state lines.
"Even though health certificates are not checked a lot, you are definitely supposed to have them," Schroeder says. " You can get stopped by the state police to see health papers and coggins."
In addition, Schroeder suggests getting to know all the requirements necessary for traveling to the state of your destination to see if an entry permit number is required or if you are required to stop for livestock inspection when entering the state.
"There are some states that do require a permit number for horses to enter," Schroeder says. "This involves informing the state vet that certain horses will be entering their state, that they were inspected to travel and where they will be traveling to."
Since each state is different it is important to talk with your veterinarian and to research the requirements for the states you will be crossing through. For example,  Florida requires all that horse trailers pull in the Agricultural (AG) Station to have paperwork checked.
A helpful list that outlines what each specific state requires to enter with horses and provides each state veterinarian contact information can be found at www.usrider.org/EquestrianMotorPlan.html
All in all before traveling to an out of state horse show, it is more essential than ever before to make sure you have all the necessary paperwork for your horses and your rig. Turner advises his fellow horse friends to go through the process and cover all the necessary bases.
"Here is the long and short of it. Cover your butt. It's a headache. Yes, anything new is but once you get through the process of setting up everything maintaining it is a breeze," Turner says. " Go get your CDL, get your USDOT numbers and IFTA or would you rather be sitting in a Texas summer with six head of horses on in 120 degree weather shut down because of paperwork."