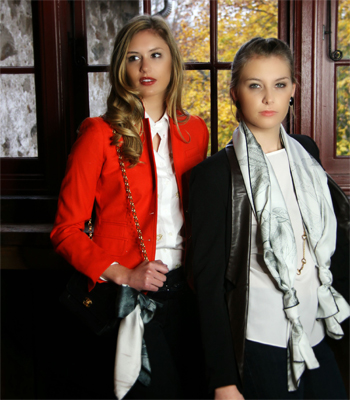 First came portraits, then came an exclusive Henry Bendel's trunk show and now designer Chetna Singh is proud to introduce her new collection of equine inspired scarves. Known for her art scarves, Chetna Singh paints original pieces and then transfers them onto pure silk making wearable art. The new collection includes five different prints both traditional square and now long rectangle scarves priced at $125 to $150. This new length gives customers the opportunity to make each wear their own with more flexibility in styling.
The movement and power within horses have long inspired the designer as stables surround her dwelling in the suburbs. With 2014 marked as the year of the horse according to the Chinese Zodiac Singh felt it was perfect time to introduce the majestic creature into her collection. Chenta Singh's designs are for the Hermes collector, who considers herself a classic fashionista, the corporate climber looking for a statement to add to her suit, the competition rider who eats, sleeps and breathes horses or the art enthusiast who loves a unique piece.
For more information, visit: http://www.chetnasingh.com. For more details, high-res images or samples, please email Patricia Maristch at patricia@piquedpr.com.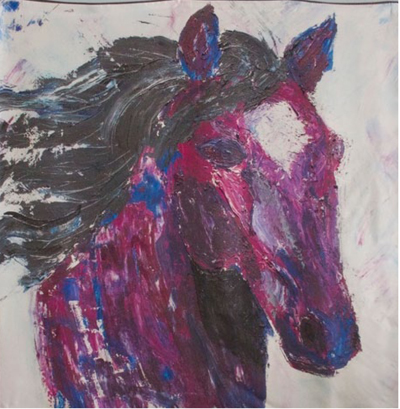 About Chetna Singh
In March of 2013, Chetna Singh turned art into fashion. After years of practicing medicine, Singh needed a creative outlet and took to creating art. While working on a painting she thought to herself how interesting it would be if she could wear the piece. A brand was born and Singh began creating luxurious scarves reproduced by original paintings.
The process of designing these scarves begins like any creative one, Singh draws inspiration for Indian mythology and human figures. People with their unique facial details provide endless inspiration; the majority of the scarves include a portrait. Singh uses oil on canvas and occasional acrylics and mixed media when creating her artwork. The art turns to fashion when the piece is printed on pure silk.