Source: Text by Corrine S. Borton • Photos by Holt Pope, Shane Rux & Kristin Martin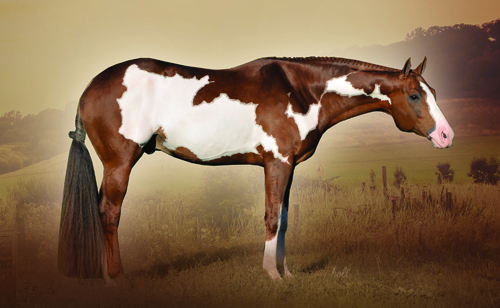 Considering he is nicknamed "Shaq" after National Basketball Association giant Shaquille O'Neal, there was never any doubt that Living Large, a 2009 AQHA/APHA/PtHA Sorrel Overo stallion would make a big impression on the show world.
Sired by AQHA World and Congress Champion producer, These Irons Are Hot, Living Large gets his color from his dam, Quit Staring. The 2002 brown overo mare by Racey Remarque and out of She's Got A Look, was bred by Nancy McEachern DVM of Glendale, Arizona. Dating back to the early 2000s, McEachern has crafted a distinctive Paint horse breeding program that has featured Jockey Club-registered Thoroughbreds that carry and express the frame overo gene.
Racey Remarque (TB), Quit Staring's sire, is a 1997 brown frame overo by Sonnys Solo Halo and out of Patchy Lassy. His pedigree includes such leading sires as Bold Ruler and Halo; and such top money-earners as Secretariat ($1,116,808); Bold Ruler ($764,204); and Bold Bidder ($478,021).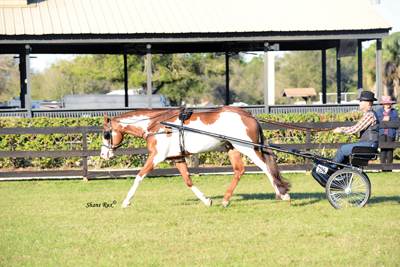 Like Living Large, Racey Remarque's frame overo color gene comes from the distaff side of his pedigree. Patchy Lassy (TB), a 1989 sorrel overo mare by Pesty Axe and out of Torchy's Rainbow, produced four double-registered frame overo foals – Racey Remarque (1997), Red Hot Remarque (1999), Ellusive Quest (2000), and Regal Regalia (2003).
So Living Large, through the bottom side of his pedigree, is a study in what is arguably the most potent line of Thoroughbred frame overo genetics ever known. But color is not the colt's only attribute. Those around him have known since his birth that Shaq would have a bright future. Living Large was bred by the 3D Partnership and when Renee Dudley showed him to Paint trainers Tim and Shannon Gillespie as a weanling they encouraged their client, Julie Marweg, to purchase him. A partnership was formed to prepare and campaign the youngster and success came quickly.
Shannon Gillespie rode Living Large to numerous futurity wins, APHA Top 10 World Show honors and multiple PtHA World Championship titles in Hunter Under Saddle.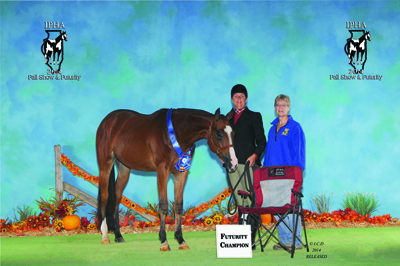 Early in 2013, the Gillespies sent a then 4-year-old Shaq to Kevin Dukes, of Weatherford, Texas, to begin Pleasure Driving training.
"Our initial reaction was WOW what a nice horse," Dukes recalls. "I always had great confidence in Tim and Shannon and they told me he was a nice horse but I had no idea until he showed up. The plan at that time was for him to compete at the 2013 Quarter Horse Congress. He was circuit champion in every Quarter Horse show he competed in that year and finished in the Top 10 at the Congress in Junior Pleasure Driving.
In September while Living Large was showing at the Pacific Coast Quarter Horse Association Fall Circuit in Del Mar, California, he caught the attention of Cathy Corrigan Frank. She immediately expressed an interest in him but Marweg said the young stallion was not for sale.
In 2014 Living Large competed at only one AQHA Show – the Congress, where he and Dukes earned a Reserve Championship in Junior Pleasure Driving.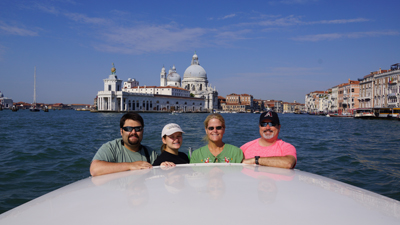 A month later he capped off that year by winning the APHA World Championship title in Junior Pleasure Driving with Karen Qualls in the cart.
Frank got the chance to see Living Large show again at the 2014 Congress and again approached Marweg about purchasing him. This time she agreed.
In all, Shaq has earned 10 APHA and PtHA World Championship titles. In January he showed at the Fox Lea Farm Winter Circuit in Venice, Florida, where he claimed a circuit championship in Pleasure Driving and earned quite a few points in Hunter Under Saddle. He is qualified for the World Show in Senior Pleasure Driving and is close to being qualified in Senior Hunter Under Saddle.
His 2015 stud fee is $1,350 and he is standing in Weatherford, Texas. His foals are eligible for WPHC, MPHC, IPHA SSA and the Canadian Color Futurity.
He will continue to show throughout the breeding season."He is absolutely the very best minded stallion I have ever had the pleasure of working with," Dukes says. "His breeding statistics are amazing in regards to producing minimal colored foals on solid mares. He's the only horse I've ever had who could trot as 'freaky' as he can…and canter too."
Dukes says the plan is for Frank to show him at all the major circuits this year and add Over Fences classes to his dossier.
Additional information is available on the Living Large website at www.livinglargestallion.com or by calling Dukes at (817) 565-5900.