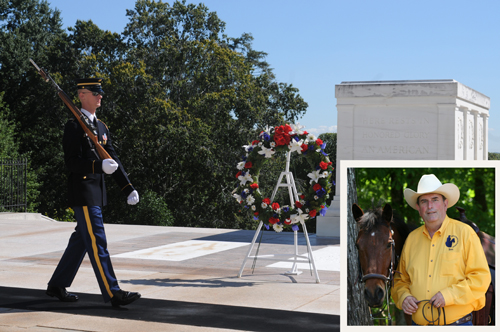 Best of America by Horseback television show will lay a wreath at the Tomb of the Unknown Soldier at Arlington National Cemetery, on behalf of the entire Equine Community, on Sunday, July 26, 2015, at 12:15 pm.
Although it began as a presentation by members of the Best of America by Horseback Family, people across North America have asked for their names to be included with this wreath honoring our nation's veterans. Anyone wanting to add their names can simply send their name, hometown, and state to: wreath@bestofamericabyhorseback.com and they will be included.
Best of America by Horseback television show is a national weekly show which showcases the most beautiful places to see and visit by horseback across America. It is a family oriented show in it's tenth year on the RFD-TV network, which is on DirecTV, Dish Network, AT&T U-verse, and more than 300 cable networks.
Show host, Tom Seay says, "Rural America represents so well the heart and soul of America. Our deep roots of patriotism remember those who have served to protect our freedoms. It is with great honor we present this wreath on behalf of so many heart felt people whose names will be presented along with the wreath."
After the Wreath Ceremony at Arlington Cemetery, Best of America by Horseback will visit the World War I Memorial, the World War II Memorial, the Korean War Memorial, and the Vietnam War Memorial to present the book of names. Thousands of fans of the Best of America by Horseback Television Show have contributed names and remembrances to be included in this book, which will be presented by television host Tom Seay at the Memorials in our Nation's Capital on Sunday, July 26th.