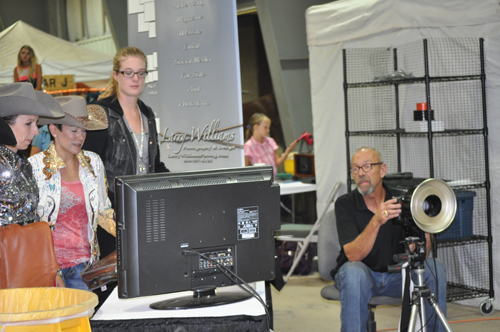 For the past 12 years Larry and Karen Williams, of Roscommin, Michigan, have been capturing memories for exhibitors at the National Snaffle Bit Association's Breeder's Championship Futurity, even before the NSBA World Show existed.
Larry Williams Photography is the official photographer for the show, under way this week in Tulsa, Oklahoma, and with three arenas in a show that lasts for seven days it takes a small army to keep it running like a well-oiled machine. However, advances in technology have allowed the Williams to get win and arena photos to their customers within just a few short hours as opposed to the days it used to take.
"With multiple arenas, it takes at least four arena shooters to cover the show, coupled with the photo backdrop for posed win photos and portraits," Larry Williams says. "This show's timing also plays into the advertising deadlines for the fall Congress and World Show ads. With that in mind, our workload for this event is exceptional, and it all must be delivered with those deadlines in mind."
Williams credits his exceptional staff with keeping riders and photos in order. The images from the arenas all funnel up to the office where they are processed into classes and uploaded to the online show galleries. The posed images are finalized and advertising images are delivered by email, usually before the show is over.
Larry Williams began first photographing events in the horse world in 1993. Since then his business has expanded to include shooting not only for the National Snaffle Bit Association, but also the Appaloosa World Show and National Championships, the Paso Fino Great National Championships and most recently the American Paint Horse Association World Championship.
"The NSBA World Show and Breeder's Championship Futurity has always offered the best the NSBA has to offer in horses, people and been an elegant display of both," Williams says. "With adding the EWD/Riders With Disabilities and Heroes on Horses classes the show also highlights the benefit of equine companionship and furthers the cause of those needs, and the entire event just keeps growing."
This year's event concludes today with Hunter Under Saddle, Western Riding, Western Pleasure and Horsemanship classes running in three different arenas. Two Heroes On Horses Western Pleasure classes will be featured in the Ford Truck Arena.
Click here for candids from the show, courtesy of Brad Borton and Courtney Borton Ament:
Click here to watch a webcast from the show: http://www.horseshowwebcasts.com/shows/2015/26955/index.shtml
Click here for results being posted at the show: http://www.nsba.com/Forms/2015%20World%20Show/Results/018274_NSBA_World.htm
Click here for a complete Class Schedule: http://www.nsba.com/downloads/World%20Championship%20Show/2015%20WS%20Show%20Schedule.pdf
Click here for Patterns for this year's show: http://www.nsba.com/index.php/world-championship-show-mainmenu-253/patterns.html
Source: Source: Text and Photos by Courtney Borton Ament