Source: Text by Katie Navarra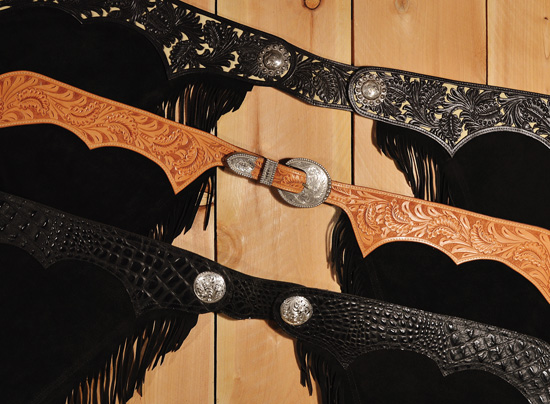 Protection from thorny bushes, sharp longhorns and Mother Nature inspired the first pair of chaps, originally called "chaperhos." The Spanish term translates to "leg of iron," an acknowledgement of the garment's purpose – to offer defense against the hazards found on the open range. Early chaps were bulky and made from heavy pieces of cowhide that attached to the saddle and lay over the rider's legs.
Over time, vaqueros modified the style to one that resembles today's design. Leggings hung from a belt that was worn around the waist and fell slightly below the knee. Rawhide ties secured the chaps to the rider's legs. Texas cowboys further altered the design, introducing fringed, buckskin breeches that covered the entire leg.
The "fringed" version of chaps is now an integral piece of an exhibitor's show-day wardrobe. Covering the waist, leg and heel, chaps make up nearly half a rider's outfit.
"Quality chaps create a finished package," says Quarter horse trainer, Dwayne Pickard, "I think it's even more important for riders to have a good pair of chaps and hat, than a blingy jacket or vest."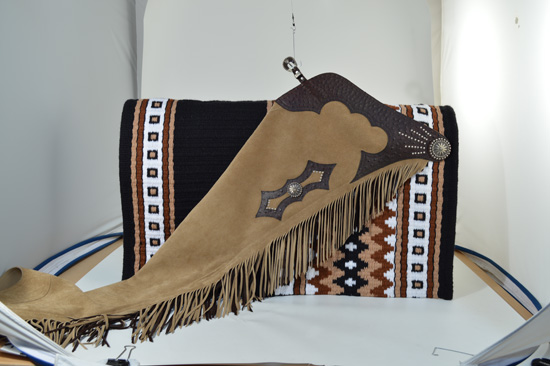 Chaps can be fancy in their own right when embellishments such as decorative yokes, two-colored fringe, buck-stitching, chrome dots, crystals and piping are used. However, discipline dictates how conservative or trendy a rider can get.
"Most trainers are not in favor of any extra silver or bling on riders showing in Horsemanship," says Betsy Tuckey custom chap-maker and owner of Horsewares Custom Chaps in Liberty, Kentucky. "When I judge I want the rider's body line to be straight and clean with nothing unnecessary around the waist area," she adds.
That even includes the front and back closures. Exhibitors have traded in large silver buckles for a minimalist look. "One concho on the back, covered in the same color as the chaps is the most common for women. Men opt for the double concho," says Kay Mortensen, chap designer and owner, Showtime Show Clothing, Purcell, Oklahoma.
In addition to maintaining a smooth, sleek silhouette, women often pick a plain top rather than a tooled yoke because the custom-made jackets or vests they frequently wear are long enough to cover the yoke.
Conversely, men choose to embellish the yokes and belts with tooled or faux gator yokes.
"The guys can have a little more fun with their yokes and possibly add studs too," says Babe Woods, owner, Woods Western Wear, San Marcos, California.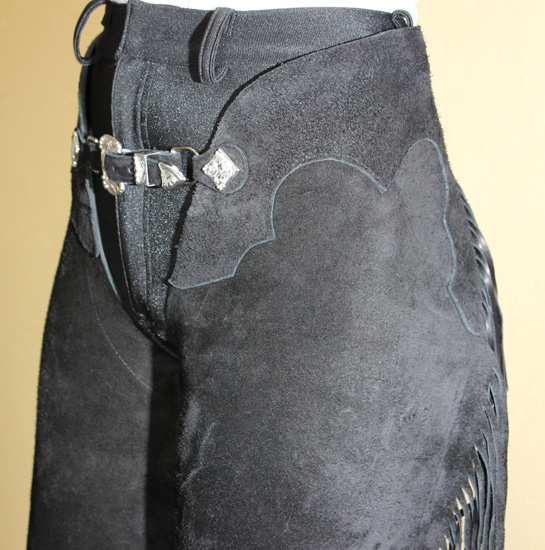 Exhibitors in trail, western riding, reining and cow classes have the most flexibility to get creative and personalize their look.
"These chaps can get pretty wild. The ranch pleasure riders will incorporates chinks and all sorts of additional features," Woods says.
Chaps are available in nearly every color imaginable. They can be dyed to match any outfit or horse. However, trainers, chapmakers and exhibitors agree, a basic pair of black chaps is a staple in any rider's gear. "Black never really goes out of style," says Blair Townsend, assistant trainer at Masterson Farms in Somerville, Tennessee.
Matching chaps to an outfit or to the horse is an acceptable alternative. "Depending on the color of the horse, tan can be nice too," Pickard says. Neutral colors including rust, brown, sand, tan and taupe are the most common colors, though any color outfit can be matched.
Ultimately, chaps don't need to be fancy. "They just need to be fitted and clean," says Townsend.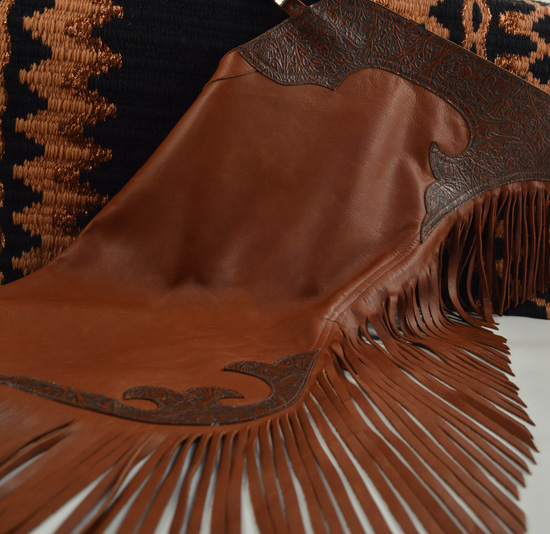 Make The Investment
Regardless of the class and the final look, quality is most important. Top grain leather is still the preferred choice among top custom chap producers. High-quality hides cost more, but are worth the investment as the leather lasts longer and can be washed and redyed to prolong its life span.
"We use younger cow hides because they are smoother, thinner and more supple than older bull hides," Mortensen says, "cow hides are like a person's skin, the younger it is the more supple and smooth it is," she adds.
Top grain chaps start around $500 and increase in price based on customization. That is a significant investment, especially for growing youth riders or amateurs just starting out. Lesser expensive materials that include hide splits, ultra suede and pig suede range from $350 to $500.
"I recommend split hides for children. They are much less expensive and still look good," Tuckey says.
For exhibitors shopping on a budget, Bailey Mierzejewski, a member of the University of South Carolina Equestrian Team suggests buying a pair of used chaps.
"You can find used chaps that are still in great shape for a reasonable price," she says. Resale stores and advertisements at shows are a good place to look.
"If you are not in a position to purchase a new custom pair of chaps spread the word about what you are looking for. Know the material you want and the size for proper fit," Woods adds.
Purchasing chaps "off the rack" rather than ordering a custom pair is another budget friendly option.
"If you can't afford a custom pair, I suggest buying a pair of off the rack chaps and then having them altered," Mierzejewski says.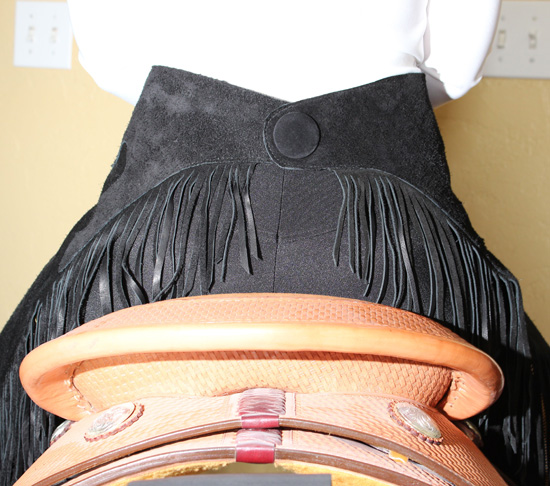 Fabulous Fit
Proper fit is as important as the material the chaps are made from and the appropriateness of style. Fit is not universal for men and women.
For women, the waist band should rest high on the rider's natural waist and fit smoothly across the front with no gap in the front or sides. Conversely, the waist on men's chaps should ride a bit lower, ideally at mid waist.
"You have to get a pair that fits your build. A guy that is a little chubby around the waist can't wear the chaps as high on his waist," Pickard says.
A new pair of chaps should be formfitting. Leather stretches over time and a pair of chaps that starts out too large will soon look sloppy. "The legs should be snug when you zip them. They should almost be difficult to zip," Mortensen notes.
"While they need to be formfitting, they shouldn't be uncomfortably tight," Mierzejewski adds.
Leg length is a key component of good fit. When a rider is seated in the saddle the chap should arc up over the top of the boot and cover the heel so that when the rider's foot is in the stirrup only the toe of the boot is visible. The "tail" should hang three to four inches below the rider's heel.
"They should not be too short," Mierzejewski emphasizes.
Achieving proper fit begins with accurate measurements during the ordering process. Custom chap makers provide detailed instructions and how-to videos demonstrating how to collect precise measurements. When it's time to try the chaps on, the rider should wear the pants and boots they plan on showing in and sit in the saddle to determine if the chaps actually fit.
"Sitting in a chair really doesn't work. The position of the rider's body is very different in the saddle than seated in a chair," Mortensen explains, "you really need to sit in the saddle and have someone look at you from the side."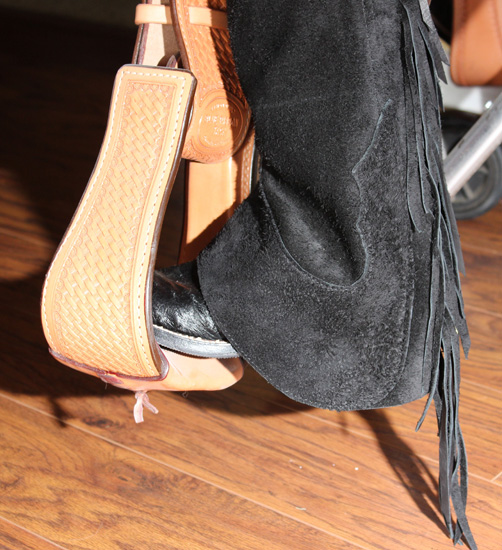 Keep Them Clean
Proper is imperative to prolonging the longevity of a pair of chaps.
"Don't throw them over the fence and walk away. They won't be there when you get back," Tuckey cautions.
Instead, store them on a thick wood or plastic hanger and keep them covered. Of course the chaps will eventually get dirty from dust and grime, but they can be cleaned and even redyed.
"An air compressor with a pointed tip quickly gets rid of dirt. It also fluffs up the nap of the hide," Mortensen said.
Stains and mud can be cleaned with gentle soap and warm water. A soft toothbrush is also helpful in brushing off dried dirt and mud. Dirty chaps can be washed, but that should be left to the professionals.