Source: Text by Katie Navarra • Photos by Ashleigh Egan
Leather lounge chairs, high-top tables, bubbling water fountains and landscaped beds set against a backdrop of logoed stall drapes beckons clients and visitors alike to enjoy a brief break from a hectic horse show.
The décor is inviting, a home-away-from home. While it's the accessories that capture a passersby's attention, it's the stall drape backdrop that serves as the foundation of the setting. Stall curtains create a professional image and offer refuge from an otherwise chaotic routine.
"Stall curtains certainly aren't going to make you, your clients or your horses show better, or help you win any ribbons, but they do create a professional image that you are serious about what you're doing," says Sylvia Brohawn, founder of Showoffs in Laurel, Delaware.
Whether a weekend, weeklong or multiple week event, stall drapes create a polished, professional image.
"A great set of stall drapes can really distinguish a barn. They are arguably the most noticeable on-site marketing tool a trainer can invest in for shows and events," says Myra, "Midge" Agsten, owner of Stall Drapes based in Descanso, California, "and as an added bonus they help protect tackand clothing from the dust of the horse show environment."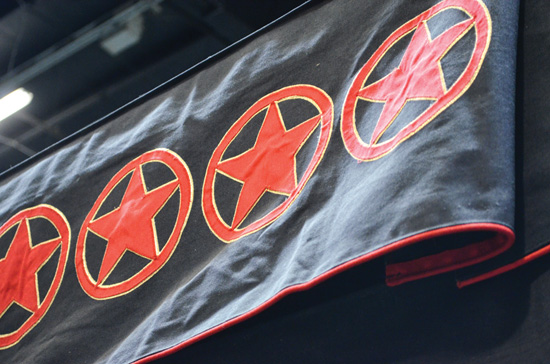 Aside from serving as a marketing tool and increasing a trainer's visibility, they offer a place to escape the frenzied atmosphere of a show.
"They add some privacy for changing or taking a brief break," adds Lynne Dixon, owner of The Cover Girls in Ontario, Oregon.
Purchasing stall curtains is an investment. But, depending on your needs and the vendor you work with, packages and a la carte options are available. Basic packages tend to offer options for:
A 10' x 10' tack room
An end cap that includes an exterior logoed panel
A door cover for the stall a horse occupies.
Depending on the package selected or the individual pieces ordered, the base price ranges from $600-$1,000.
The process used to add graphics or embellishments dictates additional costs associated with production. Each letter, each additional color and the intricacy of the artwork requested may incur extra charges.
Fabric selection also factors into pricing. 1,000 Denier Cordura is the most common choice because it's easy to care for and is long lasting. "Many clients opt for a Courda-type fabric which is less costly and holds up well," says Agtsen.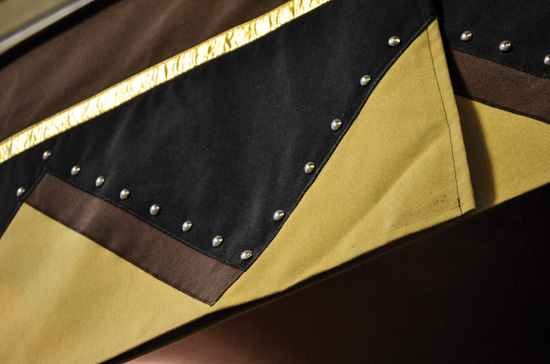 Sunbrella, a pricier alternative, is made from marine grade fabric, and is designed to be more fade resistant than Cordura. "There is no fabric that is fade proof, but Sunbrella is fade resistant and a good option if the curtains will be used outside or in direct sunlight," Brohawn notes.
Once the basic stall drapes are ordered, as space and budget allows, add-ons are available for further customization and enhancement. "You can include stall door panels, table covers, director chair backs and other items to completely coordinate your décor," Dixon explains.
Photo drape displays are also popular additions. Some trainers ask their clients to purchase a 3-foot by 4-foot drape featuring a picture of the client and their horse. Over the course of a multiday show, the trainer changes the photo panels to highlight the clients showing on that specific day or in a particular event.
Pop-up tents and zipper curtains are a favorite among breed show trainers.
"In the Quarter Horse and Paint Horse world zipper curtains with a valence are very popular, especially at the Congress. Because they are at the show for an extended time they want a nice place to go and sit," Brohawn says.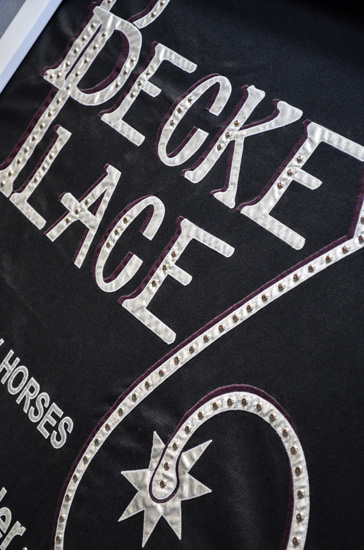 Custom made curtains
Even though basic stall curtain packages follow similar patterns and dimensions, each set of stall drapes is time consuming to produce. One basic stall set-up can require as much as 30 yards of fabric and 10 feet of trim and piping; all of which is cut by hand and then sewn. "You wouldn't believe how much time is spent on the cutting and sewing for each project," Agsten says.
The addition of artwork, logos and any lettering adds to the complexity and length of time to complete the project. "Any intricate logo and script fonts are the hardest. This is where the challenging part comes in as the curtains and panels all require the same amount of work," Dixon says.
Typically, four to eight weeks are needed to complete an order. Rushing an order for clients has been known to happen in as little as two weeks and even overnight.
"FedEx lost an order of drapes for a customer who was attending a show. I told our customer that showing up without her stall curtains was like arriving to the prom without a dress. We stayed up all night making a new set and drove them to the show to hand deliver her order," Brohawn said.
Agsten agrees, "It usually takes six to eight weeks for production. I always do my best to accommodate my customer's needs, especially around the World shows and the All-American Quarter Horse Congress."
Care and cleaning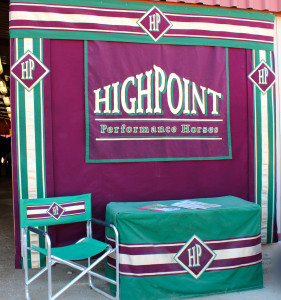 Stall curtains are a long-term investment. When cared for properly and depending on the fabric, stall drapes can last between five and 25 years.
"Usually most people who use stall curtains decide to change or freshen their curtains before their life span is reached," Dixon says.
But, they only last that long with proper cleaning and care. Horse shows are naturally dirty environments. By the end of any show, the curtains have collected dust and other debris. While everyone wants to get home quickly after several days at a show, resist the urge to pull the drapes down and toss them in a heap for transport home.
"Before you leave a show, use a household duster to brush off any of the dirt and dust that may have accumulated," Agsten recommends.
If the curtains need more thorough cleaning, carefully package them for the return trip home. Back at the barn, hang them on a line and cold hose to clean. "Use a mild dish detergent and a soft brush to clean any accumulated mud or dirty spots," Brohawn says.
For stubborn stains, Agsten recommends a highly diluted solution of Windex and water. "It can be especially effective in removing pet urine," she says.
"Goof Off works well on stains too," Dixon adds.
Never launder, dry clean or iron any part of the stall drapes. The fabrics contain fire retardants and water repellency that can breakdown with laundering. Laundering can also damage embellishments such as logos, photo cutouts and other decorative elements that may have been added to the fabric. Once clean, leave the curtains hanging to dry.
In between shows, store the stall curtains in a clean, dry area to preserve their newness. Folding does not harm the fabric, but when unfolded can leave unsightly fold marks. Instead, roll the drapes for storage and keep in a tube.
"We offer our clients cases that they can roll up and store their stall curtains so when hung at a show they don't have the creases or squares folding can leave," Brohawn says.
Stand out in the crowd
Before attending a show, you spend hours training and grooming the horses under your care so that they stand out in the show pen. Garner the same visibility for your attention to detail back in the barn at any event. Pre-packed options or completely customizable options can fit any budget and personal design tastes. Be seen at your next show with professionally tailored stall drapes.