Source: Text by Corrine S. Borton and Ashleigh Egan • Photos by Larry Williams and Brad Borton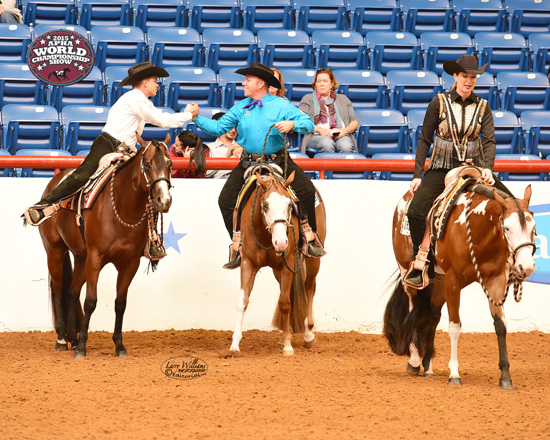 RJ King, of Aubrey, Texas, rode Someone Like You, a 2013 sorrel overo mare by Zippos Sensation and out of HF Diva (AQHA), to a win in the Farnam 2-Year-Old Western Pleasure Stakes at the American Paint Horse Association's World Championship show now in progress in Fort Worth, Texas. Someone Like You is owned by Ali Eidson of Tuscola, Texas, and earned $10,103 for the win.
"She was really good," King said. "She is a big mare for a 2-year-old. She does both English and western and is real strong. I had the ability to show her off the rail and she has a lot of self-carriage."
King says he's confident Someone Like You is just getting started in what will likely be a long and successful show career.
"She is a good horse and she's going to get better and better," he said. "She showed great for her first time being shown. She has such a natural movement and is so easy-going. That made her an easy horse to train."
King works for Simons Show Horses in Aubrey, Texas, where Someone Like You is in training and where her sire stands.
"We ride a lot of the Zippos Sensations and she is a very easy horse to get along with," King said. "We bought her through the (Farnam Breeders' Trust) sale last year from Garth and Sonnesa Gooding (of Fennville, Michigan) who bred and raised her. When I saw her I loved her confirmation and mindset."
Someone Like You will compete in 3-Year-Old Western Pleasure events next year and will be started in all-around events for Eidson.
"I think she has a really bright future in both Western Pleasure and the all-around classes," King said. "I'm excited for her future."
The total purse for the class of 14 entries was $31,500. Reserve champion honors went to One Lazy Cowboy and Wade Parks, earning $6,946. Third place was No Doubt Im Invited with Sara Simons in the saddle, taking home $5,999; Good For Certain and Monica Baker were fourth claiming a check for $3,157; Rounding out the top five were Vow To Be Sensational and Garth Gooding, winning 2,841.
Farnam Western Pleasure classes paid out a total of $41,000 at the APHA World Show. In the Farnam Non-Pro 3 & 4-Year-Old Western Pleasure Stakes Alison Umberger of Broad Run, Virginia, rode to a win aboard on a horse she is leasing from Marty and Marcia Dixon, of Clayton, Delaware. Nodoubtimsensational, a 2012 bay overo mare, sired by No Doubt Im Lazy (AQHA) and out of Sleek Sensation, bested five other entries to collect a check for $4,000. Other results: second, A Jellybean Impulse, Megan Hogan, $3,000; third, Scenery, Tim Snapp, $2,000; fourth, Talk About Lazy, Rebecca Figueroa, $1,000.
In the Farnam 2-Year-Old Hunter Under Saddle Stakes class Shez Always Fancy followed in her big sister's hoofprints by claiming the top prize of $8,800 with Katy Jo Zuidema in the irons for owner James Jorgenson of Thornton, Iowa. Shez Always Fancy is trained by Scott Suggs, of Pilot Point, Texas.
"She was great," Suggs said. "It was only her second show. We had to pull her shoes right before she had to show so we actually had to show her barefoot. Because of that we had show her a little bit fresher then we normally would but she still did great."
Shez Always Fancy, a 2013 chestnut overo, sired by All Time Fancy and out of Future Diva, is a full sister to last year's class winner, All Ways A Diva.
Suggs, who also had All Ways A Diva, said they don't look anything alike.
"For being a big horse, over 17-hands, she is always a very timid, shy little girl," he explained. "She turns her head from things so she can't see them. But once she knows she is OK, she is fine. She is a one-person horse. She feels safer with one person. She is comfortable with me and it helps that Katy (Zuidema) and I are much the same so she is fine with her. She doesn't spook but she requires you to let her know she is OK. You have to talk her into it you can't make her do it.
Suggs is most impressed with how elegant Shes Always Fancy is and feels the combination of her sire and dam make for a perfect match.
"It's been great to have her," Suggs said. "It's very good for a guy that has had mostly Western Pleasure horses to have some great Hunter Under Saddle horses."
As far as what the future holds for the newly crowned champion, Suggs says it's likely she will compete in additional 2-year-old classes at the APHA World Show and after that in some National Snaffle Bit Association (NSBA) shows.
Shez Always Fancy, was the unanimous winner in the class of five. Other placings include: second, Painted By Ranger and Shannon Gillespie, $6,608; third, Its Swing Time and Alyse Roberts, $4,406; fourth, Gift Time and Amanda Reed-Hollinger, $2,203. Talk About Lazy was Reserve Champion with Rebecca Figueroa in the irons. They collected $1,724.
Angela Loeffler, of Buchanan, Michigan, piloted Cool Sophistication, sired by Sophistication Only (AQHA) and out of Ms Four CC Cover Girl, to a win in the three entry Farnam Non-Pro 3- and 4-Year-Old Hunter Under Saddle Stakes, earning a check for $2,500. Loeffler purchased the 2012 chestnut overo gelding for $5,000 in the 2013 Farnam Breeders' Trust Select Sale.
Amateur Boot Camp kicked off the 2015 APHA World Championship Show festivities Nov. 3.
Christine Weiser, of Meridian, Idaho, and her show partner Nighttime Sensation are having a World Show to remember. They bested 35 other entries to win the Classic Amateur Showmanship and won the Classic Equitation. They also topped the 33-entry Classic Horsemanship class.
In other Showmanship action last week, Tarryn Christensen, of Herriman, Utah, teamed with Rockin The Tux to capture the Novice Amateur class of 28 entries. Melissa Haberkorn, Beaufort, South Carolina, and VR Knockyour Socksoff won the Masters Amateur Showmanship on all four judges' cards in a tough class of 36 entries.
Several other Novice Amateur classes have already been completed including Horsemanship where Jill Silverberg teamed with Send Roses Please to top the 32-entry class. Sarah Bankford, of Loves Park, Illinois, and Scotch With Roses captured the Equitation championship by besting 27 other entries.
In the Amateur Division, Master Equitation and Horsemanship honors went to Colleen Bull, of Reed City, Michigan, and Timeless Assets. The team also won the Masters Amateur Senior Hunter Under Saddle while Big Ones Only claimed the Junior Hunter Under Saddle division honors with Tracy Hull, of Chagrin Falls, Ohio, in the irons. Classic Amateur Senior Hunter Under saddle honors went to Jennifer Schexnayder aboard All Rise and the Amateur Solid Paint-Bred Hunter Under Saddle was won by Lynn Harrison aboard Super Chip My Ride.
Longe Line
A total of 30 competed in a tough Open Yearling Longe Line class on Saturday. Tim Gillespie, Whitesboro, Texas, showed Sheza Special Machine, sired by CR Good Machine and out of Solid But Special, by Special Invitation to a World Championship title for owner Carla Perri, of Cochranville, Pennsylvania.
Gillespie first spotted Sheza Special Machine at a horse show in New Jersey a few months ago.
"I work closely with West Grove, Pennsylvania trainer Lyn Fick and she had taken her to her first show to get accustomed to the atmosphere. They were just longing her and I loved everything about her," Gillespie said. "She is such a natural mover. She moves so softly across the ground. She's flat kneed, deep hocked and is just beautiful to look at."
Gillespie asked if there were plans to show Sheza Special Machine at the APHA World Show and was told no.
"I told them they should," he said. "I could just tell she is going to do great."
This filly actually comes with a neat story, they bought a mare in foal from Johnny Yarnelle of Yarnelle Farm, the baby died and they bred the mare again and then the foal and mare died so he replaced the mare and foal with this yearling, and she was just a baby at the time by CR good machine. It was great to help them with their filly
Reserve honors in the Open Yearling Longe Line went to Laura Alloway showing Vital Signs Are Sweet (by AQHA sire VS Code Red). The team also won the Non-Pro Yearing Longe Line title. Kathie Kennedy of Ocala, Florida, showed Hesa Love Machine to a win in the 13-entry BF Gold Yearling Longe Line. BF Silver Yearling Longe Line honors went to Cindy Polley, Perris, California, and GQ Victorias Secret.
Western Pleasure
It took two splits and a very competitive final go-round for Only After Midnight to lope to victory in the 3-Year-Old Horse Limited Rider Western Pleasure Sweepstakes, with Dustin Eikenhorst in the saddle. Sired by By Invitation Only and out of A White Rose, the 2012 mare is owned by Jeffrey Gibbs, of Collinsville, Texas. She has has a stellar show year having won both the first and third legs of the Premier Paint Sires 3-Year-Old Limited Horse Limited Rider Western Pleasure Classes, presented by InStride Edition, and earning $27,000 in this year's program.
Hunter Under Saddle
LX Just Call Me Fancy, a sorrel gelding by The Ultimate Fancy claimed the top spot in Junior Hunter Saddle with Laura Spell in the irons for owner Andrea Kegley who also piloted him to a victory in the Novice Amateur Hunter Under Saddle. Super Chip My Ride also claimed a World Championship title in Solid Paint-Bred Hunter Under Saddle with Brooke Dixon in the irons.
More
Action continues in Fort Worth through Nov. 14. For more information, including a schedule and results visit: http://apha.com/oawcs
For candids from the show Click Here