Source: Text by Kristy Vanderwende • Photos by Kristin Martin and Shane Rux
Although Kevin and Amy Smith are now well versed in raising champions at their Capall Creek Farm in Hampstead, North Carolina, their initial decision to go into the breeding business was not a planned one.
"We were looking for a top-notch show horse and decided upon purchasing Red Carpet Rita in the online portion of the Rita Crundwell Dispersal Sale in 2012,"Amy explains.
Red Carpet Rita, by Iron Enterprise, had placed fourth in the Congress Masters Hunter Under Saddle Futurity in 2011, and had all the qualities Amy was looking for in her next show horse.
Out of sheer curiosity, the couple decided to head up to Dixon, Illinois for the live dispersal sale, which featured an abundance of promising prospects.
"We were sitting at the sale and multiple World Champion sire, Iron Enterprise was being auctioned off. All of a sudden, Amy whacked me in the arm and said you can't let this horse sell for this," Kevin laughs. "So, I raised my hand once and just like that we became stud owners!"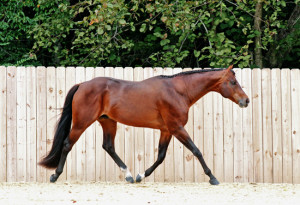 Since then, the couple have dedicated themselves to their breeding operation where they are hoping to continually improve on the quality of their product each year.
"I think they are really trying to put a focus on the quality of their foals over quantity," says South Carolina trainer Kristy Starnes. "They have a small operation but it's world class with some really great producing mares who are working well on not only their stallion but on other stallions in the industry as well."
At the center of their breeding program is one of the industry's top producing stallions, Iron Enterprise who to date has over 60 Quarter Horse Congress and AQHA World and Reserve World Champions in six events grossing over $300,000 in total earnings. Over 80 percent of Money's offspring have been point earners and half of those have received an AQHA Register of Merit."
Some of Money's major get include AQHA and NSBA World Champions IE Copy, Moneys Moxie, IE On The Rise, IE Sumthing, Shes Enterprising, Totally Ironic, Naturally Graceful, Lets Get Started, Iron Reason and AQHA Super Horse Unforgettable to name a few.
"They are so versatile and not only excel in Hunter Under Saddle but also win in Performance Halter, Pleasure Driving and Over Fences classes," says Melanie Thurston, Capall Creek breeding manager. "They make great open horses because of their sweepy legs but many of the trainers we have spoken to are blown away by their trainability and quiet minds, which allow them to go on to be amazing amateur and youth horses.In fact, Money has such a wonderful disposition that Kevin and Amy's daughter, Paige has been leading him out to his pasture since she was 6-years-old.
"I'm really amazed at how well he has crossed with the different bloodlines in our industry: daughters of Skys Blue Boy, Allocate Your Assets, Last Detail, Luke At Me and Thoroughbred mares have all produced outstanding foals," Thurston says. "He is just a stunning horse and really stamps his babies with the best attributes."
This year the Smiths have four Money babies coming and one by Trade Rumors, their 2010 Sorrel Stallion by A Beautiful Ride out of Just Have To Luke. Trade Rumors was sixth in the 2012 Congress Masters 2-Year-Old Hunter Under Saddle class, with Nancy Sue Ryan and was the 2013 AQHA High Point Hunter Under Saddle Stallion. Ryan, who bred the young sire, just recently purchased Trade Rumors and Kevin says it's rewarding for him to be going to such an iconic and successful program.
"We try to keep our operation small and focus on the quality of our babies," Amy says. "I think this coming foal crop will be even stronger than the previous ones. Our goal is to sell our young stock as yearlings after we have been able to evaluate them so they end up in the right situation. My passion really lies with the hunt seat and our prospects."
The Smiths are looking forward to 2016 Iron Enterprise embryo foals out of AQHA World Champion Hunter Under Saddle mare, Beautiful Maiden, and Blue Skys Movin In, a full sister to 2014 AQHA Junior Hunter Under Saddle World Champion, Boys Move Over. They also have coming in 2016 foals out of such decorated mares as: RB Touch Of Moxie, the dam of Moneys Moxie; Just Have To Luke, dam of Trade Rumors and 2015 Congress Masters Hunter Under Saddle Reserve Champion, Al Fool Ya; Zips Classy Act, whose foals have earned Congress Championships and Reserve Championships and recorded $23,000 in NSBA earnings; and GotTheBluesInMySky (by Sky Blue Walker), the dam of NSBA World Champions WithoutYouAlbeBlue and Al Betcha Cha.
As a result of their dedication to breeding, the Smiths, both originally from Maine, recently moved to a warmer climate in North Carolina where they hope to expand their operation. "It's really a beautiful property," says Kevin. "We are truly blessed."
With three barns for both their show horses and broodmares plus several outbuildings and residences, the 16-acre farm provided everything the Smiths needed. They have also recently added a new arena built by Bob Kiser.
Red Carpet Rita foaled a Trade Rumors foal early this year and by the end of July was back in the show pen, earning circuit championships in both Amateur and Senior Hunter Under Saddle as well as the High Point English Horse title at the Buckeye Classic in Ohio. Amy rode Red Carpet Rita to a fourth place finish in Amateur Hunter Under Saddle and a finalist in Senior at the Quarter Horse Congress last month (only their third show this year) and they will compete in both Amateur and Senior Hunter Under Saddle at the AQHA World Show. Kevin and Amy's daughter, Paige, showed her in Small Fry Showmanship at the Congress. Paige also competed at the Congress in Small Fry Western Pleasure aboard Chocolate On Cruise, placing 15th.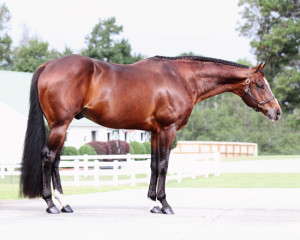 Kevin has also just recently started competing in Novice Amateur Western Pleasure with a mare purchased from Candice Hall in 2013. UR Certainly Invited is by Certain Potential out of Personal Invite. She was the 2012 NSBA World Champion in 2-year-old Western Pleasure with Gil Galyean as well as placing in the Top 10 at the AQHA World Show.
But the Smiths are most excited about the development of their homegrown prospects. Star Trek Enterprise, a 2013 sorrel gelding by Iron Enterprise, will make his debut in 2016 in 3-year-old Hunter Under Saddle events. Al Fool Ya, a gray gelding by Allocate Your Assets and out of Just Have To Luke, was the 2015 Congress Masters 2-Year-Old Limited Hunter Under Saddle Champion and Reserve in the Open division, with Starnes in the irons.
"He was started late and we weren't sure he would even make a 2-year-old for this year let alone a Masters horse," says Kristy Starnes. "He is just so easy by 90 days of riding we decided to enter him in the Masters. He really wants to be a show horse."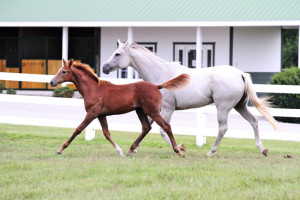 The Smiths could not be more excited about what the future holds for their breeding program and are truly enjoying showing their horses as a family affair.
For the 2016 breeding season, Money will again be standing at Select Breeders Service but will be moving to its facility in Aubrey, Texas, to be more centrally located to the industry's mares. His stud fee is $2,000. A breeding special is offered if booked prior to Dec. 31 for $1,500 which includes first shipment.
For all breeding inquiries please contact Melanie Thurston at (207) 514-4790. For more information visit www.capallcreek.com or www.ironenterpriseqh.com