Source: Text by Corrine S. Borton • Photos by Kelly Barnes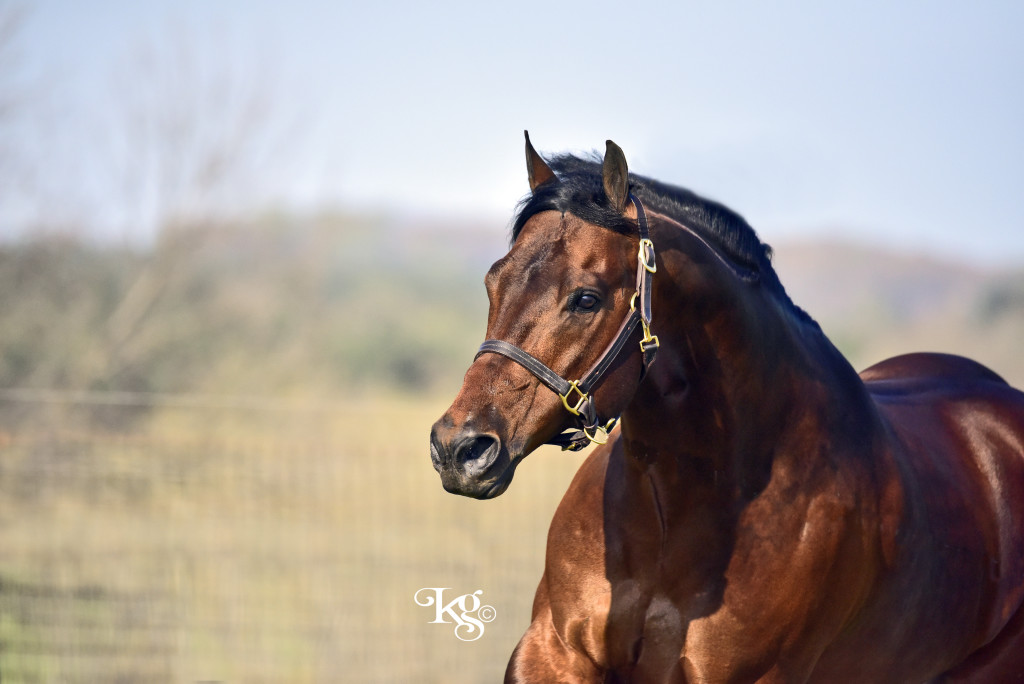 Jeff and Debbie Meredith were not searching for a Quarter Horse breeding stallion that day they first spotted Custom Invitation back in 2004.
The Covington, Ohio couple were looking for a new Amateur show horse for their eldest daughter, Amy, who had been competing under the guidance of Tim and Lynn Puthoff aboard a 1999 AQHA chestnut gelding named Play My Sevens in novice and youth all-around events.
"We felt that it was time for her to get a new ride that would be highly competitive in the Non-Pro events.
We sat at the Congress Super Sale all day and watched all the horses go around," Jeff recalls. "I knew that there was a yearling stud colt back in the stalls that was sound asleep covered in layers of blankets and sheets."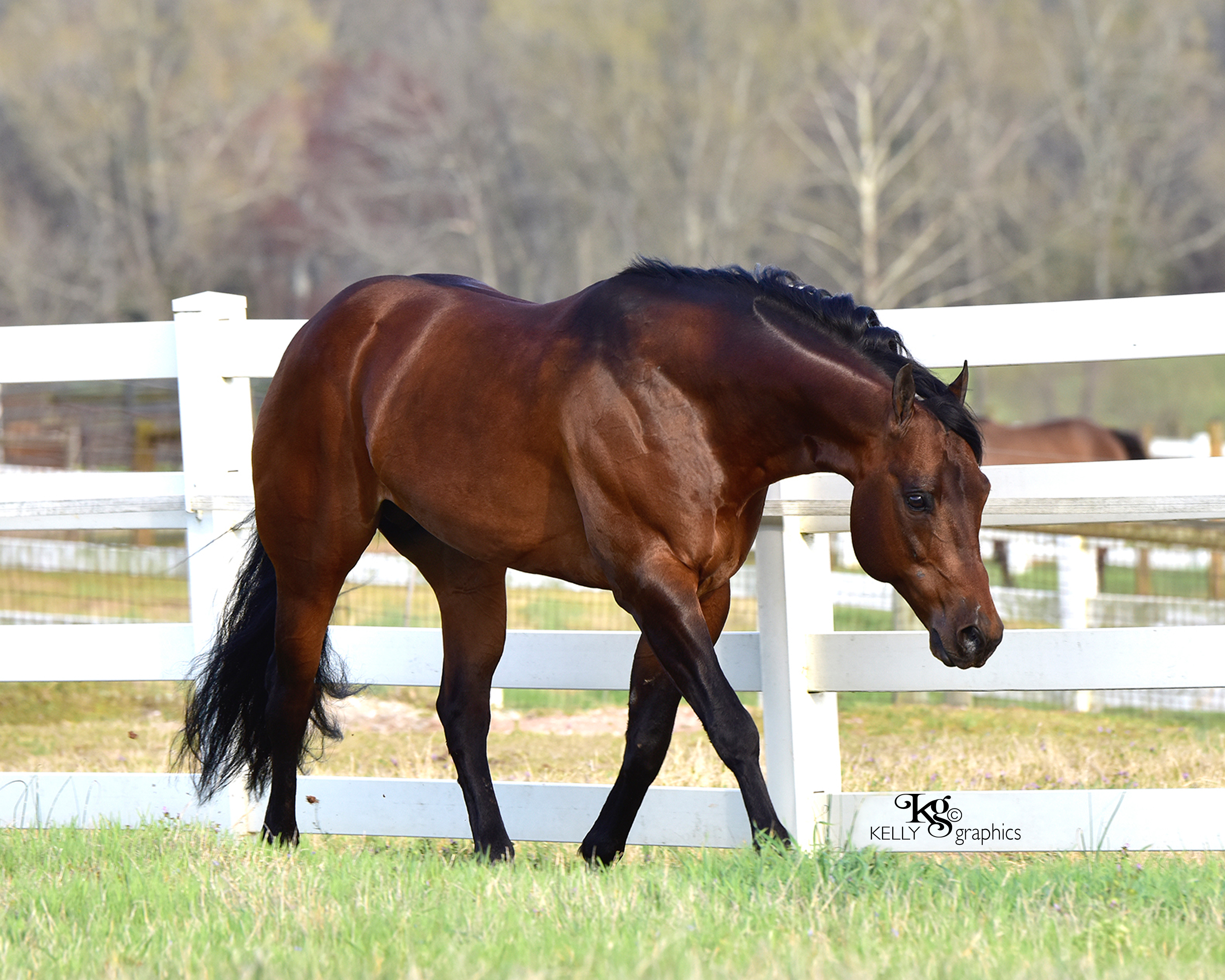 Even though Jeff didn't know what he looked like, he was intrigued by what he thought was a rare cross of bloodlines. He is sired by Invitation Only and out of Custom Maid Rodder by Radical Rodder. Looking back, what Jeff says what he remembers most about that day was the somber look on his daughter's face, following a long day of watching horses go around.
"Once she laid eyes on him, she turned, tapped me on my knee and whispered 'buy that horse NOW!' Little did she know my wife and I already knew he was ours," Jeffrey says.
Custom Invitation was sent to Ohio trainer Brian Cox to get started and his 2-year-old year placed in the Top 10 in both Open and Non-Pro Western Pleasure at such prestigious futurities as the Tom Powers in Michigan, Southern Belle Invitation in Mississippi, Reichert Celebration and Just For Pleasure.
Jeffrey says it didn't take long for Custom Invitation to perform to the high standard of his bloodlines.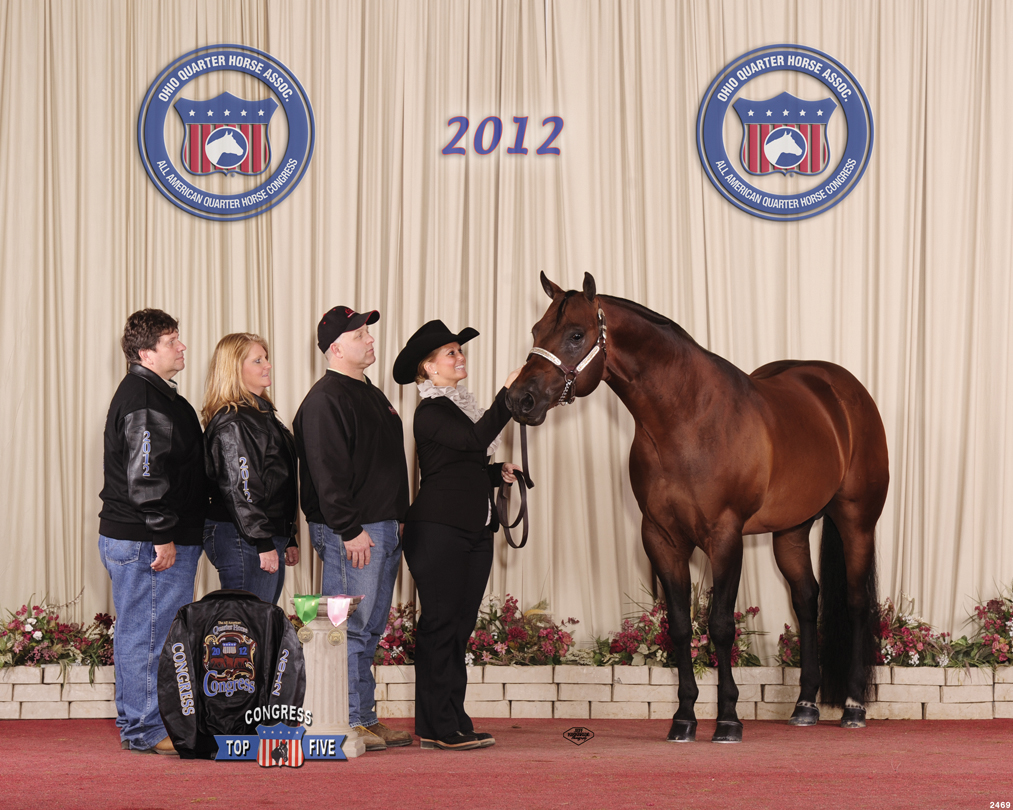 "It says a lot that my daughter, as an Amateur rider, was able to show a 2-year-old stallion with such success," Jeff says. It's a testament to his quiet disposition, willingness, and intelligence."
Custom Invitation was shown as a 3-year-old by Cox and Chad Piper finished his Superior Award in Western Pleasure. Bruce Vickery showed him to a Register Of Merit in Western Riding and the young stallion also earned points in Performance Halter and recorded $2,342 in lifetime earnings. He was Top 5 and Top 10 in both the Open and Limited divisions of Performance Halter Stallions at the Quarter Horse Congress with Don Griffey and Amy Meredith showed him to Top 5 honors in both the Open and Limited divisions of Amateur Performance Halter Stallions there.
"I think one of our proudest moments, that doesn't show up on the records, came at the end of one breeding season when we decided to have Bruce Vickery train Custom in Western Riding," Jeff says. "With only two weeks under his belt, he was already hauling to shows, winning circuit championships in Junior Western Riding and picked up points in his first class in Western Riding. He was also a finalist in Junior Western Riding at the Congress in 2008 with Vickery. He truly loves the event and we love how seamlessly he picked it up."
After showing Custom Invitation for a few years, the Merediths decided to look for mares with a show or produce record to eventually breed to their stallion.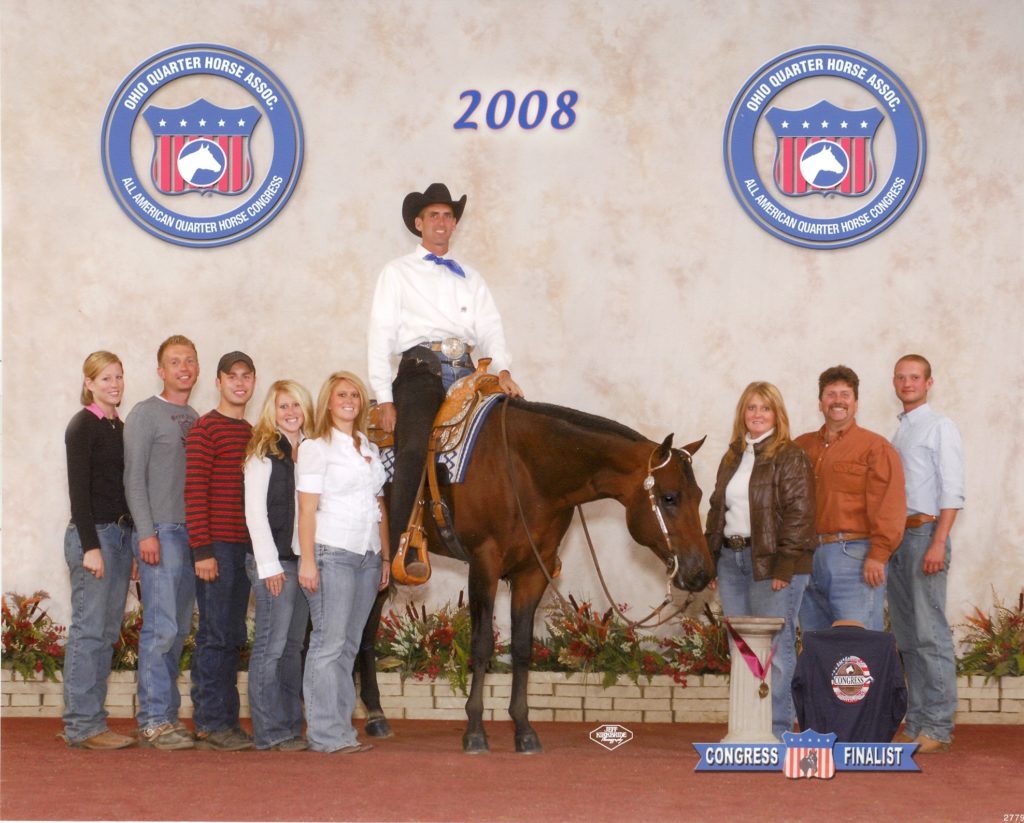 "We purchased Zippos Amiga Chex, a Top 10 Congress Champion and Best to Be Vested (now deceased), a multiple futurity winner; as well as Jet Set Jitters, shown by Ty Hornick in Senior Western Pleasure," says Amy. "We also purchased Magic Only from Carl Yamber as 2-year-old." She was shown by both Amy Meredith and Heidi Piper, earning numerous Western Pleasure points.
Up until now, only a very limited number of mares, owned by the Merediths, have been bred to Custom Invitation, along with just a handful of outside mares. One of his foals, Only The Good Stuff, won the 3-Year-Old Western Pleasure at the Firecracker Circuit in Findlay, Ohio, with his non-pro rider.
Trainers are already saying positive things about his offspring.
"Custom marks his foals with his kind eye and the definitive Invitation Only look," says Sunbury Ohio trainer Chad Piper. "The few offspring of his that I have had have been very easy to be around and easy to work with."
Pasley Puthoff, assistant trainer at CAC Show Horses in Purcell, Oklahoma, says she recalls the Custom Invitation foals she worked with as having great attitudes.
"They are great-minded, very trainable and want to please," she says. "I enjoyed working with the Custom Invitation foals."
The Merediths have now decided to open Custom Invitation's book to the public and he will stand the 2016 breeding season at Cooper Quarter Horses LLC in Maysville, Georgia. His stud fee has been set at $750 with special consideration given to proven producers. In addition, Custom Invitation is Five Panel Negative and he is enrolled in the AQHA Incentive Fund, National Snaffle Bit Association Breeders Championship Futurity, Tom Powers Triple Challenge Incentive program and the APHA Breeders Trust.
"He really does have it all: looks, movement, temperament, talent, and impeccable bloodlines," Clarice Cooper says. "And that's topped off with a reasonable stud fee."
For additional information on Custom Invitation visit: www.cooperqh.com or call Cooper Quarter Horses at (706) 652-2992.