Source: Text by Katie Navarra • Photos by Debbi Trubee
It takes much more today than a set of testicles to make a successful breeding horse. Mare owners take into consideration conformation, show records, temperament and the success of a sire's offspring when deciding on a cross. In addition, now they are examining genetic test results and the ability and willingness of a stallion owner to market resulting foals before they make a commitment. We ask stallion owners and managers to discuss what goes into marketing a successful sire in today's competitive market.
Each year a new crop of 2 and 3-year-old prospects debut in the futurity show pens. The high stakes shows spotlight a young horse's potential under saddle. Perhaps even more importantly, the events confirm and promote a stallion's reputation in the breeding shed.
As demonstrated by RL Best of Sudden, owned by Ken and Marilyn Masterson, Masterson Farms, LLC located in Somerville, Tennessee, success at the futurities creates opportunity for young stallions.
"His breeding career began after winning the first Reichert Celebration $100,000 class with Bret Parrish. As a result and because of what everyone believed to be his great potential as a pleasure sire, his first several breeding seasons were ready made," Ken Masterson says.
Even with a big win like the Reichert Celebration "it's a long haul for a young stallion to get through the first couple of years until they get out there showing," says Debbi Trubee, manager of several prominent stallions including Invitation Only, Lazy Loper, Winnies Willy, The Best Martini and Lopin Lazy.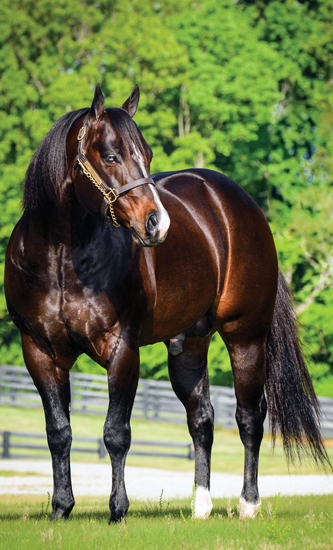 Regardless of their wins in the show pen, all young stallions are unproven in the breeding shed until conception rates are established and the foals start performing. "Once those first babies start hitting the ground it's a matter of promoting those babies, getting them in good hands and hopefully seeing them in the winner's circle when they come of age," she adds.
All that being said, stallion owners and managers in today's marketplace have their work cut out for them. Changes in the approaches used to promote stud services, advancements in veterinary medicine and the continuing trend of specialization have brought both advantages and disadvantages, making it a challenging time to be in the business of owning or managing a stallion.
Name recognition always has been and always will be a critical component in filling a stallion's stud book. The marketing and advertising strategies used to promote top performance sires has significantly changed in recent years.
Less than 20 years ago the Internet was in its infancy. Unless a stallion was hauled to shows, he was videotaped or visited at the farm.
"It was an ordeal to prepare a cassette with videos and mail the package," says Karen Boxell, manager of Richland Ranch in Auburn, Illinois, home to Zippos Mr. Good Bar, Coats N Tails, Good To The Max, Good Time To Shine, Un Forgettable and Whata Vested Asset. "The Internet has made it easier to send videos, pictures and make other information available to potential clients."
The rise of social media has introduced stallions to new customers nationally and internationally.
"With everyone on social media the opportunity to take the stallions global is at everyone's disposal," Trubee says, "Facebook and Instagram allow potential breeding customers to see what the stallions are siring with winner updates and new foals coming each season."
Convenience, global reach and relatively little investment have made online marketing easy to embrace. However, there has been a trade-off.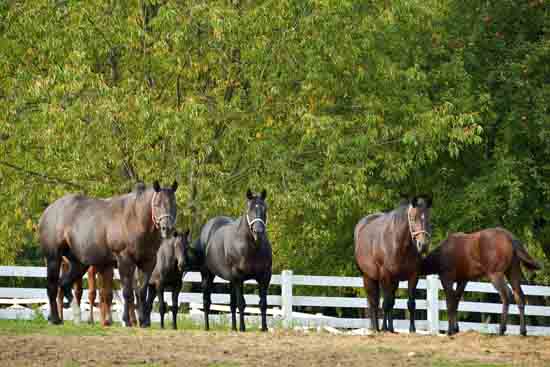 "There is less traffic pulling in our driveway to meet the stallions they chose to breed to, even from local customers" Boxell says. "If I were spending that kind of money I personally would want to meet the animal I select."
With fewer opportunities for stallion managers and mare owners to meet in person it makes the interactions more businesslike.
"I think it makes the business less personal. I try to follow the babies our customers have and help in marketing for our customers with use of the website and Facebook pages to list their foals, but it's not the same as it once was" Trubee says.
Even though websites and social media are a popular vehicle for showcasing a stallion's achievements, glossy print advertisements remain an important marketing tool. Decades ago stallion owners were limited to one or two publications for advertising. Today, ads appear in breed specific journals as well as publications that cover several breeds. Not only are more options available, the style of advertisements has evolved through the years.
"The difference between the ads we ran for Zippos Sheik in the 1900s and the sophisticated advertising we use today is remarkable," Masterson notes.
The bottom line for stallions to enjoy success, effective promotion and advertising is important
"With older stallions, you have a much wider customer base from which to work. Providing the very best customer service is essential for both older and younger stallions," Masterson says.
An evolving industry
Advancements in veterinary medicine and changes in breeding practices have also changed the business of stallion management.
"Thanks to the steady improvement in breeding practices resulting from progress in equine veterinary science we're so much better now at managing the breeding process in an efficient way than before," Masterson says.
On the stallion side of the equation, there have been few new high-tech developments to follow the development of artificial insemination techniques established in the 1970s and the improvements to shipping cooled and frozen semen shortly after. However, for mares, the increased use of embryo transfers, which helps extend the reproductive cycle for mares is an equally important breakthrough for stallions too.
"Once a highly unusual practice, embryo transfers are of course now an everyday activity," he adds.
Specialization has significantly impacted the management of a stallion's career.
"At the same time that breeding is becoming more specialized, the number of registrations is decreasing as well," Masterson says. "The consequence, of course, is that fewer breedings are spread among fewer stallions which makes it very challenging for new stallions to enter the market."
Though the number of breedings drastically declined during and following the recession, Trubee expects the market to be moving in a positive direction.
"I think the breeding business is going to see an upturn in the coming years. There is a shortage of young stock from when people left the business in droves years ago," she says. Sales have been strong and high-end prospects are bringing top dollar. "One of the good changes that came out of that difficult time is people understand the value of breeding their best mares, not just breeding female horses," she says.
At a time when legendary stallions like Zippos Mr. Goodbar and RL Best of Sudden are accepting fewer bookings, opportunities for younger stallions are increasing.
"This year Zippos Mr. Good Bar is 31-years-old so we retired him," says Boxell.
Despite retirement he'll remain available for breeding through his frozen semen.
"Up until his retirement in 2015 his conception rate was 90 percent and we collected him weekly," she says.
Also in 2015, Masterson Farms, LLC announced a limited stud book for RL Best of Sudden.
"We've reached the difficult decision to limit his book in order to be sure to prolong his career. By restricting his book rather than continuing to breed the great number of mares he's bred since he first stood, we will avoid any complications from a stifle injury he incurred years ago," Masterson explains.
As stallion management practices continue to evolve and adapt to changing trends, stud managers and owners look to their respective breed associations for help promoting and sustaining the industry.
"Hopefully, our associations will be able to arrive at those actions which will promote and further our industry and each of its component groups," Masterson concludes.