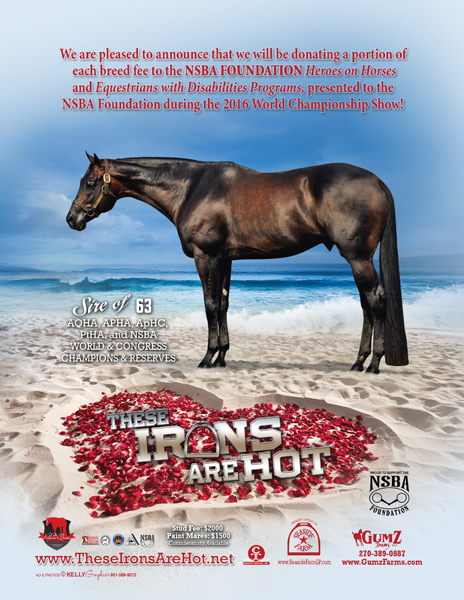 Adria Smith, of Seaside Farm, Plano, Texas, has announced she will donate of a portion of each 2016 breeding fee for her stallion, These Irons Are Hot, to the National Snaffle Bit Association's Foundation for it's Heroes on Horses and Equestrians with Disabilities programs.
"The NSBA Foundation Heroes on Horses touches a place in my heart because my grandfather was a Prisoner of War who was awarded the Purple Heart," Smith said. "I recall my mom talking about how difficult it was when he came home from being released and the fact that he never spoke about being a Prisoner of War."
Classes for the Heroes on Horseback are currently offered annually at the NSBA World Show in Tulsa, Oklahoma and are open to disabled veterans or active duty "wounded warriors" who are participating in PATH Intl. Equine Services for Heroes programs or who have a Department of Veteran Affairs disability and have been invited to participate.
The Equestrians with Disabilities program is open to people with physical or cognitive disabilities and love competing on horseback. It provides an area for exhibitors to enjoy the rewards or hard work, determination and perseverance. Representatives from PATH, Special Olympics and therapeutic riding centers provided input and guidance to create the classes, rules and guidelines. The program allows exhibitors to show in eight classes including Western Pleasure, Horsemanship and Trail and they are split between supported and non-supported riders.
The Heroes on Horses and Equestrians with Disabilities programs are two of the programs administered by the NSBA Foundation. The Foundation is focused on raising funds enabling the association to run special programs such as the Trainer Crisis Fund, the Youth Scholarship Fund, the Animal Welfare Fund in addition to the Heroes on Horseback and Equestrians with Disabilities programs.
"Programs like the NSBA Foundation Heroes on Horses are important in helping our Veterans, Prisoners Of War and Disabled Veterans adjust to their return home.  The Veterans are able to bond and experience camaraderie with others that have been down their same path," Smith said.
Smith will present a check to the association at the NSBA World Show in August, she said. Until then, the exact percentage donated from each breeding will be undisclosed.
These Irons Are Hot is a 2001 brown stallion by Duplicated Deck and out of Georgia Rambling. He has lifetime earnings in excess of $18,652 and was the 2012 Equi-Stat leading sire of hunter under saddle horses. To date he is the sire of 63 AQHA, APHA, ApHC and NSBA World and Congress Champions and Reserve Champions. These Irons Are Hot is standing the 2016 breeding season at Gumz Fams located in Morganfield, Kentucky for a breeding fee of $2,000 for AQHA mares and $1,500 for APHA mares. For more information on These Irons Are Hot you can contact Amy Gumz at (270) 389-0887 or visit his website at www.TheseIronsAreHot.net.