Source: Text by Corrine S. Borton • Photos by Jeff Kirkbride
Kerry Bradac is quite accustomed to the highs and lows that are inevitable in the world of raising quality performance show horses. But at the end of the day nothing makes her heart smile more than seeing a newborn foal. "With every foal born, there are always new hopes and dreams," she insists.
And since starting her operation back in the late 1990s in North Dakota, many of those dreams have been realized. And more are still to come.
Bradac's first foal crop included just three foals but all were performers – one ended up a Quarter Horse Congress Champion, another was a Congress finalist and the third was a futurity champion.
"That got us hooked and we acquired more mares,' she said. "I want to continue to produce top quality prospects that can compete successfully on a national level at both the futurities as well as AQHA approved shows." At the center of the Bradac breeding program are two very talented, yet very different sires.
Hot Diggity Joe, a 1998 sorrel stallion by Blazing Hot and out of Jodie Fivette was one of those three first foals raised by Bradac and she believed wholeheartedly in him right from the start.
"We took our time with Joe as there was really no huge push for the 2- or 3-year-old futurity classes," Bradac said.
Back then, the AQHA Shows were still very sizable and, given her location, it was much easier to go the AQHA approved shows than the futurities.
"We showed him for the first time the fall of his 3-year-old year," she explained. "He was a point earner his first time out and just kept getting better. As a 4-year-old, Joe was winning in both Open and Amateur Hunter Under Saddle classes and claimed many circuit championships. He was a Circuit Champion and/or point earner at every show we took him to, with the exception of one, where he developed an abscess. That is amazing considering we did the major shows (Denver Stock Show, Sun Circuit, Florida Gold and Gulf Coasts, Gordyville, Bellringer, Canadian Nationals).
Joe has earned 499 points in Halter, Hunter Under Saddle, Western Pleasure, Hunter Hack, Green Working Hunter, Pleasure Driving, Hunt Seat Equitation, Trail and Showmanship and Bradac said there are plans to get that 500th point. He is a Quarter Horse Congress Champion and has numerous Top 10 placings at both the Congress and AQHA World Show.
Joe has 211 show age foals and 91 are performers. They have earned over 1,880 AQHA points and logged over $20,000 in National Snaffle Bit Association earnings.
In 2011 the harsh North Dakota winters became unbearable for Bradac so she and her husband, Scott, decided to look for an additional facility in a warmer climate. They purchased a 60-acre horse farm off 225A in Ocala, Florida and moved the breeding operation there in 2012.
Then in 2013 Kerry purchased Open For Suggestion, a 2007 red roan stallion by Openrange and out of Fancy China from Shirley Roth. He placed fifth in the 2009 Congress Masters Western Pleasure and 10th in the 3-Year-Old Open Western Pleasure at the Reichert Celebration the following year and had recorded over $10,000 in earnings. For Bradac it was love at first sight.
"I just loved the way the stallion was put together," she said. "He was so strong through his topline and down through his hind end. Then I saw his weanlings and yearlings. They were so strong and mature and as a group, very uniform in their conformation and overall look! I just knew this horse was going to be a breeding stallion and had to have him."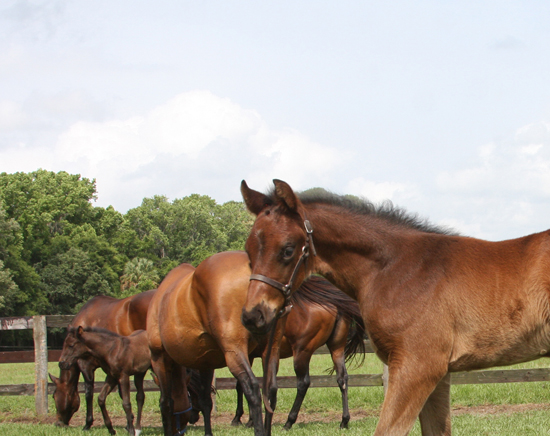 Open For Suggestion has a limited number of foals on the ground. Sexy Suggestions, a 2012 chestnut stallion out of BC Truly Impressive, is from his first foal crop. Teamed with owner Whitney Ward, Sexy Suggestions was a finalist in both the Limited and Open divisions of the Coughlin 2-Year-Old Western Pleasure at the 2014 Congress. In 2015 Brian Cox and Abbrakadabra, a red roan stallion, were Co-Reserve Champions in the Congress Masters Western Pleasure and 11th in the 2-Year-Old Western Pleasure at the AQHA World Show.
"He is putting a lot of substance on his foals," she said. "They are very strong across their topline, down through their hip and they have that heavy-boned hock and strong stifle the Good Bars are known for. His foals are consistent in conformation, overall look and movement. Also, they have been very trainable. These are all traits that make a great breeding sire."
But as important as the stallions are to Bradac, she says the broodmares play an even bigger role.
"We have spent years putting together our broodmare band," she explained. "I've always had a soft spot in my heart for the Sudden Impulse mares. We have four producing daughters as well as a full sister."
The latest additions are KM Best When Invited (RL Best Of Sudden x Invited Always), a full sister to BestSeatInTheHouse; and Ridin Ms Goodbody (An Awesome Mister x Zippos Good Image), maternal sibling to Ona Good Impulse.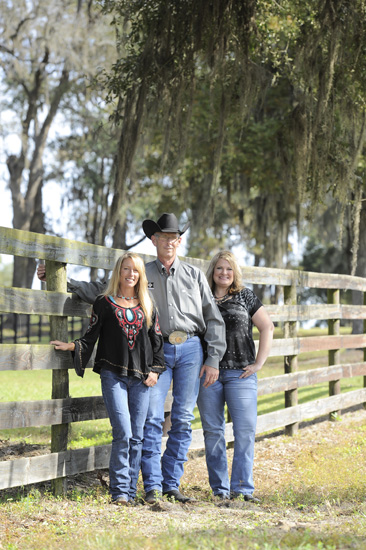 "Even though the focus of our program is now on Western Pleasure foals, we still have some great Hunt Seat broodmares as well, all with produce records," Bradac said. "One of my favorite Hunt Seat broodmares is Southern Socie Tee (Dakota Te x Tullamore Dew). She has got one of the strongest producing bloodlines in the industry. Her daughter is a Congress Hunter Under Saddle Champion producer and her sister has produced a two-time Congress Hunter Under Saddle Champion and an AQHA Reserve World Champion in Junior Hunter Under Saddle."
Bradac says she has been scaling back her broodmare band over the past several years because she strongly believes in quality over quantity. Most of her broodmares are proven producers.
Another important aspect of the Bradac South operation is getting top quality horses by her stallions to the show pen. In August Kerry announced that Mitch and Jennifer Leckey had accepted her offer to move their own training operation to Ocala and serve as her farm managers.
"Mitch and Jennifer will keep everything running smoothly on our south farm," she explained. "They will be in charge of overseeing the daily operation of our farm as well as helping with the foaling and breeding end of things. They will also help in training, marketing, showing and promoting our youngsters. At the same time, they will still maintain their own training program. They have many customers who have been with them for years that have sent their horses to Ocala. Once they get settled, they will look at taking a limited number of outside training horses."
Bradac is especially excited about the 2016 show season.
"We have a great line up of 3-year-olds," she said. "We will be showing What Does D Fox Say (Hot Diggity Joe x Patent Lether Passer) and Uptown Joe Brown (Hot Diggity Joe x Uptown Blues, TB) at major futurities in the 3-year-old Hunter Under Saddle futurities. And we have KM Best When Invited (RL Best Of Sudden x Invited Always) and Suggest The Best (Open For Suggestion x AGR Charming Chip) for the 3-year-old Western Pleasure classes."
She also has plenty of options for Longe Line contenders this year and said narrowing it down won't be easy.
But for now Bradac's focus is on the 2016 breeding season. Both stallions are standing at Peterson & Smith Reproduction Clinic in Summerfield, Florida. The full-service reproduction facility can accommodate customers who are interested in embryo and ocyte transfers. They are an affiliate of Select Breeders and they adhere to the strictest quality control standards in the industry.
The 2016 fees are: $2,650 plus shipping for Open For Suggestion and $1,650 plus shipping for Hot Diggity Joe. Special considerations are offered to proven producers and show mares and there are multiple mare discounts. Both books are limited.
In addition to the NSBA, Southern Belle, Tom Powers and Iowa Breeder's futurities, Open For Suggestion will be part of the Premier Quarter Sires Program.   He is also enrolled in the AQHA IF and the APHA Breeder's Trust.
Hot Diggity Joe is enrolled in the AQHA Incentive Fund and the NSBA Breeders Championship Futurity.
For more information you can call Kerry at (406) 670-2497 or email her at bradacranch@yahoo.com. Additional information is also available at www.bradacranchsouth.com.