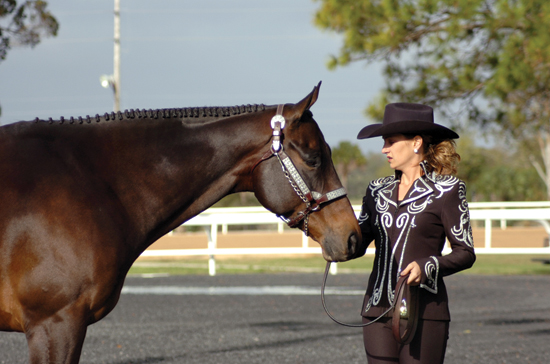 Brandy Halladay loves the learning process of preparing and showing horses. Growing up in Corvallis, Oregon, Halladay spent most of her time in the barn with her mother while she was taking classes in Equitation at Oregon State.
"My parents were students at Oregon State and we lived on campus until I was almost 6. I would often go to class with my parents, but loved going to my mom's equitation class," Halladay recalled. "The instructor would let me pick my horse first, always a little sorrel quarter horse named Cricket, who she'd sit on with me to instruct the class. I have saved my pennies every day since I could remember for my horse fund. I got my first horse out of the classified ads when I was 12."
Halladay's family moved a lot while she was growing up, she lived in 17 cities before she graduated from high school making it difficult for her to keep a horse to ride. Therefore, she never had a formal lesson until she was an adult. One Christmas after she married her husband, major league pitcher Roy Halladay, he surprised her with a new saddle and told her to pick out a horse, something he knew she had always wanted.
In 2001 the Halladays moved to Florida and enlisted the help of Patty and Joey Shortino of Showcase Farm in Lutz, Florida.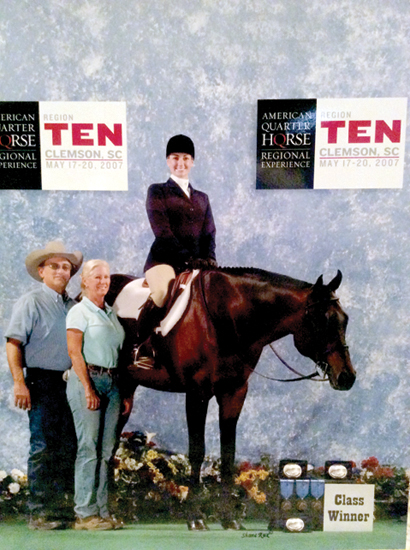 "Roy and I were young, had a new baby, and were unsure if baseball would actually be our life line and now lived in a new state with no family or friends. I knew that keeping my horses was ridiculous but I just couldn't let go," Halladay said.
With the help of the Shortinos, Hallday purchased her first show horse, Supreme Detail, who really brought her into the show world. Together the team attained many of Brandy's first goals including an ROM, Circuit Championships and finished their first year as the state of Florida's Rookie of the Year and finished fourth in the nation. After their time together Halladay donated Supreme Detail to the University of Georgia's Equestrian Team where he still competes today.
After donating her horse Halladay went through a series of horses in hopes of finding the right fit for her. It was then that she found out that her father had stage four colon cancer.
"It was shocking and frightening for everyone and my priorities quickly shifted," Halladay said. "My husband was nearing the end of his baseball career, my children were busy with school and sports and we had no idea how much time we'd have with my dad. At that point the horse show was not just on the back burner, it was off the stove completely."
Just two weeks before her father died Halladay sent one of her horses, a big gray gelding named Master Of The Skys, by Skys Blue Boy, to Sid and Leanne Griffith, in Ohio, hoping they would start the process of selling him and the rest of her horses. That action instead became the start of a rebirth. Their daughter, Dakota, immediately took to the gelding and after months of hard work turned him into something Halladay never thought she would see, a real contender. With a fresh sense of passion, Halladay also sent her 2002 mare, Pleasures Impulse by Hot Impulse to Dakota and Lauren Diaz showed her at the Congress this past October. After seeing both of her horses doing so well Halladay decided letting go of her passion might be something she would regret.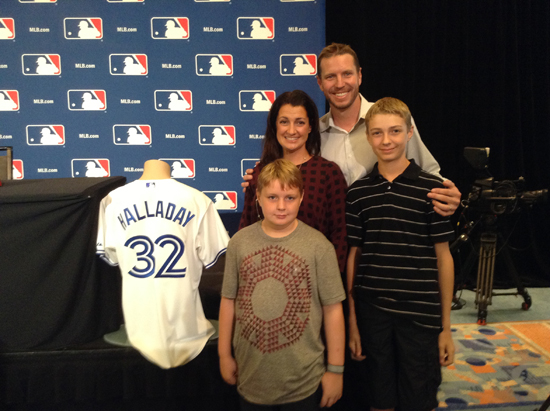 "I've wanted horses my whole life and I have them and they can do this so why let go now?" she said. "My hope is to start riding and showing at the beginning of the year. I will show in Hunter Under Saddle with Master Of The Skys and all-around events with Pleasure Impulse. My family will always be my first priority but I'm still not ready to let go."
Halladay still thinks of herself as a new member of the horse show world since she hasn't consistently been involved over the years and thinks it is very intimidating to start in a new world where so many have grown up and ridden their entire lives. She believes the leveling programs help give beginners a great place to get started. She also loves attending clinics where she has the opportunity to learn from multiple trainers, she particularly enjoys lessons with Sandy Vaughn.
Halladay says her favorite class to ride is Hunter Under Saddle because of the connection to your horse and the powerful but comfortable stride of a big under saddle horse.
"I love the Hunter Under Saddle. I never rode in an English saddle when I was younger. I think it started as an admiration from afar," Halladay says. "I also love Showmanship because to be successful you have to spend the time with your horse. You have to know each other's every move. There is something very powerful about a partnership where you are perfectly in sync with your horse."
When she's not at a horse show she is busy with her two sons, Braden, 15 and Ryan, 11. The Halladay family also fosters dogs for Suncoast Animal League. At one point they had 18 at one time. Halladay says they have been fortunate to have some really amazing dogs come through their home this year and were able to watch them go on to forever homes. Charity and community service is something she feels passionate about passing on to her boys.
"We want them to be active in the community, aware of the needs of others and to appreciate the gifts and opportunities our family has been given," she said. "We volunteer, we give back and we work hard for what we want. Nothing is given."