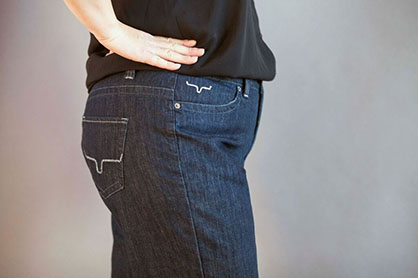 Kimes Ranch hit a home run with the release of the Madeline, a plus size riding jean for women at the 2016 WESA market.
"This is something that has truly been missing from the market. So many companies say they offer a plus-size jean but really all they have done is extended their sizes," relayed women's jean designer and Vice President Amanda Kimes.
Amanda Kimes has worked hard to satisfy the plus size rider.
"I have close personal ties to several true plus sizes. I spent a year and a half perfecting the fit, researching the market and testing the jeans. The last thing I wanted to hear was 'you don't know anything about fitting a plus size woman.'"
Input for the jeans was also taken from feedback acquired on the company's Facebook Fan page.
"We wanted these women to feel great/sexy in our product so before we began development we asked our potential market what they wanted."
Joining the Kimes Ranch women's line up in March, the Madeline features a 99% Cotton 1% Spandex rinse washed denim in a flattering mid rise and a boot cut. Navy blue and silver pocket stitching with a dark body stitch give a slimming appeal without compromising on a little fun flare. The jean ranges in size from 16 up to a 24 waist with 32", 34", 36", and 38" inseams to ensure that women riders have enough stack, a detail that is not customary in other brands.
Many of the Kimes Ranch retailers added the Madeline to their lineup for 2016 as they also see the demand for a quality great fitting plus size women's jean.
About Kimes Ranch Jeans: Founded in 2009, Kimes Ranch (formerly Longhorn Jean Company) was created to fill a void in the marketplace. With a long standing western history, Matt and Amanda Kimes' desire was to create a company that produced great fitting, quality, long lasting jeans that walked the line between fashion-forward and western folk friendly.
The brands catchy logo and even more attractive company culture and customer service have brought them a cult-like following amongst their western consumers. The classically inspired line of jeans, have been featured in magazines including American Cowboy, Horse & Rider, Cowboys and Indians and Chrome Magazine.
Kimes Ranch. Superior Fit. Classic Style. Western Uncomplicated.
For more information on Kimes Ranch or to order, visit www.kimesranch.com.