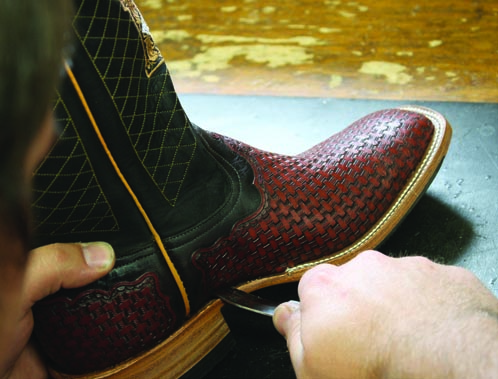 Historians don't exactly agree on how the style of the modern cowboy boot came to be. Some sources believe Europeans made the first western boots, imitating the boots worn by Spanish Vaqueros. Some, credit the United States Calvary. Others, point to a specific Kansas bootmaker named Charles Hyer.
The Kansas Historical Society website says that in 1875 a Colorado cowboy stopped into Hyer's shop after a trip to the Kansas City stockyards. The cowboy asked Hyer to make a new pair of boots that were different from his Civil War-style boots.
Reportedly, the cowboy wanted a boot with a pointed toe that would slide more easily into a stirrup. He wanted a high, slanted heel that would hold a stirrup, and a high top with scalloped front and back so he could get in and out of his boots more easily. Hyer accepted the challenge. The unknown cowboy was so pleased with Hyer's work that he returned to Colorado and told others about his new boots.
Regardless of who is named the true founder of the cowboy boot, riders of all disciplines rely on boots to protect their feet, provide support and be comfortable on the ground and in the saddle.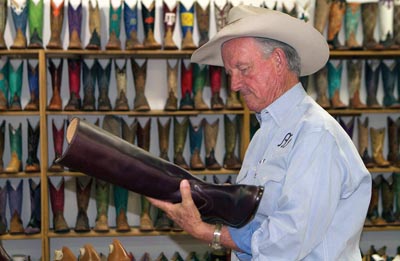 Pointy vs. Square
Prior to the new millennium, cowboy boots were defined by their pointy toes. "Cowboy boots followed the fashion shoe industry in the sense that everything used to be a pointed toe, then it evolved to a round toe, then to the square," said Patty Logan, owner of Kansas based, Logan Western Supply and Logan Boots.
Pointed toes on cowboy boots were  widely popular in the 1970's and were followed by a more rounded, roper toe that was introduced in the 1980's.
In 2001, the Milan, "square" toe hit the market and was considered a bold move away from the traditional pointed and round toe.
"In my opinion, the horse industry wanted something more functional," said Babs Bryant, of North Carolina based Lagrange Leather, "the square toe was not only fashion forward, but more comfortable as it fits most people's feet better."
Phil and Phyllis Harris of Harris Leather & Silverworks in North Carolina, first saw the square toe in January 2001 in Denver, Colorado at the Rios of Mercedes display.
"We really liked it so we ordered and debuted them at the Dixie Nationals in February 2001," Phyllis said.
Phil started wearing a pair and they were mostly well received.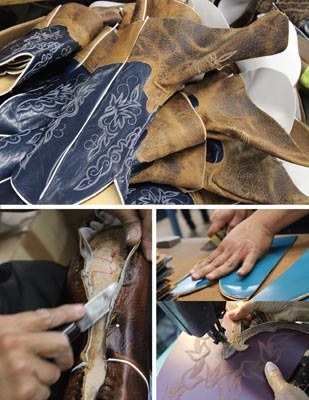 "We had a few customers who saw them and said they would never change to the square toe, but today that toe is all we sell and mostly all our customers wear working or in the show pen," she added.
Although viewed by many as the latest "trend," the square toe was actually a throwback to the cowboy boot's predecessor, Calvary boots.
"Most early cavalry boots had square toes. We have copies of original Olathe Boot Company catalogs from the 1930's. The wide, square toe as an option on their boots even then," said Steven Kahla, brand manager for Olathe Boot Company, which is owned by Western Leather Goods. Western Leather Goods also owns Rios of Mercedes and Anderson Bean.
For the past 15 years, the square toe has by far been a favorite among riders, Dan Woods, owner Woods' Western in Marcos, California, points out that the blunt toe and the French toe are still common as well.
What are you wearing?
Traditionally, cowhide was the skin of choice among bootmakers. Cattle hide is still widely used and is considered the entry level skin of choice. High quality boots made from cattle hide start around $400. A good pair of calf skin boots will cost more than that.
Caiman and Ostrich skins are an upgrade for riders moving away from cowhide. "Most of our halter customers really like full quill ostrich or a full foot caiman," Bryant said. Caiman skin comes from a relatively small member of the crocodilian family that inhabits Central and South America. They are similar to, but distinct from, alligators and crocodiles, and are sometimes called the "Columbian crocodile."
Ostrich hide is durable and stretch so that the boots break in easily. "Ostrich is our number one seller because it is really comfortable and durable," Logan said.
Both Caiman and Ostrich are easily raised and farmed for their skins and prices. "Our boot prices start at $350.00 for smooth ostrich. Smooth ostrich provides the same durability as full quill, but with a lesser price tag," Harris said, "smooth ostrich is made from a different part of the hide and does not stretch as well as the quill portion."
Full quill ostrich boots start closer to $500 and caiman can start near $800.
Extreme exotic skins come from a wide range of animals from stingray and lizard to elephant, shark, python, piararucu (river bass), Aarapaima fish, Caimen luxe, Nile and American Crocodile and more. "The fish are a great conversation piece but will not hold up well to a working environment or a pair of spurs," said Kahla.
Most require extra care to maintain and cannot be worn into a wash pit. These skin boots often range from $1250 to $2450.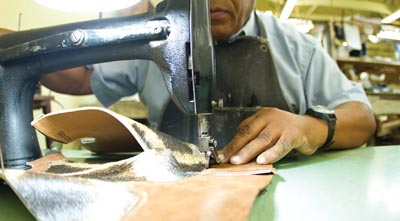 What boot should you wear?
"It really depends on the job that you are doing and how you want the boots to perform," Kahla said.
Generally, the current trend for a show boot is a thin leather sole with a square toe and double stitching. "I see variations in the leather or skin used for the vamp. Typically, it's plain leather or ostrich and even other exotic skins," said John Briggs, a world champion AQHA and APHA trainer and judge from Texas.
From Woods' perspective, a boot with a 11″ top has a square toe, walking heel and a leather sole, is most popular in the show pen. With the ranch pleasure classes growing like it is, 14″ and 16″ tops are also selling well.
Though toe style and height may be similar across disciplines, color and styling can vary dramatically. From a judge's perspective, Briggs believes it is particularly important to choose the right boot for showmanship and halter. "I like a boot with a thin leather sole and in Showmanship it should match the color of the Showmanship outfit," he said. Bryant agreed, "in Showmanship boots need to match the pant as closely as possible without taking away from the solid look. Many times showmanship boots are dyed to match."
On the other hand, Woods said, "halter and showmanship need to have a more formal look with black being the color of choice with a formal black sole edge." Exhibitors competing in pleasure have a bit more flexibility.
"Boots don't make the difference between first or second in pleasure classes so fit and comfort is most important," said Kristy Starnes, an AQHA trainer based in South Carolina. Pleasure classes can use a more casual look with natural sole edges regardless of color. "In these classes, the boot should be comfortable and give the some flexibility to use your foot and ankle," Briggs added.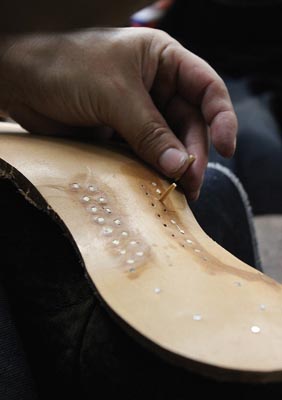 Performance horse exhibitors have their own look that often includes more color, more height, and look more ranchy.
"Cutters prefer a narrower square toe that we refer to as a 'Cutter Toe.' The boots have a higher riding heel and taller tops," Kahla explained, "reiners prefer a wide square toe with a lower walking heel."
Black and brown remain the most common basic choice, but interest in blue tones, turquoise, green, and red is increasing. Despite wide range of colors and styles to choose from, black remains the most popular choice among riders showing in events from western pleasure to horsemanship and showmanship.
"We probably sell nine pairs of black boots for every one of another color," Harris said, "black is a versatile color and can go with most any outfit, whether show or just jeans. Black boots also do not show wear as easily."
Make 'em last
With off the shelf prices averaging $400 -$900 and exotic or custom boots costing much more, your boots are as much of an investment as your other gear.
"Take your boots to a good shine man now and then and have them tuned up," Woods suggested. Removing dirt and dust after each wear and applying a high quality non-darkening leather conditioner at least monthly preserves the quality of your boots.
Keep them clean
Regularly clean your boots with a good non-alkaline leather cleaner, such as Lexol Leather Cleaner. Use a soft cloth and rinse with water.
"Do not use saddle soap, it will dry out the hide," Kahla emphasized.
Condition your boots
Boot leather needs to have its natural moisture restored often with a good conditioner. Kahla recommends Lexol that is sold in the brown bottle. Wax and polish are not substitutes for conditioner and never condition boots prior to cleaning.
"We really like Bick 4 or Fieblings leather conditioner," Bryant said, "properly conditioning your boot is extremely important with exotic skin boots such as caiman or ostrich to prevent the skin from drying out and eventually cracking."
Avoid using sealers on high-quality boots. "Sealer stops breathability and shortens the lifespan of high-quality boots," Logan said.
Keep boots away from direct heat 
When your boots get wet the best way to dry your boots is to walk them dry. They may also be air dried away from all heat sources.
"Do not put them in front of a heater or dry them with a hair drier or blow torch. Yes, we said blow torch. You should see some of the things that we have been asked to fix," Kahla said.
Bryant encourages customers to use cedar inserts to wick away moisture.
"Cedar inserts are an awesome way of keeping the shape of the boot while absorbing moisture," she said.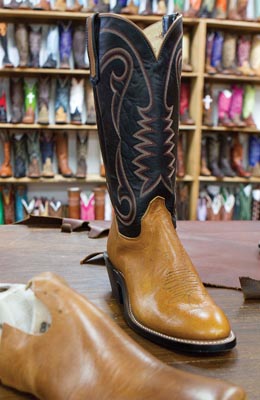 Saying goodbye
Parting with a beloved pair of western boots is like saying goodbye to a best friend. It isn't easy!
The good news is there are ways to prolong the life of your boots. The heel caps wear first and can easily be replaced.
"Heels are the fastest to wear down and the easiest to fix," Logan said, "If people replace those before they wear through to the sole it will really prolong the life of their boots."
A pair of handcrafted boots can usually be resoled around three times.
"We offer a premium recrafting that is actually more like a rebuild. We replace everything from the original leather insoles and welts to the soles and heels," Kahla said.
When you first notice the soles wearing, return the boots to the boot maker for resole. "Boots can only be repaired if the vamp or top part of the boot is still in good shape and not cracked or broken," Harris said.
Since Starnes wears her boots every day, all day long, she sends her boots in for resoles every six to eight months. "I ride in the same boots that I wear around all day," she said.
Discomfort is a sign it's probably time to part ways for good. "If your feet hurt, especially if it's about three in the afternoon and you can't wait to get your boots off, it's time. Don't wait until they are worn out, if they hurt, they aren't worth keeping," Woods said.
What matters most is fit
Ultimately, fit matters more than looks.
"The current trend is not so important, it's quality, buying a pair of boots which fit properly and last," Dan Woods, owner Woods' Western in Marcos, California.
"You should have to stand and give a firm pull to get the boot on, if top, called the throat, size is correct," Steven Kahla, brand manager for Olathe Boot Company, which is owned by Western Leather Goods. Western Leather Goods also owns Rios of Mercedes and Anderson Bean.
After the boot is on your foot, the fit around the instep should be snug, but not tight. The ball, which is the widest part of the foot should fit in the widest part of the boot.
Sizing may vary between bootmakers.
"Most off the shelf boots run true tosize. We always recommend trying them on if at all possible to ensure proper fit," said Kahla.
Some boots may not be similar to your regular shoe size.
"Men's boot sizes are the same as shoe sizes, but women's is slightly different depending on the form they are built on," said Patty Logan, owner of Kansas based, Logan Western Supply and Logan Boots.
"Rios of Mercedes does not distinguish men from ladies sizes except by width. Ladies need to go down one full size from their regular shoe size in our boots. B width is typically ladies, where D width is the average mens. We offer C and E widths as well, for those who need special widths," said Phyllis Harris of Harris Leather & Silverworks in North Carolina.
Regardless of the numerical size that is chosen, the boot should fit comfortably throughout foot but be slightly loose in the heel. "Your heel should slip approximately ó to 1 inch up and down. As you begin wearing the boot the heel will soften and conform perfectly to your foot," said Babs Bryant, of North Carolina based Lagrange Leather. Boots should not be tight on the heel. "This is a sign a boot is too small and we recommend going up a half size, as there is only . inch difference in the half sizes of LaGrange Leather boots," Bryant said.
Your toe should never hit the end of the boot but be approximately one thumbnail space back from the end. This allows your foot some space to prevent blisters and discomfort.
Too often, Woods sees riders wearing boots that are too short and too wide for their foot.
"Having your foot measured and having all the widths necessary to find the right combination of length and width will fit better and be more comfortable, which is what you want," he said.