Oklahoma City offers all of the culture, cuisine, attractions and amenities you'd expect in a modern metropolis. And with its rugged Western past, working stockyards and title as "Horse Show Capital of the World," it's rich in cowboy culture as well. From family fun to romantic retreats to outdoor adventures you won't find anywhere else, Oklahoma City has plenty of hustle without all the hassle.
Come explore the possibilities in Oklahoma City. Located in the heart of the state, Oklahoma City's western charm and lively atmosphere create the perfect backdrop for your next vacation. Whether it's arts and culture that capture your heart, or cheering for the home team, you can create the perfect experience in Oklahoma City.
As you'll soon discover, there are plenty of things to do in Oklahoma City, whether you explore the city at your own pace, or embark on one of our Getaways. And, with an ever-increasing number of hotels, ranging from contemporary to historic, you can find the perfect place to rest your head after a day of adventure.
Learn more about Oklahoma City – from its history as a city "born" in a single day to the best ways to get here and get around to its attractions and events.
See for yourself why this hip city steeped in heritage and charm suits everybody's taste for fun!
History
A little more than a century ago, the site of Oklahoma City was a grass-and-timbered land of gently rolling hills flattening out into prairie. Today, Oklahoma City sprawls across 625 square miles of America's heartland. It's metro population numbers over a million – one third of the population of the entire state.
During the 1800s, the U.S. government forcibly relocated Indian tribes from all over the country into the area known as Oklahoma Territory. There was one parcel of land that was never given over to any tribe – the Unassigned Lands.
In the 1880s, many frontier Americans wanted to move into this land. Soon, landless pioneers began slipping over into this area without authorization. These were the "Boomers," who were trying to force the government into opening the territory up to homesteaders.
On March 2, 1889, President Benjamin Harrison signed legislation that opened up the Unassigned Lands. So, on April 22, 1889, about 50,000 homesteaders gathered at the boundaries. Some people snuck over at night to stake out prime land early, hiding from the army patrols. These people were known as "Sooners."
At noon, the cannon roared, and the hordes of people streamed over the line on wagons and buckboards, horseback, on foot and even on bicycles. Soon, nearly 10,000 people had staked out claims near the Oklahoma Station – what today is Oklahoma City. Claim jumping was common, as were boundary quarrels that led to fights and considerable bloodshed. Tents were thrown up in haphazard fashion, and mass confusion reigned supreme.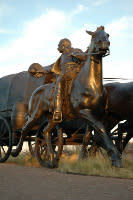 Congress had made no provision for city government, so leaders had to be chosen to restore order. A provisional government was selected, and elections were held on May 1 to select permanent officials. A month after the Land Run, the Commercial Club was formed, which was later renamed the Oklahoma City Chamber of Commerce. The Chamber began attracting railroads to Oklahoma City, and the new town was well on its way to economic prosperity.
By 1900, the population had doubled.
When statehood came for Oklahoma on November 16, 1907, Oklahoma City was a center of commerce. The Chamber attracted industry and a number of packing plants in what is now Stockyards City. Back then it was known as Packing Town.
In 1910, with a population of 64,000, there was a petition to move the state capitol from Guthrie to Oklahoma City. With enough signatures, there was a popular vote, which Oklahoma City won.
That night, Governor Charles Haskell and a group of conspirators gathered at the Lee-Huckins Hotel. After a midnight trip to Guthrie to retrieve the State Seal, the governor declared the hotel the temporary capitol building. The permanent state capitol, located at Lincoln and 23rd Avenue, was dedicated in 1917.
On December 4, 1928, oil was discovered on the corner of SE 59th and Bryant Ave. in Oklahoma City. In the 27 days before the great gusher could be capped, it spewed 110,496 barrels of oil. The Oklahoma City Field had been discovered, creating the city's most important financial resource and making Oklahoma City the world's newest boom town. Oil continues to be one the most important players in the city's economy.
Things To Do
What's there to do in OKC? What isn't there to do? From treasure-filled museums to fun and funky festivals, outdoor recreation to loads of shopping and so much more, come discover all there is to do in Oklahoma City.
For even more information on Oklahoma City visit www.visitokc.com
Source: Visit OKC