Owner: Debbie Hodde, Brenham, Texas
Established: 2011
About: Winning Couture specializes in one-of-a-kind garments for the
show pen and the street. Known for trendsetting hunt coats, beautifully
customized dress shirts and hunt shirts.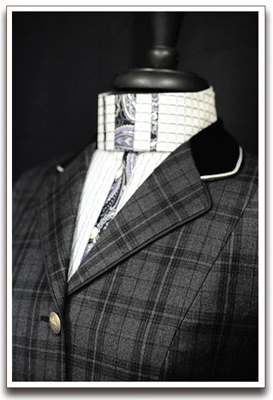 The Process: Whether matching a saddle pad (hat or
chaps) or piecing together ideas of their dream hunt
coat, it is all about the customer and their style. Vintage
and modern tie silks used as accents for shirts
(vest and coats). These are matched to high end cottons
for the body of a shirt or lightweight wool for a
suit or vest. Measurements are taken to get the perfect
sizing. Custom garments typically take between
six and eight weeks to construct and be delivered to
us for a first inspection. Garments are then shipped
to the customer and alterations made if needed.
The Customers: Typically someone looking for something truly oneof-
a-kind, to set them apart in the pen.
The Trends: English riders are stepping out more than previous
years. They are using contrasting (or matching) velvets, piping and
buttons to give them a totally different look than anyone else. We
are seeing a lot of plaids, windowpanes and bolder stripes. Then, our
customers usually pull a fun silk to tie together their shirt and coat.
Western customers are really getting into having a perfectly matched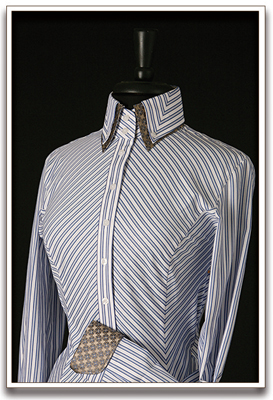 ensemble. We get a lot of swatches from chaps, saddle
pads or hats to give them a dress shirt that will
be absolutely stunning both close up and from across
the arena. Our custom tailored fit, hidden zipper and
tall collars have proved to be a "go-to" for Horsemanship,
for the people looking to get away from
"all the bling." We have been doing more and more
suits for the Showmanship exhibitors as well. They
are able to have something that looks professional,
sleek and still have that custom touch. We have
even branched into dressing many halter exhibitors
and judges. Our "Judges Vest" has become a hit for
people who want to look very put together without
having to wear a blazer.
The Schedule: Winning Couture will be at the Redbud, AQHA Youth
World Championship Show, NSBA World Show and Quarter Horse
Congress.
Contact Information: Winning Couture has very active Facebook
and Instagram pages (both under Winning Couture), where sale
items, upcoming inventory and customer items are listed. Visit the
Winning Couture website at www.winningcouture.com