Source: Text and Photos by Courtney Borton Ament and Corrine S. Borton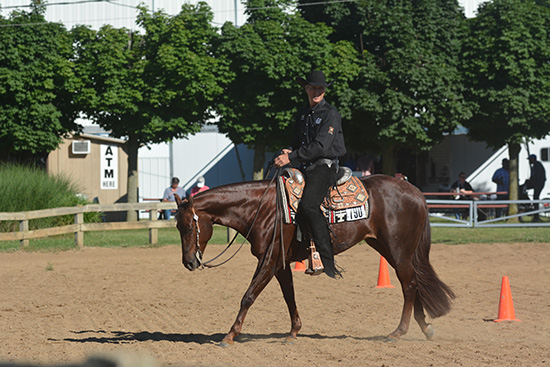 The Tom Powers Futurity kicked off its 36th year today with an expanded schedule and the best weather Powers says he's seen in the last 10 years.
"The numbers appear to be up. We are trying a new software system and it appears to be working well and we have a great crew helping out this year," Powers said today. "The Sale Stakes Class will pay $65,000 and we added three new Limited classes this year. These will be run as a test and they are not National Snaffle Bit Association approved. We will see how exhibitors respond.  We also have more awards this year than ever, 38 buckles in all."
New this year were Trail and Western Riding classes and although they did not draw big numbers the exhibitors said it's a great start and they were happy to have the opportunity to show in those new events.
Tom Forehand, of Erie, Colorado, showed The Bourne Legacy to Reserve championships in both Open Trail and Green Western Riding.
"The addition of the new classes was one of the reasons I brought that horse," Forehand said. " I figured with all the young horses here I would be showing against real green horses. I showed that same horse in the Trail. I think it was a great thing to have here and I would definitely show in it again and with $1,000 added it was one of the highest paying futurities."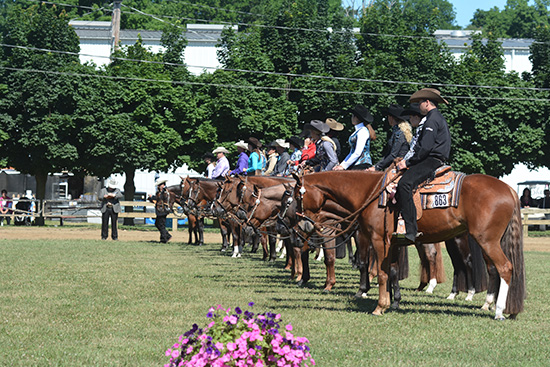 Rusty Rea, of Shelbyville, Kentucky, rode Mr Range Rider to a win in All Age Open Trail for Al and Jennifer Andrews.
Gil Galyean, of Purcell, Oklahoma, teamed with The Party Blazer to claim a win in Green Western Riding for for the Joanie Zelnio Living Trust.
The biggest class of the day was the 3-Year-Old Novice Horse Novice Rider Western Pleasure. Abi Tuiasosopo, showed Lexus Made Lady, sired by Machine Made, to a win in the tough class of 22 entries. Reserve Champion was Supermann, owned and shown by Maegan Flemming.
Ready Set Lope was crowned champion of the Novice Horse Novice Rider Western Pleasure Maturity with Mike Harter in the saddle. Ready Set Lope, sired by Certain Potential and out of Lopins Dream, is owned by Debbie Brehm,of Lincoln, Nebraska.
Rusty Green won the 2-Year-Old Color Western Pleasure on all four judges' cards aboard Johnnie On The Spot, owned by Capital  Quarter Horses. Blake Britton and Figured I'm Invited were Reserve in the class of seven entries.
Bill Cox, of Paris, Ontario, Canada, piloted Sleep Machine to a win in the Non-Pro Color Breed Western Pleasure. Luke Northway captured a Reserve in the six entry class aboard Cheers To Chocolately.
Friday morning will be devoted to the Non-Pro and Open Western and Hunter Longe Line classes followed by several Hunter Under Saddle classes and the afternoon features Western Pleasure classes for Open and Non-Pro competitors. The inaugural Super Sires Yearling Longe Line Class will also be held on Friday.
Saturday will showcase the Western Pleasure Super Sires 3-Year-Old Non-Pro classes (open and limited divisions). To be eligible to compete, horses must be sired by one of the stallions enrolled in the Super Sires program.
The featured event on Saturday will be the presentation of the Maiden 2-Year-Old Stakes Class with a guaranteed purse of $65,000. Only horses that were sold through the Yearling Stakes Sale last year are eligible to compete in this year's class. The winner of the Open Division will take home $25,000 and $8,000 is up for grabs to the winner of the Limited Division. In addition, Harris Leather will present bonus checks ($3,000 for the top placing Open Rider and $1,000 to the highest placing limited rider) to those competing in a Harris saddle.
At the conclusion of the Stakes Class the show will host a BBQ, sponsored by Game Ready, followed by this year's Yearling Sale, presented by Alan Parker Auctions, in the indoor arena. Last year gross sales were reported at $991,000 with a sale average of $13,220. The high seller brought $65,000. This year 85 yearlings have been consigned to the sale. Purchases can be made in person, on the phone or online through Proxibid (https://alanparkerauctions.proxibid.com/asp/AuctionsByCompany.asp?ahid=3209)
Judges for this year's event are: Sissy Anderson, Tony Burris, Jerry Ericsson and Judd Paul.
Click here for a schedule of classes:
Click here for the 2016 sale catalog:
Check out some of our candids from the show