Owner: Brenda Arnold
Established: 1994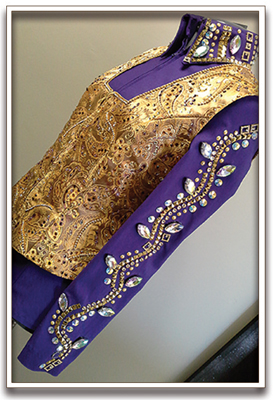 About: Cassidy's produces top quality show apparel with attention to detail in design. With 22 years of experience in the design field, Cassidy's can create designs specific to individual needs. Quality, unique designs and competitive pricing have kept Cassidy's in the show ring for the past 22 years.
The Process: Since the invention of tasteful Spandex material, Cassidy's goal has been to produce the most comfortable, user-friendly product that will capture attention not only for the design, but for a great fit as well. From our Ultimate Showmanship Pants to our chaps, everything we produce includes a form of stretch-ability to accomplish this goal.
The Customers: We offer sizing from lead line to plus size Select competitors. Our customer base ranges from occasional open show weekend exhibitors to World Show level clients. Keeping the customers price point in mind, we focus on creating the most economical, complete look, to fit their budget. This challenge keeps our creative skills sharpened in using unusual, resourceful products that help to produce a "full" look without the huge price tag.
The Trends: Plain, fitted shirts are still extremely strong. We offer 22 colors for this season, in zipper or button fronts, and plain or button cuff sleeves. These can be worn plain for horsemanship, halter, ranch pleasure, etc. Great for a variety of colors/styles, at a minimal investment. Embellishment options for these blouses are endless. We coordinate them with our vests by adding matching color/texture to the collar and sleeves. In designs, I'm seeing lines and geometric shapes being the most popular. A properly belted design is still in demand.I design to enhance the positive areas of my client. If they need to gain length, accentuate shoulders, minimize waist, that's where my design is directed.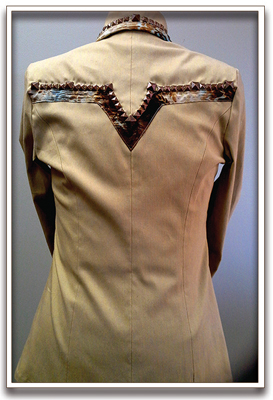 The Schedule: Cassidy's Casuals will be at the Tom Powers Futurity in Berrien Springs, Michigan; the Region Six Super Series in West Springfield, Massachusetts; the Sussex Spectacular in New Jersey; and the Quarter Horse Congress.
Contact Information: Cassidy's Casuals has a Facebook Fan page (under Cassidy's Casuals) Visit the website at www.cassidyscasuals.com or email at sales@cassidyscasuals.com. You can also call the shop at (989) 652-9000.