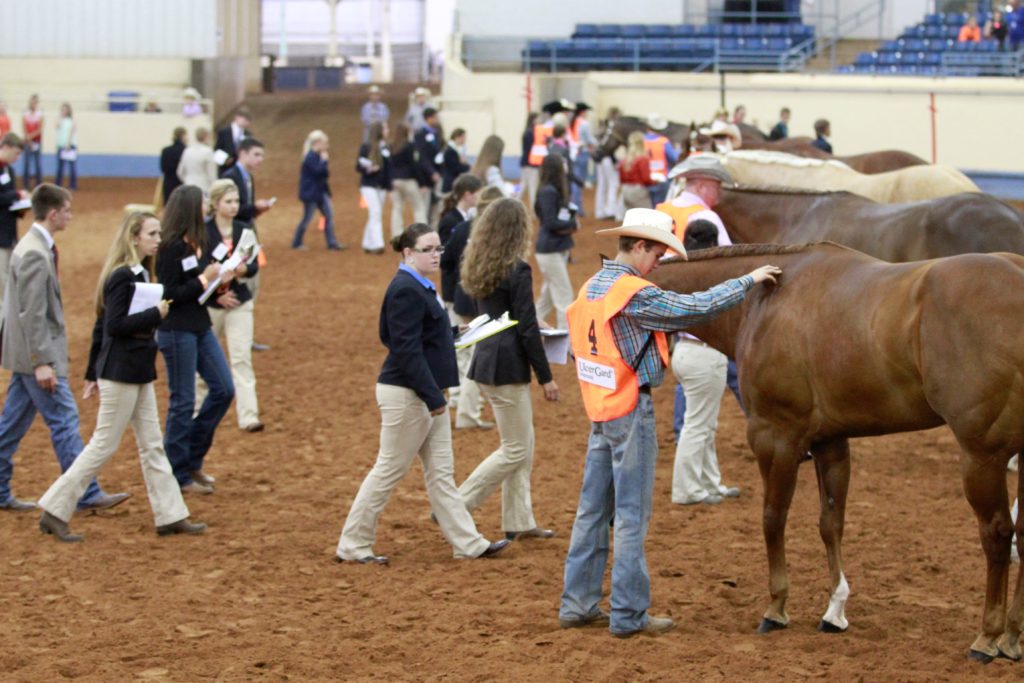 Exhibitors can participate in fun-filled events taking place at the 2016 Built Ford Tough AQHYA World Championship Show. American Quarter Horse Youth Association members will be able to compete in activities outside of the arena during the show August 5-13 in at State Fair Park in Oklahoma City.
Attendees have the opportunity to compete in several events held throughout the show. The Merial AQHA Horse Judging Contest and speech and art contest are just some of the contests offered. All youth are invited to attend the fashion show and pin exchange, followed by a dance August 9 in the Sales Pavilion. Throughout the show, Ford Youth World teams will also be competing for points in a team-spirit contest. View the tentative schedule of events.
The 2016 youth teams will all be recognized August 7 during the Parade of Teams in the Jim Norick Arena. The 2015AQHYA year-end high-point winners will also be recognized during the Parade of Teams. All youth teams and youth high-point winners will be honored in front of their peers, friends and family for their great accomplishments.
AQHA Professional Horsemen have volunteered their time to give free Ride the Pattern clinics, presented byNutrena. These free clinics give exhibitors and spectators the perfect opportunity to learn how AQHA Professional Horsemen would approach a class or pattern. View the tentative clinic dates and clinicians. Sign up for your chance to win free feed and get a free treat from Nutrena while at the clinic.
Also, be sure to stop by the SmartPak Booth and sign up for the second annual Ford Youth World scavenger hunt. Gather a team of three people and tackle 15 fun tasks. The scavenger hunt will take place Wednesday, August 10, at 3 p.m.
Other events include a Church Service August 7 at 9 a.m., followed by The Paws Cause, a dog adoption event at 11 a.m., and a college fair August 8 and 9 from 11 a.m. to 7 p.m. All three events will  be held in the Sales Pavilion or hallway to the Sales Pavilion. Exhibitors, friends and family are also invited to attend an exhibitor party August 12 from 6 to 7:30 p.m. in the Jim Norick Arena. Attendees will not only be able to mingle with friends and enjoy a sweet treat, but will also have the chance to compete in the B&W Trailer Hitch contest, dummy roping contest, dog race and dog costume contest at the exhibitor party.
A tentative schedule of all Ford Youth World events can be found at www.aqha.com/youthworld.
If you are competing at this year's Ford Youth World, be sure to share the link to the free live webcast, presented by Nationwide Insurance, with your friends and family who can't join you in Oklahoma City this year. A link to the webcast will be posted at www.aqha.com/youthworld during the show.
For more information on the Ford Youth World, visit www.aqha.com/youthworld.
AQHA News and information is a service of the American Quarter Horse Association. For more news and information, follow @AQHAnews on Twitter and visit www.aqha.com/news.