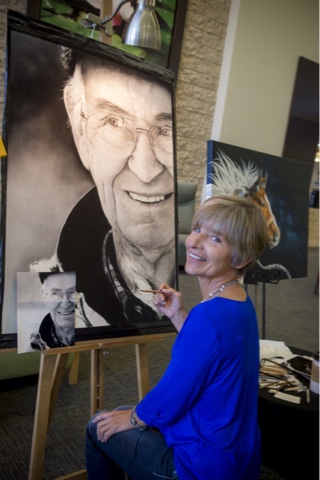 Every year, one artist is given the honor of being selected as the America's Horse in Art Show & Sale signature artist. When the art show and sale returns to the American Quarter Horse Hall of Fame & Museum in August 2017, the signature artist for the 10th annual America's Horse in Art will be Joni Beinborn of La Crosse, Wisconsin.
"We are thrilled to be able to announce Joni as the 2017 America's Horse in Art signature artist," said Brent Davison, American Quarter Horse Foundation chief foundation officer. "The American Quarter Horse has long been a focus of Western art. We are honored to have such a talented artist as Joni representing the show"
Beinborn, under the name of Joni's Ponies, has been drawing and capturing horses for more than 30 years. She specializes in custom equine portraiture and is well known for capturing the heart of her subjects and bringing them to life.
She has won many accolades for her work. Her work has been featured on the cover of America's Horse and in the Equine Chronicle, Western Wisconsin Horse Show Association Handbook, Minnesota Paint Horse Directory and in the 2010 American Paint Horse Association Summer and Fall world show publications. Beinborn also won the prestigious Steel Dust award at the America's Horse in Art Show & Sale opening in 2014 for the overall quality and depth in her body of work.
Each year, the show's signature artist creates a piece of art that becomes the visual representation of the show for that year. Beinborn's piece will be featured in print and online marketing materials and also as a print that will be available for purchase closer to the opening of the 2017 show.
To learn more about the 2017 America's Horse in Art featured artist, visit www.jonisponies.com.