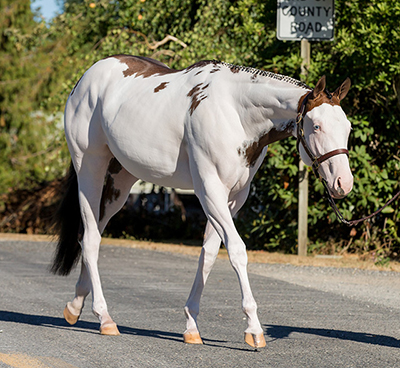 With the New Year just around the corner, don't let the holiday hustle cause you to miss out on important APHA deadlines. Here are 5 items to check off your list by Dec. 31:
All horses turn a year older on Jan. 1—and because registration fees are based on age, that might mean extra cost. Save money and "make it official" by taking care of your horse's registration today.
Pro Tip: Want to speed up the registration process? Complete the registration application in full, including all required signatures, and make sure you send it with a complete set of photos (left, right, front and back), payment for fees and any other required information (like a copy of your mare's AQHA or Jockey Club registration papers, if this is her first foal).
Registration Application: apha.com/forms/registration-forms/ 
Did you buy a new horse but haven't yet sent in the registration papers to have ownership updated into your name? Transfer rates increase January 1, so make sure you submit your signed transfer report with the horse's registration certificate and transfer fee soon. You'll need the owner of record's signature as the seller, and your information will be listed as the buyer.
Transfer Report: apha.com/forms/registration-forms/ 
Subscribe your stallion to APHA's Platinum Breeders' Futurity
APHA's revamped Platinum program paid almost $100,000 in 2016, so you definitely want to take advantage of this lucrative program if you own a Breeders' Trust-subscribed stallion. The stallion subscription fee of $5,000—due December 31—makes his foals eligible for the program's payouts at the World Show; mare owners also must pay a $200 nomination fee for the foal to be eligible. Both stallion and mare subscription fees go back into the purse prizes.
Read More: apha.com/news/platinum-breeders-futurity-modifications-to-increase-payouts/
Online: apha.com/programs/breedersfuturity/ 
Email: breederstrust@apha.com
Renew your APHA membership
Show your support for the breed you love by joining or renewing your APHA membership before rates increase in January. You'll gain access to tons of programs designed to foster your enjoyment of Paints, plus you'll get special member-only pricing, APHA Xtras discount program and a complimentary subscription to the award-winning Chrome magazine.
Join Online: apha.com/join/
Membership Form: apha.com/forms/membership-forms/ 
Subscribe or renew the Paint Horse Journal
Love Paints? Stay up to date with the Paint Horse Journal, the association's flagship monthly magazine that brings you all Paints, all the time. An award-winning industry leader, the Paint Horse Journal delivers the latest news, pro tips, Paint people spotlights and more to your mailbox each month. Subscribe or renew now before rates increase in 2017, and enjoy the gift that keeps on giving all year long.
Join Online: apha.com/phj/subscribe/
Call: 817-PHJ-4YOU
Have questions or need help? Email askapha@apha.com.
Source: APHA