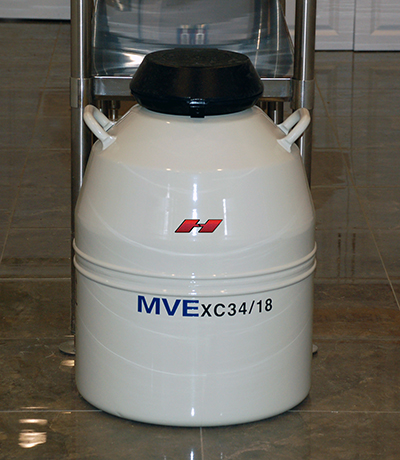 Science has had a tremendous impact on the horse breeding business, for the professionals and the hobbyists. Gone are the days when the mare owner had to load up his mare into the trailer and drive her to the stallion's farm, perhaps limited by miles and geography. These days, the mare owner can simply pick up his cell phone and order semen to be delivered to his mare. Presto change-o, fast forward 11 months to a foal. Right?
Sounds extremely simple, but the breeding process utilizing transported semen is much more complicated than that. Success depends upon the handlers at both ends of the transaction, beginning with the collection of the stallion to the breeding of the mare at the other end. Advancements in technology allow breeders to manipulate ovulation times and extender helps the semen quality, but there's still the matter of getting the semen to, and in, the mare to achieve the goal of a foal.
The stallion owner/manager has responsibility to provide the mare owners with quality semen that arrives viable and on time.
While most stallions produce semen that remains live for extend-ed periods of time after being cooled and shipped, some stallions' semen does not survive the cooling process, or is affected by the use of an extender designed to assist the process.
Extenders contain ingredients that protect the sperm outside of the reproductive tract, improving its survival in the cooling and shipping process. Antibiotics may be added to reduce or eliminate bacterial growth. The recommended insemination dose for cooled semen prior to shipment is one billion motile sperm cells, which is twice the recommended dose for fresh insemination. After collection, the semen is mixed with a prewired extender, put into a plastic bag and placed into the cooling cans of the shipment container. Before the container is sealed, the documentation paperwork with information on the stallion and receiving mare are included to accompany the shipment.
American Quarter Horse Association
            The American Quarter Horse Association requires parentage verification through DNA testing for any foal born resulting from the use of transported cooled or frozen semen. Foals produced through the use of transported semen will have that notation on their permanent record and registration with the association.
Stallion owners must designate on their annual breeding report if mares were bred using transported cooled semen or frozen semen.
In the event a stallion owner wishes to transfer a stallion but retain rights to use frozen semen or keep the stallion but transfer semen right permits, he may purchase a retained semen rights permit from AQHA. Only the current owner or lessee of record can purchase retained semen rights permits. Each permit may only be used for the registration of one foal.
Semen from stallions foaled in 2015 or after may not be used beyond two calendar years following the year of his death or being gelded to produce a foal eligible for registration with AQHA.
AQHA registered 61,282 foals in 2015, with 13,560 from breedings of transported cooled or frozen semen.  From 2011 to 2015, a total of 66,358 breedings from both cooled and frozen semen were recorded. for foals registered.
American Paint Horse Association
            The American Paint Horse Association allows registration of foals conceived by artificial insemination (used immediately following collection at the premises of collection within 24 hours), transported/cooled semen (transported from location of collection and used within 72 hours of collection), or frozen semen (that which has been collected and stored in a frozen state for future use). APHA requires stallions to be DNA tested and a transported and/or frozen semen permit purchased prior to any use of the transported semen. The permit is renewable annually for the calendar year. Resulting foals must also be parentage verified through DNA testing.
APHA registered 10,813 foals in 2015. Of those, 1,250 were the result of breedings utilizing transported semen.
As Breeding Manager at Highpoint Performance Horses, Christi Christensen is responsible for nine stallions standing at their location in Pilot Point, Texas. She says they have had instances where the weather has affected shipments, such as tornado activity or ice storms.
"It drives me crazy when it happens, because I try to get things everywhere punctually. I have driven to pick up a FedEx that has been delayed due to a weather shutdown, but UPS was still running, so I picked it up at FedEx and took it to a UPS hub, where it was shipped out."
She has had semen shipped for a Saturday delivery not arrive.
"We tracked it and found it at a station enroute. I hired a courier service to pick it up at the station and drive it to the customer. Ultimately, all of this is out of my control, but if there is a will there is a way."
Emilie Taylor is the Reproductive Specialist at Abraham's Equine Clinic They manage the breeding for approximately a dozen stallions each year at the veterinary clinic in Cedar Rapids, Iowa. Taylor considers weather issues or lost shipments just part of everyday typical happenings.
"We've had FedEx lose shipments on three different cycles on the same client's mare one year. That was extremely unlucky for that woman, but not in our control."
Difficult clients are the ones who call at 4 p.m. to request a shipment that day, or the ones who are slow to return the shipping containers. Sometimes the late call may seem unavoidable, trying to connect several different schedules, however, it makes it a challenge to get the shipment ready to go and to the carrier so that it arrives on time to the mare owner.
Taylor recalls a stallion who wasn't as cooperative in the process.
"We tried collecting him all day and we finally were successful just in time to barely meet the FedEx pick up time. When stallions don't feel like doing their job some days, or don't provide enough semen, the call to explain it to the customer isn't always pleasant."
"One time, we received a return Equitainer with a syringe of semen still in it that I had dated a year ago. The semen/extender mix had turned yellowish-brown and chunky, and it smelled disgusting! Moral – throw away unused doses, please. It's gross and we won't be needing it!"
Delays aren't always an issue of a shipping company. Some stallion owners or managers may drive, or send an assistant, with the container to a local airport for counter-to-counter service with an airline for expediency. Mare owners may choose to make the drive themselves to pick up cooled semen if they are within a reasonable driving distance to the stallion. Word of caution, explaining that you are speeding to get your semen to the airport, or home, may not get you out of a ticket if you are pulled over by law enforcement.
"Mares don't read the book," said Robin DeGraff, of DeGraff Stables Liberty Farm, located in Port Clinton, Ohio.
"Although we set, and publish, a definite collection schedule of Monday, Wednesday, Friday and Saturday, we really try to work with the mare owners to get their mares bred."
If that means pulling a stallion out of his stall for an evening collection to get it out the door, DeGraff admits she will do it to take care of that customer.
"The embryo transfers are treated a little bit differently," she said. "It's so expensive to do, and you're working in a 72-hour window for the semen. The less hours involved is better, so we do everything we can to help that customer."
Most of the equine breeding business locations are located in rural locations across the country. Not everyone breeding horses is conveniently located near and airport or major shipping company hub. In those areas, you're dependent upon shipper service.
"We try to understand where our customers are located so we can work with the shippers so that they understand our needs and our customers' needs," said DeGraff. "This is not just a package we are shipping.
Many times, mare owners have much effort and expense involved.
"There's a lot riding on these shipments (no pun intended)," she added.
The horse breeding season coincides with winter for much of the country. "We watch the weather when deciding the best method of shipping," explained DeGraff. "Shipping companies offer no cost recovery if the delay or loss is due to weather."                                                         While the destination may not have weather concerns, the shipping company hub may be located in an area that does, and that could affect or delay delivery.
Breeding facilities must educate themselves and their staff in logistics now to offer the best service. DeGraff recalls a year that they experienced trouble with a specific hub of their preferred shipping company.
"We had problems with several shipments and discovered they were all routing through one particular hub," she said.
DeGraff was able to involve the company's upper management involved and get the issue fixed.
"We had more to ship," she said. "We wanted to get the issue solved. The company took good care of our mare owners and fixed the problem."
DeGraff uses airline counter-to-counter shipping when it's the best option for the customer.
"We make sure we know the flight schedules and know the connectors to ensure that there is sufficient time between flights so that our shipment does not miss its flight. Knowing that the mare owner needs to line up things on their end to get the mare bred, we prefer to ship out in the morning early enough to make the first set of flights. That way, it gives the mare owner more hours that day after the semen arrives to get their mare bred. And if the shipment misses a connection, there's a chance it can still make a later flight and still arrive that same day."
Shipping via airlines has changed over the past few years, due in part to security issues.
"They now have a 90-minute cutoff before the flight. There's more paperwork required now. We can't just wheel up to the counter, drop the container off and go," she explained.
Obviously, the more time a mare owner can give the stallion station to get their semen shipped the better it is for everyone.
"We used to take calls at all hours of the day and night," DeGraff said. "We moved the business phone to the office instead of the house because of that."
People forget about the different time zones and may be calling a stallion manager at midnight. DeGraff says that method people choose to communicate concerns her as a challenge going forward.
"So many people use text messages or even Facebook messages, and they believe they are communicating with you. But if we don't get the message, we can't respond," she said.
DeGraff prefers the old-fashioned method of phone calls so that two-way communication and confirmation can happen. And she says they always get several calls from mare owners who begin the call the same way: "You're not going to believe this, but I need the semen today."
Amy Gumz, of Gumz Farms, shares a few "strange but true" stories.
"I did have an airport/TSA employee play a round of 'hacky sack' back in the days when we shipped semen in bags. Then they had the nerve to report that package as bag burst and semen went all over."
Gumz still cringes when she recalls her "ballast" story.
"I've had a mare owner inseminate the ballast – that was clearly marked and dyed."
But the best?
"We've had requests to ship raw semen, entire ejaculates or a particular color or sex," she said. "But one of my favorites was the request for aged semen. They wanted the semen to be 72 hours old when inseminated."
Kim Dean, of Stallion Marketing Services in Whitesboro, Texas manages several top breeding stallions. Last year, severe ice storms in the Dallas area caused havoc for breeding farms shipping semen.
"We had a client doing an embryo transfer with a mare. I had to call five different couriers before I found one that would pick up the shipment and get it to the airport to ship," she said. "Most of them weren't driving in the ice."
Then, the flight was cancelled and it didn't leave until the next morning. The customer was in Florida, and didn't understand the ice/weather issues and how they were interfering with the shipment. Luckily, it worked out.
"The semen finally arrived, it was in good shape, they bred the mare (a great show mare), it held and they got their embryo, So, all's well that ends well," Dean said.
Dean uses FedEx as their primary shipping company simply because they do deliver to more places than UPS or the US Postal Service, and they can get there on Saturdays. "We bred 375 mares in 2015, and most of the time FedEx is good. But when it goes bad, it's bad."
Dean recalls a day when she had 18 shipments go out on the same day.
"We always send the shipment tracking numbers to the clients so that they are able to watch and track the shipping progress," she said.
The next morning, she had a call from a vet on the East Coast who had tracked a shipment and found it was still at the origin terminal. Dean immediately began making phone calls. All 18 of the containers they had shipped the day before had been left on the van that picked them up.
"When something like this happens, we check with the other breeding farms in our area," she said. "We all use the same couriers and shippers."
It turns out about 70 shipments of semen didn't get from the van that picked them up into the terminal.
"Now, they can't blame that on mechanical failure," Dean said. "Thank goodness all of our studs are good. I spoke with the customers and told them to go ahead and inseminate their mares when it did arrive, instead of refusing the shipment because it was late. The most important thing to do if the semen arrives late is to put it in the mare – she won't get in foal if you leave the semen in the container.
In cases like that, Dean suggests mare owners just go ahead and try it.
"There is no immaculate conception with mares," she said. "Go ahead and inseminate and hope for the best."
Mare owners should request their shipment tracking numbers from the stallion manager and be diligent in tracking its progress to them. They can go online and request text or email updates to come to their cell phone. If the shipment hangs up somewhere, knowing about it immediately can help to remedy the situation.
"If we happen to have extra semen from the collection that day, there's a chance we can get it out the door if we need to, if we know in time," Dean said
She recommends the mare owner purchase the extra insurance for the shipment, particularly for embryo transfers. If it doesn't arrive on time, FedEx will cover some of the expenses incurred because of the delay. With embryo transfers, those expenses can add up.
Shipping airline counter-to-counter can be a more reliable method to get the shipment to the mare owner. With a cost difference of around $75 over standard express shipping, Dean finds it money well spent, especially when dealing with embryo transfers. Most mare owners are located within a couple of hours to an airport so they can pick up the shipment when perhaps FedEx can't get it to their door in the time they want. Sometimes the guaranteed overnight delivery is not always 10:30 in the morning, it may be 4:30 in the afternoon for some destinations. Dean is able to take advantage of the Dallas Fort Worth airport being the hub for American Airlines, with several daily flights.
Of course, success depends first upon the phone call. Standard breeding days at stallion stations are Monday, Wednesday and Friday. Dean advises mare owners to check their mares on the mornings of non-breeding days if possible. If they can call the stallion station in the morning the day before they collect and get on the list for shipment the next day.
"We can make a lot of things happen if we have the time," says Dean. "If we know we have a rush, we can collect that stallion first, at 6 a.m., and get it to the airline."
They standardly ship two doses of semen in each shipment. Dean estimates that 30 percent of the returned containers will have a dose of semen left in it.
"Don't return it! The best place for semen is in the mare. Go ahead and put both doses in her, either at the same time or even after she's ovulated," she said. "You might as well use it."
Stallion owners and managers seem to take the shipping hurdles in stride in their business when shipping semen. Weather and other issues can occur that are out of their control. They do the best they can to keep problems from arising. But if they do come up, the good managers will find a way to resolve them for the mare owners to reach their objective of getting their mare bred. Communication is vital to keep both parties informed and working together for their common goal of getting that mare bred.