Source: Text by Corrine Borton • Photos by Emajes and Shane Rux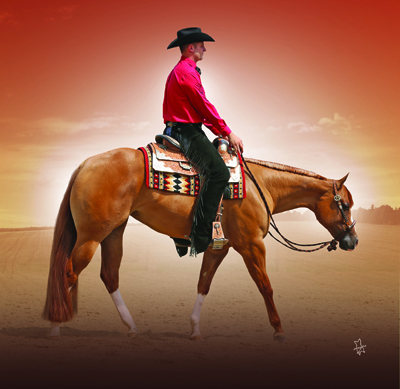 Blake Britton has always had big aspirations.
As a youngster, growing up in Chillicothe, Ohio, his parents Jana and Tony Britton, always had horses. Blake was not very old when his folks presented him with a pony as a gift. But Blake refused to ride it.
"I told them I wanted a horse," Britton recalls. "Then they bought me an old mare that we called 'Pokey' and I have been showing ever since."
With that much self-confidence it was almost unavoidable young Blake had to be reined in from time to time.
Like the afternoon he was showing in a Small Fry class at a local show and his mom tried to help him a bit from the rail.
"I looked over while showing and said, 'You don't even ride, be quiet,' he admitted. "When I exited the pen she proceeded to jerk me off the horse …. I am not sure that I thought it was funny then, but it is definitely a funny childhood story my mom likes to tell."
Britton continued to show and improve and his passion for showing horses only grew stronger. Over the summer of 2010 he worked with Beckey Schooler at her facility in Delta, Ohio.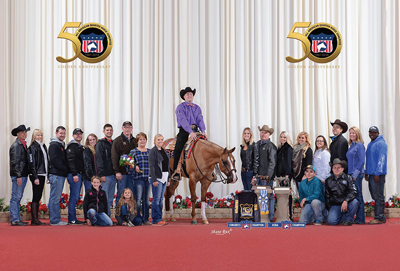 Following graduation from Zane Trace High School in June 2011, Britton set out to continue his education – but as a horse trainer.
He went to work for Mitch and Jennifer Leckey and learned all that he could. Then in 2015 Britton returned to Beckey Schooler's operation where he worked until the fall of 2015, when he returned to Chillicothe to start his own training operation.
"I thank both these successful programs for the experiences and opportunities they gave me in the industry," he said.
Britton's facility is located on 15 acres and includes a 26- stall, indoor riding arena and round pen. Britton specializes in the preparation of Western Pleasure and futurity horses and describes his methods as "a lot of time in the saddle."
"My favorite part is at the very beginning when we are starting the young ones," Britton said.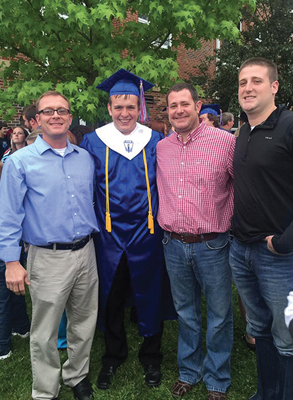 Over the years, Britton has had the opportunity to ride and show such decorated horses as Im Sleepin Single, a Tom Powers Futurity Champion, NSBA World Champion with multiple Congress Top 10s; Only Leadin Lady, Larry Little Futurity Champion, Tom Powers Futurity Champion, Hylton Maiden Limited Champion at the Virginia Classic, NSBA World Champion with multiple Congress Top 10s and Top Fives; Just Be Good To Me, Multiple Congress and World Show Top 10s; Foreverandeveramen, Tom Powers Futurity 2-Year-Old Sale Stakes Limited Champion.
Last year was monumental for Britton who piloted Figured Im Invited, sired by Invitation Only and out of Go Figer, to a win in the 2-Year-Old Limited Open Western Pleasure at the Tom Powers Futurity for owner Erica Plomaritis. They also won the Michigan Breeders Futurity Slot Class and went on to be named Quarter Horse Congress Champions in the 2-Year-Old Limited Open Western Pleasure Stakes Class.
But that's not all. Britton also piloted Donerepeatinmouself, a red dun mare by Repeated In Red and out of Nuthermousenthehouse, to a Congress Championship in the Coughlin Limited 2-Year-Old Western Pleasure.
Britton said his most prized possession has to be his collection of bits and that the best advice he's ever gotten is that "patience is a virtue."
"You have to have patience every day with your horses," he explained.
When he is not working, Britton said he enjoys spending time with friends and family.
"I also 'try' to golf," he said. "I would be better if Randy Wilson would give me some lessons."
To contact Britton you can call (740) 804-1039.