Organizers say more than 15 horses will compete this year in the Hylton Maiden 3-Year-Old and Over Western Pleasure for the chance to win the top cash prize of $25,000, March 25 in Lexington, Virginia.
Cecilia Hylton, of Gainesville, Virginia, introduced the class at the Reichert Celebration and relocated it to her home state in 2011.
Lucas Cash, of Spotswood, Virginia, is managing the Hylton Maiden Class this year. He said, as always, he is excited to see the new group of great horses entered in the class.
"Eleven horses have already paid the entry fee and I know of at least four more that are planning to pay the late fee and show," he said.
The deadline to enter the Hylton Maiden at the initial $1,500 entry fee was March 1 but entries will be accepted until 5 p.m., Friday March 24.
Randy Wilson will pilot Rockn On Diesel, a 2013 bay mare, sired by Diesel Only out of Rod Rockn Annie, owned by Gail Wilkinson/Lone Oak Equine Investment, Ashville, North Carolina, and she will be front and center at the show to cheer her horse on.
"I knew that she had the look and sweet personality to be a special horse one day, Wilkinson said. "Randy says she is a very willing horse who is easy to train."
Wilkinson said she entered "Roxie" in the Hylton Maiden class because Wilson decided she stood out among the rest.
"He said she has the potential to be a great Novice horse," Wilkinson said.
Erin Lieurance and Jeff Cochran have loved Lazy Open Invitation, 2014 bay mare, sired by No Doubt Im Lazy out of My Open Invitation, since the first day they got her into training at their Oxford, Iowa facility from owner Jim Plumb.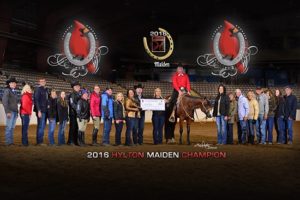 She is entered in this year's Hylton Maiden class because "she is extremely talented, beautiful and has tons of natural cadence," Lieurance said. "We did not want to push her as a 2-year-old and we appreciate Cecilia Hylton being such a supporter of the industry for so many years. We always try to attend this show."
The Hylton Maiden has been the highest paying Western Pleasure futurity class in the nation for the past several years. Since 2011 the class has been presented during the Virginia Classic Circuit in April but this year it will be held during the Spring Breakout/Dave Higgins Memorial Show March 23-26.
The Virginia Quarter Horse Association is merging its Spring Breakout circuit with the Virginia Classic and renaming it the Spring Breakout/Dave Higgins Memorial Show, in memory of long-time supporter Dave Higgins, who was killed in a tragic car accident on his way home from the Spring Breakout two years ago. This year's circuit will be held over four days and feature six judges.
"We decided to merge the Spring Breakout Circuit and the Virginia Classic Circuit because the Spring Breakout show was going to fall on the same dates as the 2017 American Quarter Horse Association Convention," said Laura Boardwine of Abingdon, Virginia, who is the show manager for the combined show. "We also think the combo show will bring many more spectators."
All the usual classes will be offered at the Spring Breakout/Dave Higgins Memorial Show. The in-state points will be doubled for AQHA members interested in running for points.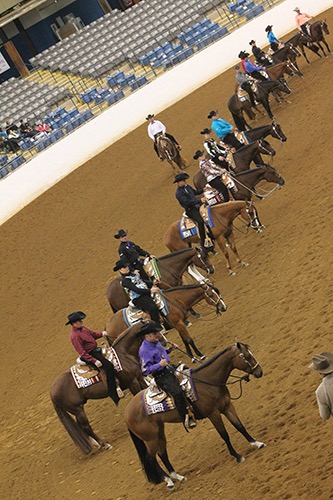 The Hylton Maiden 3-Year-Old & Over Western Pleasure Class, will be held on Saturday, March 25 and start with a guaranteed payout of $50,000. That figure could still increase as entries accumulate. Last year's class drew a total of 16 entries and had a total purse (including bonuses) of $80,800.
"We are still tallying the bonus money which is achieved through class sponsorships," Cash said. "We are doing the payout different this year. After talking to exhibitors the last couple of years, we decided to guarantee the winner $25,000. Then the entry fee money will be split from second through 10th place, so there's not that big drop in payout from first to second place. Cecilia puts this class on to give the older horses their chance for big money and for the trainers that have supported her for all these years. Their thoughts and opinions mean a lot to her and since that's what they wanted, we decided to change the payout accordingly.
The class is financed by Hylton, who has long believed that young futurity horses should not be pushed just because trainers and owners are enticed by big futurity purses. She believes it is better to wait until the horses are physically and mentally mature to compete. To be eligible for the Hylton Maiden Class, horses must be at least 3 years old cannot have been shown in any event prior to the Hylton Maiden debut.
Taft Dickerson of Mount Airy, North Carolina, won the class in 2016 and 2015 and said he is grateful for Hylton and her support of the event. He offers some of his insight into preparing for the Hylton Maiden Class.
"There are so many horses that don't make it as 2-year-olds," he said. "I am so glad there is a class offered that pays more than the Congress Masters Western Pleasure class that you can show older horses in. It is great to be able to save horses back and keep from crippling them."
Dickerson won the Hylton Maiden Class in 2015 aboard Made By J, sired by Machine Made and out of Dark Jasmine. He won again in 2016 with Extremely Hot Diva, sired by Extremely Hot Chips and out of Good Southern Belle.
"It was pretty much planned out that I would show the one I won on the first time," he explained. "As soon as I rode Made By J, I loved her. The second one was really talented but weak in the beginning. I sent her home and she just trail rode for a while. When we got her back I still wasn't sure if she was ready but we decided to go on to the Virginia Classic.
Dickerson said it's not always the most talented horse that wins the Hylton Maiden class.
"I think the most broke horse or the one that looks the most comfortable showing wins," he said. "I felt really comfortable with the first horse that I won on. The other horse was pretty green. (North Carolina trainer) Steve Reams and I were riding early one morning before the show and he told me that if I could pull the mare off the rail about 10 feet, he thought I could win the class. So I showed off the rail and it worked out so perfectly."
Still, Dickerson wasn't sure how the judges would see it.
"During the finals, I did not know I had won the class," he said. "I was ready to lope off for the second place award."
This year Dickerson will late enter at the show and compete aboard The Dark Impulse, a 2014 brown mare sired by RL Best of Sudden and out of Dark Jasmine., owned by Susan Ostrander, Westerville, Ohio.
"It is always fun to see horses that show in the Maiden go on to show at the Congress and World Show," he explained. "The best part of offering this class is to see the horses that were actually given the time to mature and come along at their own pace, while still getting a chance to go show for a big purse."
Cole Baker of Ocala, Florida will also be a late entry. He plans to show Bet You Im Lazy, a 2013 sorrel mare by No Doubt Im Lazy and out of Betcha Bite A Chip, owned by Amy Brosch, Orlando, Florida.​
When making the decision to enter a horse in the Hylton Maiden Class, Baker said his 2017 entry showed him she was really ready to go show.
"The mare's owner just bought this horse and she hasn't been shown yet," Baker explained. "She was started a little later than most. She is a really striking, solid mare who is ready to go show,"
Baker said that the Hylton Maiden Class is a very good class to have and it is much better for the horses.
"The Maiden class is a great class to offer because we often put time restraints on horses and the time restraints sometimes don't coincide with what the horse really needs," he explained. "All horses are different and peak at certain times and certain ages. Sometimes it takes a while for a horse to develop."
Cecilia (Hylton) has been very generous to put this money up for the Maiden class year in and year out, Baker said.
"She has had the determination to make people appreciate a horse when it's a good horse and not when it has some sort of restraint on it. She has done tremendous work for the Quarter Horse industry. I try to get a horse ready each year for the Hylton class even if it's only to support that class and what she has done."
Jason English of Madison, Georgia is also planning to enter Gone Viral, a 2014 stallion by No Doubt Im Lazy, and out of Suddenly Stylen when he arrives at the show.
English said that he knew Gone Viral would be a great contender for the Hylton Maiden because he came along so quickly when he began training him.
"He is just a really special horse," he said. "We started riding him in August and he is very athletic and talented."
English said the Hylton class takes a lot of pressure off the trainers, owners and the horses.
"This class gives everyone more time to get horses ready so it is not such a rush to make it happen when the horses are 2-year-olds," he explained.
The judges for the 2017 Spring Breakout/Dave Higgins Memorial Show are: Holly Hover, Clint Fullerton, Marilyn Randall, Kenny Hall, Bonnie Jo Clay and Sara Bradley.
"Cecilia is extremely grateful for all the support and continued success of the Hylton Maiden," Cash said. "She wants to personally thank all the trainers that have continued to make the long trip every year to show in her class."
Here is a list of paid entries to date:
• Don't Skip This Loper, 2014 black stallion, sired by Lazy Loper out of Don't Skip Ms Hotrod, owned by JCM Ranch, Aubrey, Texas, shown by Andy Cochran.
• No Show Jones, 2014 buckskin stallion, sired by Lazy Loper out of Blazinmytroublesaway, owned by Rusty and Katie Green, Aubrey, Texas, shown by Rusty Green.
•KM Genuinely Best, 2014 red roan gelding, sired by RL Best Of Sudden out of Genuine Goodbar, owned by Gavin Patterson, Frankfort, Ohio, shown by Ty Hornick.
• Lazy Open Invitation, 2014 bay mare, sired by No Doubt Im Lazy out of My Open Invitation, owned by Jim Plumb, Chelsea, Iowa, shown by Jeff Cochran.
• RR Don't Get Me Wrong, 2013 bay mare, sired by Certain Potential out of Touchable Asset, owned by David Rummell, Wawaka, Iowa, shown by Jamie Zuidema.
• A Show Machine, 2012 bay mare, sired by Protect Your Assets out of A Winning Machine, owned by Amanda Macey, Stevensville, Maryland, shown by Andrew Groves.
• Roscoe P Coltrane, sired by Getting Impulsive out of Berry Awesome, owned by Joel Stein, Pilot Point, Texas, shown by RJ King.
• Rockn On Diesel, 2013 bay mare, sired by Diesel Only out of Rod Rockn Annie, owned by Gail Wilkinson/Lone Oak Equine Investment, Ashville, North Carolina, shown by Randy Wilson.
• Midnight Dreamer, 2014 gray mare, sired by Im A Platinum Dream out of Huntin Ona Holiday, owned by John McNichol, Hardwick, New Jersey, shown by Danny Desmond.
• Eazy Breezy, 2013 bay mare, sired by Invitation Only out of Zippin The Breeze, owned by Kathryn Frederick, Ocala, Florida, shown by Aaron Moses.
• Best Kisses Ever, 2014 bay mare, sired by RL Best Of Sudden out of Kisses And Scotch, owned by Nancy Mowrey, Dallas, Texas, shown by Gil Galyean.
For more information on the Spring Breakout/Dave Higgins Memorial Show visit www.myvqha.com.
InStride Edition will report live from the event so check back for candid photographs and results.