Text by Brad Borton • Photo By Jeff Kirkbride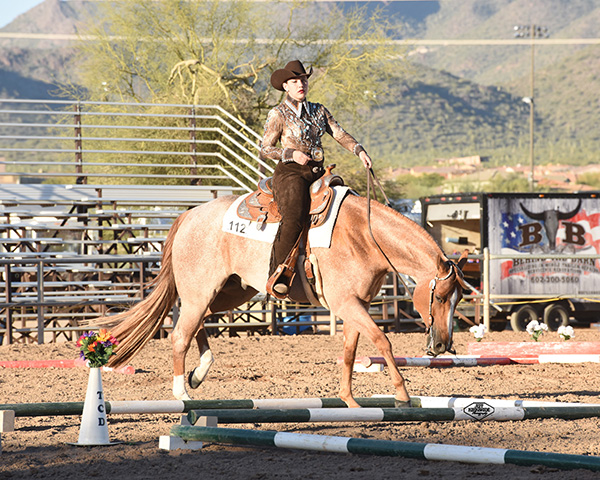 For 43 years the Arizona Quarter Horse Association has presented the Sun Circuit (the American Quarter Horse's top show circuit in 2016) in January, first at Paradise Park and Siminoff Stables in 1973, then for a while in Tucson.
But scheduling conflicts with West World facility, a premier equestrian center situated on 386 acres of pristine desert at the base of the McDowell Mountains, where the show has been held since the early 1990s forced organizers to move the dates to March 4-12 this year.
Although scheduling conflicts may have forced the change, it quickly became apparent that the new dates in March have many benefits.
Show organizers said the date change would fit well for exhibitors who like to attend the major January Florida circuits shows. In addition, the past few years there has been an abundant amount of rainfall in Scottsdale in January. March is a time when Scottsdale historically experiences some of its best weather of the year and that's certainly been the case this year.
Betty Carr, of Bremen, Indiana, is showing at the Sun Circuit this year with her new Western Pleasure show partner, OHK Goodbars Krymsun, in Novice Amateur Select classes. She has only competed at the Sun Circuit twice but this is the fourth time her husband, Richard, has attended. They show under the guidance of Gil Galyean Quarter Horses.
"We are really having fun," Betty Carr said. "The weather here is awesome."
By eliminating the conflicts with other events held at West World, including the Barrett-Jackson Auto Auction, additional space became available for the horse show, according to Show Manager Casey Devitt. For the first time, Sun Circuit is using two new indoor arenas in the North Hall of the Equestrian Center in addition to the Equidome. This allows for all the Reining classes to be held inside.
"The Sun Circuit is one of the largest AQHA shows of the year," Devitt said. "The quality of competition is outstanding and we give away some really cool prizes."
Devitt said the Sun Circuit dates are expected to remain the same for next year.
This year, as in past, Trail and Western Riding drew some of the biggest numbers with totals of 73 entries in Senior Western Riding (25 in L1 and 48 in L2); 35 in L1 Junior Western Riding; 28 in Junior Western Riding; 24 in Amateur Select Western Riding (9 in L3 and 15 in L2); and 26 in Amateur Western Riding (11 in L3 and 15 in L2), for example. In Trail a total of 59 competed in Junior Trail (21 in L3 and 38 in L2); 55 in L1 Junior Trail; 40 in L1 Senior Trail; a total of 65 in Amateur Select Trail (32 in L3 and 33 in L2.
Colorado trainer Barbie Evans said she has been attending the Sun Circuit since 1989 and since then has only missed one year in 2016.
"I keep coming because of the nice weather, the atmosphere and the competition, which is intense. When you come here you have to be able to hang with the tough ones. It feels like a World Show," she explained. "All of our friends are here and our clients like to come here.
Evans said the date change this year didn't bother her. In fact, she liked it.
"I was for it because the weather is better (in March) and I like to go to Florida in January too," she said. "This way I get to do both circuits."
Brittany Andrews, who owns and operates Andrews Show Horses along with her husband, Colt, in Whitesboro, Texas, started attending the Sun Circuit about 10 years ago as an amateur competitor. This year marked her first competing as an open rider. She piloted Stealing The Prise, owned by Sarah Jackson-Vance, to a co-championship in the 3 & Over $2,500 Novice Horse Hunter Under Saddle National Snaffle Bit Association futurity class, one of eight held on Tuesday.
Stealing The Prise is a 2013 gray mare by Iron Enterprise and out of Blue Skys Movin In. Andrews has only had the opportunity to show her about five times before the Sun Circuit.
"She was locked in and easy to show," Andrews said. "She canters easy and that helps."
Andrews has several horses competing in Green and Junior Hunter Under Saddle classes at the Sun Circuit. After that they plan to head to Harriman, Tennessee for the Lucky Seven Circuit.
The largest NSBA futurity class – the 3 & 4-Year-Old Limited Non-Pro Western Pleasure drew nine entries with Natasha Blanchard riding Made N The Shade to victory earning $2,882. Katie Green also rode Made N The Shade to a win in the eight-entry Open 3-Year-Old Western Pleasure, earning an additional $624. Deanna Searles piloted Ms Aloha to a victory in the 3 & 4-Year-Old Open Hunter Under Saddle, earning $1,026. Caitlin Dunsmore won both the Limited and Open Divisions of the 3 & 4-Year-Old Non-Pro Hunter Under Saddle aboard Legs Luther. Hillary Roberts and Whatilikeaboutyou captured top honors in the eight-entry 3-Year-Old Open Non-Pro Western Pleasure, earning $624. There was a tie in the 3 & Over $2,500 Novice Horse Hunter Under Saddle between Stealing The Prise, ridden by Brittany Andrews and Me Myself And Sky, ridden by Alyse Roberts. There was also a tie in the 3 & 4-Year-Old $1,000 Novice Horse Open Western Pleasure between How About Later, owned by Ryan and Andrea Kail, and ridden by Dave Archer and Mouse N Around, owned by Tommie Pritchard and ridden by Angie Cannizzaro.
Sun Circuit has always scheduled some crowd-pleasing events and this year is no exception. The Fence Work Challenge returns showcasing some spectacular cow horses.  Cowboy Mounted Shooting will blast into the North Hall on Sunday (March 12) and the DT Performance Horses Roping Futurity attracts top ropers with $7,500 added to both the heading and $7,500 added to the heeling.
Even more entertainment comes exhibitor's way when Scottsdale's wildly popular Parada Del Sol PRCA Rodeo will celebrate its 64th anniversary with four performances March 10-12. The event draws many of the World's best Cowboys and Cowgirls. Sun Circuit exhibitors may purchase rodeo tickets online at SunCircuit.com.
Saddles will be awarded to Circuit Champions or High Point Champions in the following classes:  Junior Reining, Senior Reining, Amateur Reining, Amateur Select Reining, Novice Amateur Reining, Youth Reining, Junior Working Cow Horse, Youth Cow Horse, Senior Working Cow Horse, Amateur Boxing,Youth Boxing, Open Team Roper,  Amateur Team Roper and Youth Roper.
The All Around Open and Amateur Cowboy/girl will each be awarded $1,000 compliments of Bella Vista Ranch. Sun Circuit champion rings, custom crafted by Sami Fine Jewelry, will be awarded in an array of classes.
Click here for Brad Borton's candids from the show
Click here for show results being posted daily by the Arizona Quarter Horse Association: http://www.suncircuit.com/results.html
Click here for a class schedule: http://www.suncircuit.com/scheduleclasses.html