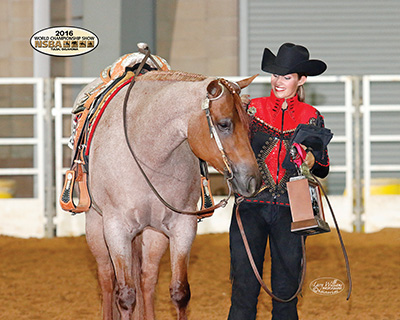 The NSBA has released the schedule and judge's list for its annual Show Your Colors and World Championship Show to be held Aug. 12-20,  in Tulsa, Oklahoma.
The 12th annual event draws pleasure enthusiasts from across the country to compete. The show offers all-breed classes over seven days and will pay out in excess of $500,000 in cash and prizes. In addition to the World Show classes, the NSBA Breeders Championship Futurity and Stakes classes are also offered. A trade show comprised of commercial exhibitors and pleasure horse professionals will be available to assist spectators during the week.
Judges for this year's NSBA World Show include Rick Baker, Brenden Brown, Rick Christy, John Dean, Melissa Dukes, Jerry Erickson, Eric Hubbard, Brent Maxwell, Rob Meneely Eric Petersen, Nancy Renfro, Tom Robertson, Jennifer Thompson and Debra Jones Wright.
The judges for the Show Your Colors event are Carla Wennberg, Tom McBeath, Pam Scott, Kelly Smith, Tim Abler, Mary Luther Eggleston, Sharron Wellman and Chris Jeter.
Click Here to view the schedule