Source: Text and Photos by Mackenzie Patterson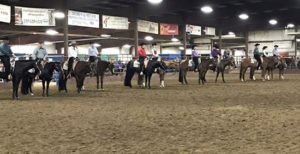 There were co-champions today in the $9,000 added National Snaffle Bit Association (NSBA) Green Western Pleasure Slot class held for the first time at the Gordyville Spring American Quarter Horse Association Show Circuit.
Amazin Dream, a 2012 sorrel mare by A Dream Remembered and out of Suddenly A Miracle, owned by Amy Bauer and shown by Chris Jones tied with She Had Me At Hello, a 2014 black mare sired by Invitation Only and out of Wildly Available, owned by Michael Vargo and shown by Kenny Lakins. Each took home $2,375 in winnings plus additional prizes.
Chris Jones said his horse had been at the breeding farm for about the past month and he just started back riding her a week ago.
"She did really good," he said. "I wasn't sure if I'd show her or not but she'd been doing good so yea she did great."
The Green Western Pleasure Slot class drew a total of 11 entries, had an entry fee of $500 and boasted a separate purse for Limited riders.
Casey Willis, of Sommerville, Tennessee, placed third aboard KM Best One Invited, a 2014 black mare by RL Best Of Sudden and out of Invited Always, owned by Masterson Farms, earning $1,000.
"I decided to enter her because she is a nice, big mare," he said. "She looks really pretty going across the pen."
Willis said the Western Pleasure Slot Class is a great addition for Green horses.
Additional Open Division results are:
• 4th Place – Wheres My Cowboy, owned by Adam Berge and shown by Jennifer Burton, $750.
• 5th Place – Money Making Machine, owned and shown by Steve Heckaman, $500.
• 6th Place – Made For Show, owned by Christy Kanipe, shown by Bradley Pitts.
• 7th Place – Summers Lazy Impulse, owned by Debbie Ketelsen and shown by Jeff Cochran.
• 8th Place – Lazy In The Dark, owned by Randy Kimmel and shown by Clint Collingsworth.
• 9th Place – Whos On Fire Now, owned by Kaleigh Gasperi and shown by Jamie Zuidema.
• 10th Place – One Kool Fool, owned by Nicole Barnes and shown by Brad Kearns.
The Limited Division Champion was Wheres My Cowboy and Jennifer Burton, earning $750. Reserve Champion was Made For Show and Bradley Pitts, taking ome $500.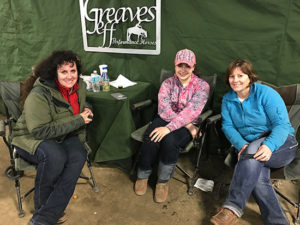 Organizers say the 2017 Gordyville Spring American Quarter Horse Association Show Circuit is shaping up to be a huge success with twice as many stalls rented this year over 2016 and entries also appear to be up 100 percent.
Illinois Quarter Horse Association President John Boxell, of Auburn, Illinois, also said the addition of the Western Pleasure, Trail, Showmanship and Horsemanship slot classes attracted "lots of extra horses and they are very much welcome."
The show got under way Saturday at the Gordyville Show facility in Gifford, Illinois and continues through March 26.
Club directors and officers collaborated to try to find ways to bolster the circuit and received several suggestions to add slot classes.
"After we discussed the new changes we all agreed to give the slot classes a try," Boxell said. "We had a lot of people jump in and try to make this a good deal. There were a lot of donations that we really appreciate, as well as our wonderful sponsors."
The $2,500 NSBA Green Horse Trail class will be held on Friday, March 24. The class features a jackpot and runs concurrent with the AQHA Level 1 Trail.
A $500 Added Showmanship Class is slated for Friday, March 24 and a $500 Added Horsemanship follows on Sunday, March 26. There is a $50 entry fee for the classes with $20 of the entry fee plus $200 in added money going to the Rookie/Novice Division.
A total of $10,000 is being awarded in the slot classes (including both Open and Limited divisions) in addition to numerous prizes. Pards Western Store donated $100 gift certificates to each winner of the slot classes, including the Limited Division winners, according to Boxell. There are four saddle racks that will be given to the winners of the four slot classes and Cinch has donated jackets for the top three winners in every class.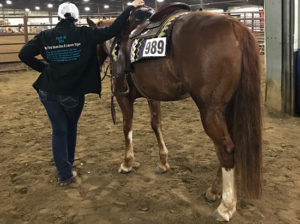 In addition, Open Horse, Amateur, Select, Youth 14-18, Youth 13 & Under, Novice Amateur, Novice 13 & Under, Novice 14-18, Rookie youth, Rookie Amateur, Small Fry Circuit All-Around Champions will receive Scooters.
The large show and the changes that it offers have brought many new competitors from various parts of the country.
"I love that this show is all under one roof, said Diane Wright, of Tyler, Texas. "That makes it really nice. It is cold outside, but warm in here,"
Missy Thyfault of Shelby, Ohio said that she really enjoys showing at the Illinois Spring Show.
"I like the show pen," she explained. "The atmosphere is good and the office staff is great."
The judges for the 2017 Gordyville Illinois Spring Show are: Dean Bogart, Buddy Fisher, Bruce Walquist, Clint Ainsworth, Carly Parks and Jeff Mellot.
Results of the Green Trail Slot Class
Champion – Chillin Ona Dirt Road, owned by Klair Merrell and shown by Melissa Jones; $1,233.52
Reserve Champion – HP Prime Time, owned by Kaleena Weakly and shown by Jason Gilliam; $979.56
3rd – An Innocent Cowboy, owned by Amy Wilhelm and shown by Jeff Greaves; $725.60
4th – I Am Batt Man, owned by Tera Gore and shown by Jennifer Paul; $362.80
5th – Earn An Invitation, owned by Patricia Bogosh and shown by Alex Sifuentez; $326.52
6th – No Good Deed owned by Alex Reisinger and shown by Carli Pitts
Results of the Open Showmanship Slot Class
Champion: Cool Lopin Lady, owned and shown by Jessica Baird; $329.60
Reserve Champion: Best Gift Yet, owned and shown by Alexandrea Albright; $226.60
3rd – Sure A Hot Krymsun, owned by Annie Brahler and shown by Lydia Brahler; $195.70
4th – Lazy Lookin Lady owned and shown by Morgan Brickman; $103
5th – Aint I Somethin, owned and shown by Thad O'Boyle; $92.70
6th – Ima Tuff Barpasser, owned and shown by Caroline Fredenburg; $82.40
For more information and results for the Gordyville Illinois Spring Show visit www.gordyvilleusa.com
Click Here to see some candids from the show.