His father is a 25-time Quarter Horse Congress Champion horse trainer. His mother, Millie, was a five-time Congress Non-Pro Western Pleasure Champion and his sister, Jennifer Dickerson Webb, was a two-time Congress Non-Pro Western Pleasure Champion and two-time Reserve Champion.
Taft Dickerson, of Mount Airy, North Carolina, says there was actually zero chance he'd be anything but a horse trainer.
"I literally grew up at horse shows," he said. "It's safe to assume it was born into me."
Taft grew up in Mount Airy and attended Mount Airy High School but his real education, he says, came working alongside his dad.
He got his start in the show arena competing at American Quarter Horse Association approved shows all along the East coast, but especially in North Carolina and Virginia. His dad always had a talented Western Pleasure contender for Taft to show as he coached his own clients and even as a youngster Taft was a threat at futurities across the country as well as at the Congress. In 1999 he won the 169-entry Novice Youth Western Pleasure aboard Par Te Major Fox.
Taft eventually joined his father training horses from their 40-acre facility which includes three barns – a 10-stall heated show barn with wash stall, office and tack room; an additional 10-stall barn with attached indoor riding arena; and a third barn which contains hay and sawdust in the middle with eight additional stalls connected to it. The facility also includes several pastures with run-in sheds, a hot walker and two riding pens.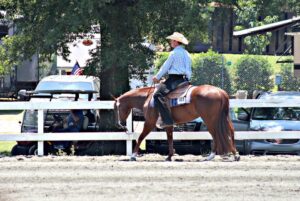 Taft has trained or helped train such decorated show horses as What We Do Best, a 2009 chestnut gelding by RL Best Of Sudden out of Zippo Tiger, Reserve Champion at the Tom Powers Futurity as well as at the Little Futurity and Reserve Champion at the Hylton Maiden 3-Year-Old and Over Western Pleasure Challenge; Come N Get Ya Some, a 2008 buckskin gelding by RL Best Of Sudden and out of Call Me Snuggles, National Snaffle Bit Association High-Point Color Western Pleasure Champion and Tom Powers, Little, Southern Belle and Reichert Futurity Champion.
In 2011 Taft piloted OK Ima Cowboy, a 2008 red roan stallion by Openrange and out of OK Zip Me (by Zippo Pine Bar) to a win in Green Western Pleasure at the Reichert Celebration and a Congress Reserve Championship in the Southern Belle Breeders 3-Year-Old Open Western Pleasure.
But most impressive, perhaps, is Taft's back-to-back wins in the Hylton Maiden 3-Year-Old & Over Western Pleasure at the Virginia Classic in 2015 aboard Made By J (by Machine Made and out of Dark Jasmine) and in 2016 aboard Extremely Hot Diva (by Extremely Hot Chips and out of Good Southern Belle) to earn over $62,000.
To cap off an impressive year in the show pen, Taft sold Made N The Shade, a 2014 bay gelding by Machine Made and out of Misty's Version to Rusty Green's customer, Natasha Blanchard. Taft showed Made N The Shade to a fourth place finish in the Open Division of the Coughlin 2-Year-Old Western Pleasure. Less than two weeks later, Andy Cochran showed Made N The Shade to a win in the 2-Year-Old Western Pleasure at the AQHA World Show.
The Dickerson program has been focused on Western Pleasure for all of Taft's life. But when he met Adrienne Cober at the Virginia Quarter Horse Association's Spring Breakout Circuit that changed. After a whirlwind courtship, Taft and Adrienne were married in 2016 and Adrienne moved her Strictly Show Horses operation from Pennsylvania to North Carolina.
"My wife comes from the all-around events background so between the three of us we have a diverse training program," Taft said. "But Western Pleasure is our main focus."
In addition to preparing horses for competition, the Dickerson program also coaches several youth and amateur competitors.
Taft says his favorite part of the job is taking a horse from nothing and turning it into a finished show horse and either watching a client show that horse to a win or competing on it himself.
He says that with his wife and dad also involved in the training operation there's very little time away from horses, but he enjoys being anywhere his wife is "except when she's shopping" and that people would probably be surprised to learn that he actually does go grocery shopping and cleans the bathrooms at home.
"I told my parents when I was 4-years-old that I wanted to be a horse trainer," Taft said, "and I've stuck with that."
For additional information on the Dickerson program you can visit www.dickersonquarterhorses.com or Facebook. You can also email dickersonquarterhorses@yahoo.co