Source: Text by Corrine S. Borton • Photos by SR Images & Shane Rux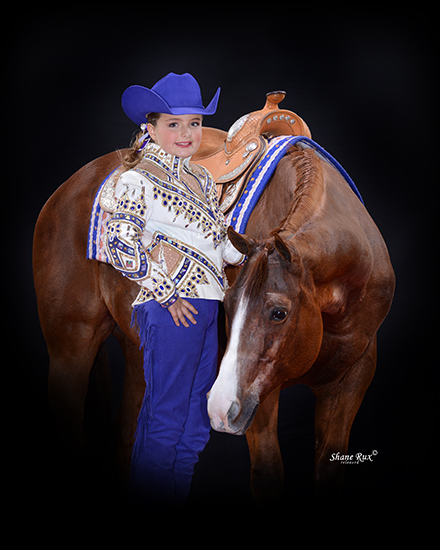 Nine-year-old Isabella Buckley, of Preston, Connecticut, has a Breyer horse collection worth as much as most people spend on their first car. But it's her show partners, Krymsun Konfidential and Dee Chocolate Star, with whom Isabella has been spending most of her time.
Isabella is the daughter of horse trainers – William and Tara Buckley – and both their parents were horse trainers. It's safe to say riding and showing came naturally to her.
"All of my family loves horse showing and Quarter Horses," she said.
As you would expect, Isabella has been riding most of her life and made her show debut in a Leadline class in Maine when she was just 4 years old.
In 2015 Isabella made her debut at the All-American Quarter Horse Congress. She showed Slo Loco Motion, a 1999 sorrel gelding by Zips Rock N Roll and out of Zippos Tiffany Ann, to a 10th place award in Small Fry Showmanship and they placed eighth in Small Fry Western Pleasure.
Isabella and Slo Loco Motion returned to the 2016 Quarter Horse Congress to place eighth in Small Fry Horsemanship and fifth in Small Fry Western Pleasure; and 14th in Small Fry Hunter Under Saddle. She also showed One Special Version, a 2011 bay mare by One N Only and out of A Special Version, to a fifth place in Small Fry Showmanship.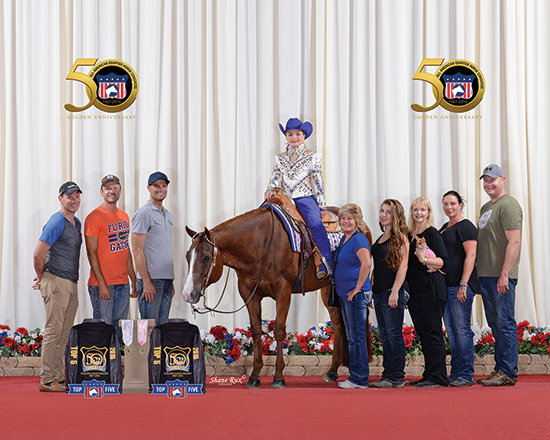 This year, Isabella has teamed with two new horses. She will show Dee Chocolate Star, a 2005 bay mare by Chipped In Chocolate and out of Dee Late Date, in Small Fry Western Pleasure classes. She will also show Krymsun Konfidential, a 2010 sorrel gelding by One Hot Krymsun and out of Private Pleasures, in the other Small Fry All-Around classes, including Showmanship, Hunter Under Saddle, Equitation and Trail.
She gets plenty of instruction from her parents and Ryan Burnett, assistant trainer at Buckley Quarter Horses.
Isabella said her favorite class to compete in is Horsemanship because the maneuvers are challenging. It's her goal to win the Small Fry Horsemanship at the Quarter Horse Congress, just like her mother did.
But Isabella likes watching Jumping classes the most.
"I enjoy watching Jumping because I don't do it and I like watching something different.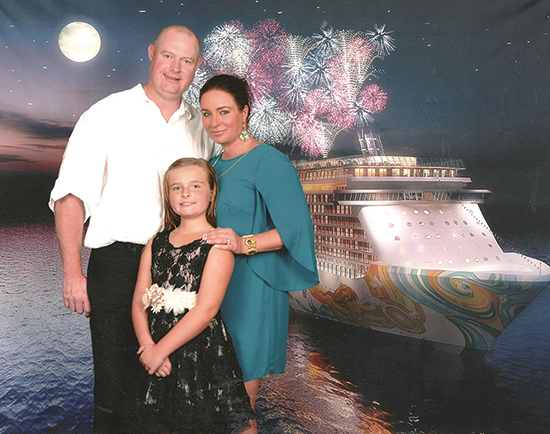 Since her parents are trainers, Isabella gets to attend many horse shows around the country but she said she most enjoys the Region Six Super Six Series and Novice Regional Championship Show in West Springfield, Massachusetts.
"It's long so we have days off and we get to go to the water park when we are not showing," Isabella explained. "Plus, I get to see all my friends there."
When she is not at a show Isabella is busy with school work. She is a third grader at Preston Veterans Memorial School. She said her greatest achievement outside the
show arena was making the honor roll two times in a row. She also plays basketball,
enjoys riding her bike and playing with her Breyer horses.
Like most kids her age she enjoys music and said her favorite genre is Pop.
"Watch Me (Whip/Nae Nae)" by Silento is my jam," she admitted. But you also might find Crazy Beautiful or Cake By The Ocean on her playlist.
Isabelle's favorite movie is The Croods because "Cavemen are funny and she has also been known to play a little Minecraft.
Isabella has a very close family and counts a vacation to Mexico as her favorite vacation.
"It was my favorite because my whole family went," she said.
She lists her mother as her hero.
"She does everything for me," Isabella said, "including getting my horses ready for me to show."