F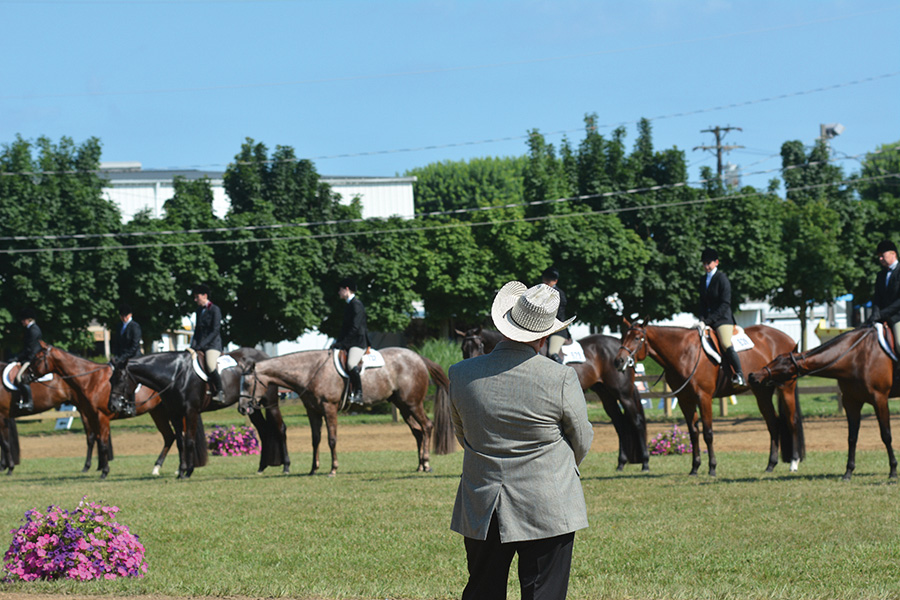 or the 37th consecutive year The Triple Challenge Futurity will be offering a string of outstanding classes for some of the best horses, young prospects, riders and trainers from across the country will compete. Over 80 yearlings will be available through the Triple Challenge Futurity Stakes Sale on Saturday July 1st.
The Tom Powers Triple Challenge Futurity is the longest continuously running futurity in the world. It is presented each year in Berrien Springs, Michigan and features a full slate of open and National Snaffle Bit Association approved classes.
"People keep coming back to the futurity probably because they know that we are all trying our best to make their experience as fun as possible," Powers said.
The judges for this year's event are Brett Clark, Buddy Fisher, Wayne Holt and Mike Hawkins.
NEW CLASSES IN 2017
3-year-old Open and3-year-old old Ltd Open WP (running concurrently) Stakes class ($5,000 added for the Open Divisions / $500 entry fee.)
3-year-old Non-Pro Western Pleasure Stakes class ($3,000 added / $375 entry fee.)
Eligibility for these classes requires that they were entered in The Triple Challenge Stakes Sale as a yearling and ran through. Microchips will be checked for eligibility. These entries MAY NOT have been shown in the 2-year-old Maiden Triple Challenge Stakes Sale class. The 3-year-olds ARE NOT required to be maiden.
The purse for the 2-year-old old Triple Challenge Stakes Sale class will be $65,000 this year. Once again Harris Leather & Silversmith Challenge will add $3,000 for the Open winner if riding a Harris Saddle and $1,000 for the Limited Open winner if riding a Harris Saddle.
"We thought we were closing the door on those horses that passed through the sale but didn't get ready for whatever reason, to show in the 2-Year-Old Stakes Class," Powers said. "As it was there was nothing for them at the end of that class. We thought it would be nice for them to have a closed class as 3-year-olds."
NEW FORMAT IN 2017
The pre futurity to be held on Sunday, June 25th and Monday, June 26th will feature no bling and no show equipment for the new NSBA approved classes including
Open LL – NP LL
Open 2yr old HUS – NP 2yr old HUS
Open 2yr old WP – NP 2y old WP
Open 3yr old HUS – NP 3yr old HUS
Open 3yr old WP – NP 3yr old WP
Open Maturity HUS – NP Maturity HUS
Open Maturity WP – NP Maturity WP
Youth HUS
Youth WP
Walk trot
Lead Line
All divisions (Color, Ltd, Int) will run together.
TRIPLE CHALLENGE STAKES SALE 2017
Again this year 80 yearlings will be on the auction block to become eligible for the 2018 Tom Powers Stakes Classes. Yearlings that go through the sale are micro-chipped and will be eligible to return for both the 2-Year-Old and new 3-Year-Old Stakes Classes. Last year's Sale Stakes Class has a total purse of $65,000 and both an open and limited division will be offered. In addition, Harris Leather will give out the "Harris Challenge" award: $3,000 to the Open winner if riding a Harris saddle and $1,000 to the Limited division rider if riding in a Harris saddle.
"Our sale average was up again for 2016," Powers said. "The comments from the industry are very positive. I think we will run it exactly as before."
The deadline to nominate your yearling to the sale is May 1st. You can submit all paperwork, photos and videos to Alan Parker Auctions by  Downloading the 2017 Consignment form.
For more information about the sale you can contact Alan Parker cell: 813-220-4668 or Janet Hoke: 813-838-7568 or Tom Powers: 616-262-2836.
The full sale catalogue will be available after May 15th.