Source: Text by Corrine S. Borton • Photos by Spur Of The Moment, Shane Rux & Figure 8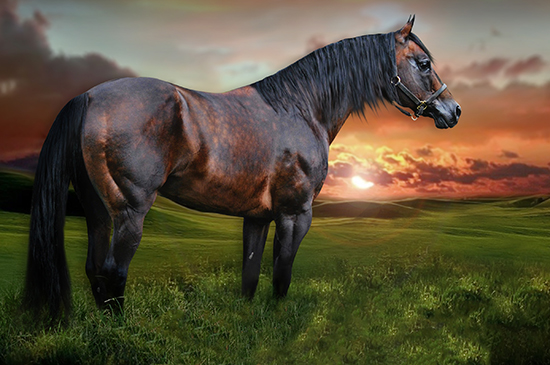 To own a successful breeding stallion today Brian and Sherri Banta, of New Liberty, Iowa, say it's important to "be there with your customers for the highs and the lows."
The Bantas own Congress and American Quarter Horse Association World Champion producer, A Touch Of Sudden and say it's what they try hard to do every day.
"It is great when you get a picture on your phone when a mare that has been a tough one to get in foal has a big heathy colt," Brian said. "But you also have to be there when things don't work- a foal is stillborn, or has a rough time, these people picked you to support them and you have to be there."
It's heartbreaking and it's rewarding and the Bantas would have it no other way.
Having a solid background in the horse industry is one of the most crucial credentials needed for success. The Bantas understand what their customers are facing because they have been in their shoes.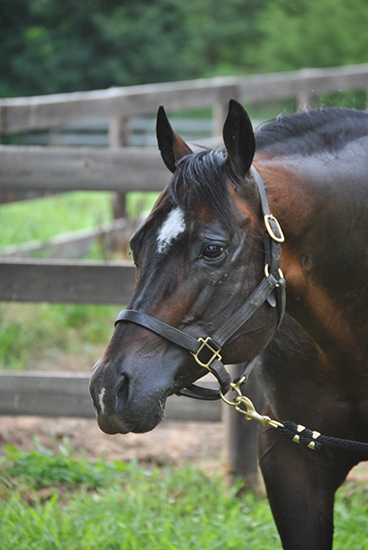 Sherri was born in Ottumwa, Iowa and grew up in the horse industry. She went straight into training, out of high school, showing and selling her own horses. Brian grew up in East Moline, Illinois and worked for his family's oversize trucking and semi-trailer sales business in a new company line of horse trailers. They met in 1993 at the Iowa Quarter Horse Association's seven-day run in Des Moines and although Brian says it was "love at first sight," they didn't start dating until shortly after Sherri purchased Some Like It Flashy, a 1992 sorrel stud By Flashy Zipper and out Miss Juniper Dial, from Brian's family in 1993.
"Flashy was a very good show horse for her to start out on at the national level," Brian said. "He had a ton of eye appeal, was a ten trotter, and freakishly deep behind."
Sherri and Flashy made the finals at the Congress when Sherri was just 19-years-old and they went on to earn over 150 points earning Open and Amateur Superior awards in Western Pleasure.
"Flashy was the basis behind us getting into the breeding business," Brian said. "We made a ton of mistakes and bad choices on crosses but neither of us would trade a moment with that horse for anything."
After Some Like It Flashy was retired. Sherri went on to show several successful horses, including Ment A Te and Cruzin With Elegance, winning numerous futurities and Congress Top 10 placings. They took a break from showing after the birth of their only daughter, Sydney Ann in 2003.
In 2014 Brian and Sherri started a search for a young stallion prospect to compliment an impressive broodmare band they had assembled while standing Some Like It Flashy. They approached JR Reichert to see if he had any ideas but after further consideration they decided the task of promoting a young stallion may be too great and told Reichert they had decided to go in a different direction. That's when he mentioned he was considering selling his stallion, A Touch Of Sudden, a 1999 bay stallion by A Sudden Impulse out of Ms Satin Classic (by Hotrodders Jet Set).
"A Touch of Sudden is as beautiful as they come. Pretty- headed, great through his neck, short backed and that great Doc bar hock, and to top it off with the most beautiful mahogany color,"Brian said. "We had several Touch colts in the past and it just felt meant to be.
The sale was completed just prior to the 2014 All-American Quarter Horse Congress. A Touch Of Sudden was already a successful sire with numerous National Snaffle Bit Association (NSBA), PalominoHorse Breeders of America America (PHBA) (PHBA), AQHA World Champions and Congress Top 10 placers.
But in 2015 the Bantas got to watch as an offspring sired by their own horse, Flashy Looking Touch (out of Flashy Looking Lady) won the Limited Division of the Congress Open Western Pleasure Maturity with Tate Oakley in the saddle. Moments later Kylee Wiseman, of Ohio, captured a win of her own in 11 & Under Youth Western Pleasure, riding Touched Softly, sired by A Touch Of Sudden out of Dees Material Girl.
"This past year, we were privileged to have Steve Wheat show his great mare Suddenly Charming to a unanimous win in the 11 & Under Youth Western Pleasure at the Congress," Brian said. Suddenly Charming is a 2004 chestnut mare by A Touch Of Sudden and out of Big Bar Concluded.
But another big thrill came for the Bantas when their daughter, Sydney placed third at the 2016 Congress in the 13 & Under Novice Youth Western Pleasure with Touch My Potential. The 2013 bay gelding is also sired by A Touch Of Sudden and out of Miss Zip Potential.
Sydney's success is especially meaningful to Brian and Sherri because she just started showing a few years ago.
"She grew up with a love for animals and on the farm, she got to see the good and bad of raising animals," Brian said. "And, as any good Western Pleasure family wants, she loves fast horses (Barrel, Gaming, Cutting and Reining horses)."
To date, A Touch Of Sudden has sired 361 AQHA registered foals. More than 120 are performers and 75 of those are point earners. His offspring have earned a total of $600,000 and 4,000 AQHA points.
"His foals are a big part of their families," Brian said. "They share some of their sire's traits and their owners all seem to love to show them."
A perfect example is the story of Got A Lucky Touch, a 2009 bay mare by A Touch Of Sudden and out of Zip N Be Radical, owned by Annie Gravett, of the United Kingdom.
"I read an article the other day on Jadasa Jablonowski, owner of Dasi Show Horses in Munich, Germany, and when her client bought Got A Lucky Touch, she really didn't get along with her at first and wasn't sure that it would work," Brian said. "After a short time, they kind of bonded a bit and the two went on to be the 2016 European Champion and the 2016 Q16 Champion in Senior Western Pleasure."
The Banta family owns 65 acres in New Liberty, Iowa and their facility includes a 12-stall barn, a 68-by-96 foot indoor arena and an 80-by125 foot outdoor ring.
They have assembled an impressive broodmare band built with mares specifically designed to work with Touch.
"He is a top cross on Potential Investment daughters and between our three daughters they have won or produced several World Championships and top 10s at the Congress," Brian explained. "Zippo Pine Chex is another cross that has worked well on Touch and our three mares have won or produced many futurity winners and horses that have placed at the Congress and lead the nation in Western Pleasure."
Also included in the group is Ment A Te, a mare the Bantas showed as a youngster. The 1995 sorrel mare by Investment Zippo, has earned a spot on the AQHA Leading Dams list with point earners like Range To A Te and Suddenly Ment To Be Famous. They also own Big Bar Concluded, the dam of Suddenly Charming.
"Our mission is to commit to the horse," Brian said.
Before a mare joins their program, she must have the qualities that best suit A Touch Of Sudden.
A Touch Of Sudden is standing the 2017 breeding season at Abrahams Equine Clinic in Cedar Rapids, Iowa.
"It is a luxurious full-service facility that offers a whole array of options and services including embryo transfers," Brian said.
His stud fee is set at $1,000 with discounts provided at an individual basis. A Touch Of Sudden is enrolled in the Western Pleasure Super Sires, Premier Quarter Sires, AQHA Incentive Fund, APHA Breeders Trust, the Tom Powers and Southern Belle Futurity programs, to name a few.
For additional information on A Touch Of Sudden or Banta Performance Horses you can call (563) 349-3934 or visit Banta Performance Horses on Facebook. You can contact Abrahams Equine Clinic at (319) 366-6441 or on the web at www.abrahamsequineclinic.com.
"As Touch gets older we do plan on bringing him home full time and breeding a limited number of outside mares in the next few years," Brian said.
At home Sherri does most of the riding and Sydney Ann has a couple of horses she rides as well. Cheryl Brooks oversees the farm operations and Samantha Blomme handles all the mares and babies. Foals at every level of training are always available for sale.
For now. the Bantas are enjoying watching Sydney's show career unfold. She and Touch My Potential (Casper) are currently leading the nation in Level 1 Youth Western Pleasure.
And they still love hearing from proud mare owners.
"The best part is getting a picture of a colt being loved and cared for unconditionally," Brian said.