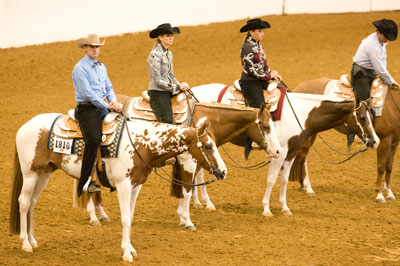 The National Snaffle Bit Association is proud to announce the creation of the Color Breeders Championship Futurity which will be held in conjunction with the NSBA World Championship Show and Breeders Championship Futurity beginning in 2018.
To be eligible to participate in the Color BCF program, a horse must be sired by a stallion who is nominated to the Color BCF during its foaling year.
  If eligible, horses may be nominated at any time beginning as weanlings through their three year old year (4 to 6 year olds may be enrolled until December 31, 2018).  Weanling enrollments begin at a one time payment of $125 and increase with the age of horse.  The Color BCF also offers a sliding scale for multiple foal enrollments.
The purse is funded by stallion and foal nomination fees collected each year. The stallion nominator receives 20%, the foal nominator receives 10%, and the foal owner receives 70% of foal earnings. In the event the foal ownership changes, the original nominator will receive the 10% earnings.
Color futurity classes will include Longe Line, Western Pleasure, Hunter Under Saddle, Open and Non Pro.  As the program matures, a Limited division along with Trail and Western Riding classes will be included. An exhibitor may show as many horses in as many classes as they are eligible for in each division.  NSBA membership is required for all owners and exhibitors.
Stallions may be enrolled into the Color Breeders Championship Futurity as well as the Breeders Championship Futurity. Foals may be nominated into one or both programs providing the sire is enrolled in the corresponding program.
Enrollment Fees
Annual Stallion Nomination Fee:
Before May 15th – $500
After May 15th – $800
Foal Nomination Fees:
Weanling Nomination Fee by December 15th – $125
Yearling Nomination Fee (December 16th – May 15th) – $200
Introductory Offer through December 31, 2018: After May 15th, yearlings and older may nominate for a fee of $750
Once the nomination form has been received and validated and a copy of the breed registration papers have been forwarded to the NSBA office, a Certificate of Eligibility is mailed to the foal owner.  The Certificate must be current when the horse is shown.  Any changes in information will need to be forwarded to the NSBA office, along with a transfer form.  A copy of the horse's registration papers recording any changes must accompany the transfer form.
* Change in ownership
* Change in the name of horse
* Loss of original certificate
For further information contact Sue Ellen Kaven at sueellen@nsba.com or call 847-623-6722.
Source: NSBA