Source: Text by Corrine S. Borton • Photos by Holt Pope & Shane Rux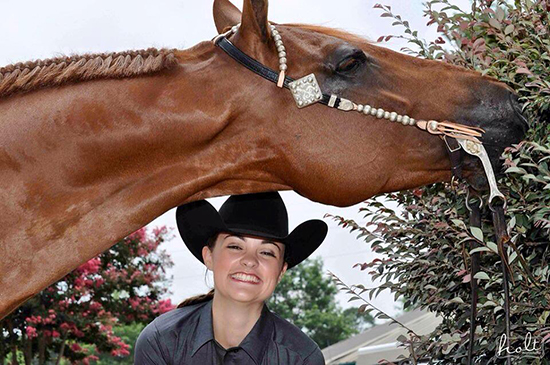 Olivia Turner, of Zebulon, North Carolina, has had the opportunity to work with some of the best trainers in the business – and she's learned from every one of them. But to her, nothing compares to the lessons a competitor can get from the horses themselves.
As a young rider, Turner worked with the Oakley family and the Starnes family and both taught her to care for her horse the same way she wants her horse to care for her in the show arena.
"That has really stuck with me throughout my time showing horses," Turner said. "I believe that caring for your horse, whether you are riding or grooming, should be a key. Many people prefer for their trainers to be in charge of everything, but I love to work with my horse; to saddle, groom, longe, etc. and I think that is a really important part of knowing your horse and becoming a team with your horse."
It's also a lesson her family reinforced. Her mother, Celeste and father, Lee, were always together at shows while Olivia and her older sister, Chelsea were growing up.
"My mom actually showed horses when she was younger and instilled her love for them into our minds," she explained.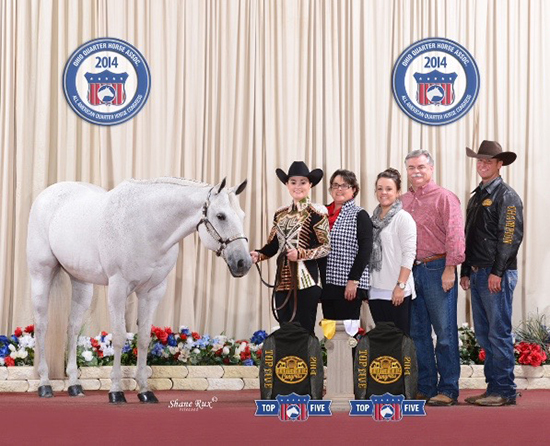 Chelsea, started riding and competing first, while Olivia mimicked her with the family's yellow labrador retriever.
"I would jump her and do Showmanship with her as well," Olivia laughed. "She could do Showmanship better than any horse I've ever shown, and I've been fourth in the Showmanship at the (Quarter Horse) Congress!"
Olivia's first show horse of her own was Seek A Hand, a 1988 red dun mare by Wonder Seeker, she calls Honey.
"I still have her today," Olivia said. "We competed in Walk-Jog classes at open shows and some (American Quarter Horse Association) AQHA events. She is the best."
From Honey, Olivia moved on to show a 1997 sorrel gelding named Good All Over, sired by Good Version and out of El Bees Leona. Goody helped Olivia transition into a serious competitor. Together the two earned numerous Top 10s at the Congress in Horsemanship, Showmanship, Equitation and Hunter Under Saddle in both Novice Youth and 11 & Under divisions.
As she moved into the 12 to 14 division, Olivia made So Obviously Hot (Roscoe) her show partner. The 2000 brown gelding by Simply Hot and out of Call Me Snuggles helped Olivia capture her first Reserve Congress Championship in Western Pleasure.
"That was huge for me and I loved how well that horse, always showed for me," Olivia said.
The team also earned numerous Congress Top 10s and a 10th place at the AQHA Youth World Show. In addition, they won a Reichert Celebration Championship, a Tom Powers Futurity Reserve Championship and numerous High-Point Championships.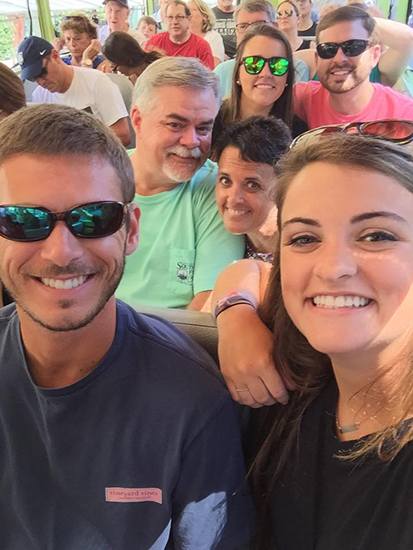 Another Good Version offspring was Olivia's next show horse. She and Revised Version (Riley), a 2006 sorrel gelding out of Zippos Paula, placed fourth in the 15-18 Youth Western Pleasure at the Congress and earned numerous Congress Top 10s and Circuit Championships until the Turner family lost him due to complications from lameness issues. "He was a beloved member of our family," she said, "and we were very blessed to love and own him."
Olivia is serious about showing horses but she is also a dedicated student. Following graduation from high school where she played volleyball and soccer and was a member of the Fellowship of Christian Athletes, Science Club, National Honor Society, National Art Honor Society, Student Government Association, Olivia enrolled at North Carolina State University as a Political Science major. There she is a member of the Equestrian-Western Club Sport and competes in Intercollegiate Horse Show Association Reining and Horsemanship events. She will graduate in May with a Bachelor's degree in Humanities & Social Sciences – Political Science. But she will attend law school in the fall. She currently splits her time between her apartment in Raleigh and her family's home on 42 acres in Zebulon where the family's retired horses, miniature horses, cats and dogs reside.
While advancing her education, Olivia has also maintained a busy show schedule. She has been competing with Hes Got Major Moves (Linus), a 1996 gray gelding by A Major Leaguer and out of A Delightful Scottie. In 2014 they placed fourth in Novice Amateur Showmanship and 10th in Amateur Ranch Horse Pleasure at the Congress. With limited showing they captured several circuit championships in Showmanship and Ranch Riding classes.
"Linus had been in retirement and we decided to get him after Riley had become too hurt to show," Olivia said. "I used to hate Showmanship, but he made it fun. He is now an old man retired at home."
In June 2014, the Turner family purchased Big Country Kruzer, a 2011 sorrel gelding by The Krymsun Kruzer and out of Dont Skip Princess. Big Country Kruzer was the 2015 National Snaffle Bit Association Color Hunter Under Saddle Maturity World Champion with Keith Miller in the irons. Olivia has been showing Big Country Kruzer in all-around events, including Hunter Under Saddle, Equitation and Horsemanship, under the guidance of Cody Parrish, Pavo, Georgia.
"The Parrish family really put into place the family and Christian values of showing
horses," Olivia said. "I have really enjoyed seeing their success as a family, but also as horsemen and women. A lot of time people get the wrong ideas about horse trainers, but they really display how great some of these people can be."
Big Country Kruzer has just been sold to a youth competitor and now Olivia will work toward her goal to become a successful criminal defense and sport lawyer and work alongside her dad. But show horses will always be part of her life.
"I absolutely love the horses," she said. "I love them whether I am showing or just simply riding at home. The thrill of the competition motivates me to show. There is no better feeling than being one of the last ones standing in an arena."