Source:Text by Corrine S. Borton • Photos by AP Photography & Shane Rux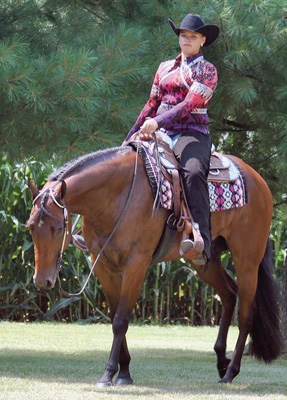 Seventeen-year-old Halie Harner, of Wilmington, Ohio, had to be patient following the selection of her most recent Western Pleasure partner, Striking Potential. Because she had a foal on her side.
Striking Potential had plenty of experience in the show arena. The 2004 bay mare by Potential Investment and out of Bite The Banana, is a Congress Champion with over 280 American Quarter Horse Association (AQHA) points. But her former owners had decided to retire and breed her. She raised a couple of foals before they decided to sell her.
Ohio trainer Ty Hornick told Halie's grandfather about Striking Potential.
"The first time I rode her, her baby was still at her side and she just ran along with us," Harner recalled.
The mare was purchased for Harner last June but she had to wait for the foal to be weaned and the Hornicks to get her back into show shape.
"She has loved returning to the show pen and I love showing her," Harner said.
Halie and Emma spent the next couple of months getting acquainted and in October they placed sixth in the Novice Youth Western Pleasure 14-18 at the Quarter Horse Congress and fifth in the National Snaffle Bit Association (NSBA) portion of the class.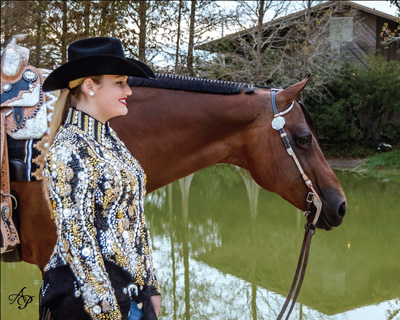 This year they are working hard to get qualified to compete in Western Pleasure at the AQHA Youth World Show. Halie loves to show and the whole horse show atmosphere.
"I love horses and competing in the show pen. It is so much fun meeting new people at the shows and hanging out with friends and family," she said. "Even though we are all competitive in the show pen, we are always cheering each other on to win. It's like a big family."
Harner has been showing most of her life. Her grandparents, Jack and Pat Credit, breed show horses so she has always been involved. When she turned 8 years old they bought Halie her first horse, and she got her start competing at the Clinton County 4-H Fair, small open shows and a few AQHA shows.
Over the years, she has had the opportunity to compete aboard some very special show horses, including Suddenly Mauied, a 1999 black mare by A Sudden Impulse and out of Sheza Banjoe; Good On The Rox, a 2009 sorrel mare by A Good Machine and out of Radical Roxanne; and A Stylish Invitation, a 2004 sorrel gelding by Invitation Only and out of Stylish Zipper. Together they were finalists in Novice Youth Western Pleasure at the 2015 Congress.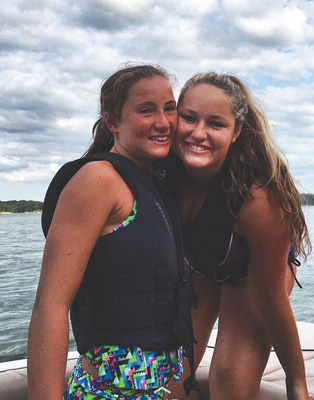 When she is not at a horse show the 17-year-old daughter of Cary and Traci Harner, is busy at school where she is a junior at Clinton-Massie High School. There she is a varsity football cheerleader and squad leader for the Clinton-Massie Falconettes Drill Team. She is also still very involved with the Clinton County 4-H program and was its 2016-2017 Horse Queen.
She is very close to her family, including her parents, grandparents and sister, Breckin. Her family attends Sligo Baptist Church and Halie is a member of the youth group there. She also loves spending time in the summer with her family at Lake Cumberland in Somerset, Kentucky where she especially enjoys water skiing.
Halie thinks of her mother as a hero.
"She tries to make it to all of the events that I am involved in and she sets a great example for me in the way she lives her life," Halie said. "She is very involved in our local church, she is honest, and really funny and she would do anything to help me and my sister."
Halie says although horses, school and her other activities take up a lot of her time, people might be surprised to learn that she also plays the piano and sings in her HighSchool Honors Choir as well as her church choir.